Why GoPro, Barnes & Noble, and Seres Therapeutics Jumped Today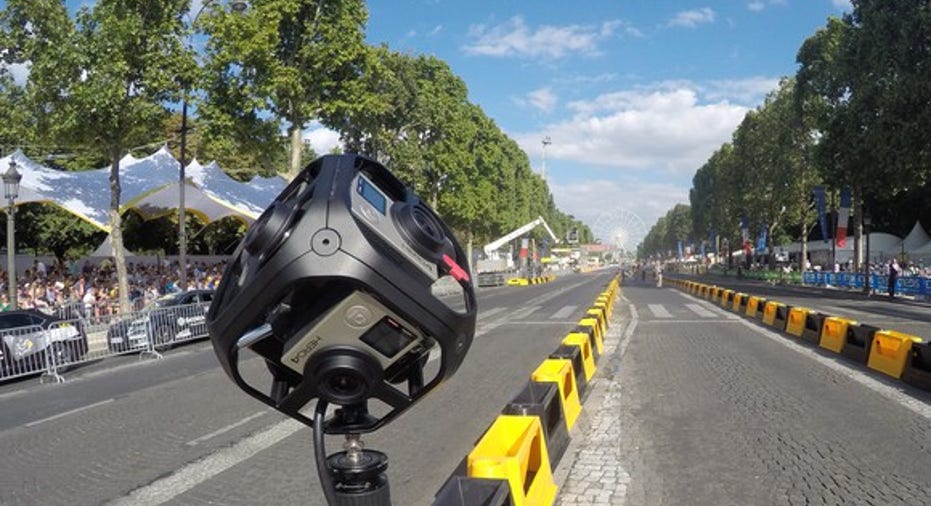 The stock market fell back modestly on Thursday, giving up just a fraction of its gains from the previous trading session as investors digested the Federal Reserve's latest move to raise interest rates. Major benchmarks were mostly lower, but they stayed within roughly a quarter percentage point of the unchanged mark, indicating relatively sluggish activity levels. Yet even though the market was inclined to give back ground, some stocks nevertheless found ways to power higher, and GoPro (NASDAQ: GPRO), Barnes & Noble (NYSE: BKS), and Seres Therapeutics (NASDAQ: MCRB) were among the best performers on the day. Below, we'll look more closely at these stocks to tell you why they did so well.
GoPro turns job cuts into stock gains
Shares of GoPro rose 16% after the action-video camera maker issued a favorable outlook for its first-quarter results late Wednesday. The company said that it expects revenue for the current quarter to be toward the upper end of its $190 million to $210 million range, and it reiterated its past guidance for positive full-year adjusted earnings in 2017. As part of overall cost-cutting measures, GoPro will reduce its workforce by 270, with the hope of cutting its adjusted operating expenses to less than $495 million without having a negative impact on new hardware and software releases during the year. CEO Nick Woodman said that he believes GoPro's financial performance can match the strength of its products and brand, and investors are inclined to agree despite the tough moves for employees.
Image source: GoPro.
Barnes & Noble bets on its shares
Barnes & Noble stock climbed 6% in the wake of the bookseller's latest announcement about returning capital to shareholders. The company said that it had authorized a new repurchase program allowing Barnes & Noble to spend up to $50 million to buy back shares. That might not seem all that large compared to competing buyback authorizations, but $50 million represents roughly 7.5% of the book retailer's market capitalization at present. In addition, Barnes & Noble sustained its dividend at $0.15 per share, which works out to an impressive 7% dividend yield based on current prices. The tough retail environment hasn't made things easier for Barnes & Noble, but investors hope that the stock's downward moves lately will reverse themselves with help from repurchase activity.
Seres gets a second shot
Finally, shares of Seres Therapeutics soared 37%. The small microbiome-therapeutics platform company released its fourth-quarter results earlier Thursday, which detailed substantial progress in many of its clinical studies. As one would expect from an early stage company, Seres posted a loss, receiving only minimal revenue during the quarter. Yet the best news for Seres was that it intends to start a new clinical study for its SER-109 treatment for Clostridium difficile infection. In mid-2016, Seres had released study results showing that the treatment didn't show significant reductions in infection recurrence rates, souring many investors on the stock. Yet the U.S. Food and Drug Administration worked with Seres, and it agreed to start a new phase 2 study that's larger and involves larger doses of SER-109. That essentially gives Seres an extra shot to prove itself, and given the market for infection-fighting drugs, the company has a rare opportunity to reverse its past challenges.
Offer from The Motley Fool: The 10 best stocks to buy nowMotley Fool co-founders Tom and David Gardner have spent more than a decade beating the market. In fact, the newsletter they run, Motley Fool Stock Advisor, has tripled the S&P 500!*
Tom and David just revealed their ten top stock picks for investors to buy right now.
Click here to get access to the full list!
*Stock Advisor returns as of 1/30/2017
Dan Caplinger has no position in any stocks mentioned. The Motley Fool owns shares of and recommends GoPro. The Motley Fool has the following options: short January 2019 $12 calls on GoPro and long January 2019 $12 puts on GoPro. The Motley Fool has a disclosure policy.