Why General Motors' Profit in North America Fell Last Quarter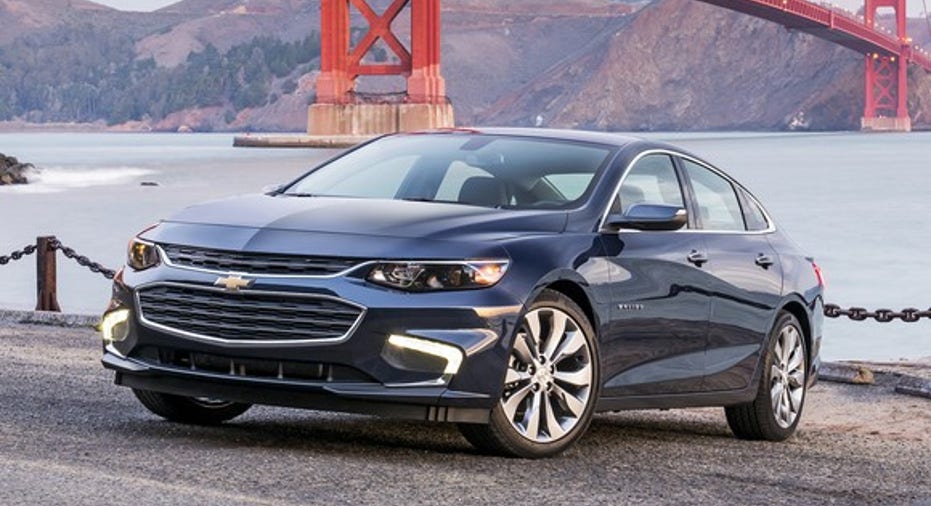 General Motors (NYSE: GM) had a very strong fourth quarter by most measures. Its pre-tax income of $2.4 billion capped a year in which its revenue, pre-tax income, and operating margin all set records.
But there were some points of concern in GM's fourth-quarter earnings report. Here's one: GM's pre-tax profit in North America fell year over year.
Why North America is very important to GM
GM is a vast global business with huge operations in Europe, China, and elsewhere. But despite that, it's still dependent on its home region for a significant majority of its revenue.
North America accounted for $31.3 billion, or about 71%, of GM's $43.9 billion fourth-quarter revenue total. It's of outsized importance to GM, and that makes any dip in profit in the region a point of concern for investors.
GM's ups and downs in North America in the fourth quarter
GM generated $2.6 billion in what it calls "EBIT-adjusted" in North America in the fourth quarter of 2016. (EBIT-adjusted is essentially GM's operating profit minus special items.) That's down from EBIT-adjusted of $2.8 billion in the fourth quarter of 2015, despite the fact that GM sold more vehicles in the region last quarter than it did in the year-ago period.
The reality, as CFO Chuck Stevens explained during GM's fourth-quarter earnings call, is that there's good news and bad news baked into that year-over-year change.
Retail sales of the new-for-2016 Chevy Malibu have been much better than those of the car it replaced. Image source: General Motors.
Here's the big bit of good news: GM's wholesale shipments were up by about 137,000 vehicles, primarily driven by demand for four products launched in the last year: the Chevrolet Cruze and Malibu sedans, and the GMC Acadia and Buick Envision crossover SUVs.
Those increases were partially offset by a reduction in deliveries to rental-car fleets, a planned reduction that GM has been working on for some time. But on balance, the increase in deliveries was good for about $1.2 billion dollars of improvement year over year.
The new Chevy Cruze and Malibu are very strong entries, and sales of both have been brisk. (The Malibu wasavailable in the year-ago quarter, but it had just beenintroduced and supplieswere tight: U.S. sales were up almost 21% in the fourth quarter.)That's good news, as is the fact that they're selling at better prices (or put another way, with fewer discounts) than the models they replaced. But there's a bad side to that good news: Generally speaking, sedans -- even all-new ones selling for top dollar -- have lower profit margins than trucks and SUVs.
Mostly because of the new Cruze and Malibu (and the recently launched Chevy Spark small car), the "mix" of products that GM sold in North America during the quarter was less profitable than what it sold in the year-ago period, to the tune of around $600 million. But the better pricing on the Cruze and Malibu generated an improvement of about $200 million from a year ago, despite a modest increase in GM's overall spending on incentives from a.
A hatchback version of the Chevy Cruze was recently added to GM's U.S. lineup. Image source: General Motors.
Meanwhile, GM's costs in the region rose significantly from a year go, by about $900 million. There were several factors involved in that increase, but the costs of launching new vehicles, plus increased spending on other upcoming new models that will launch soon, drove the majority of that year-over-year jump.
GM North America was also hit by about $100 million in unfavorable exchange-rate movements during the quarter, because the Mexican peso weakened against the dollar.
Adding it all up: A $200 million year-over-year profit decline
Here's how it nets out. To keep it simple, I've shown all the numbers in billions of dollars, rounded to the nearest hundred million.
| | |
| --- | --- |
| GM's 2015 fourth-quarter EBIT-adjusted... | $2.8 billion |
| ...plus $1.2 billion for increased sales volumes... | $4.0 billion |
| ...minus $0.6 billion for unfavorable "mix" changes... | $3.4 billion |
| ...plus $0.2 billion in better pricing... | $3.6 billion |
| ...minus $0.9 billion in extra costs... | $2.7 billion |
| ...minus $0.1 billion in unfavorable exchange-rates... | $2.6 billion |
...equals GM's 2016 fourth-quarter EBIT-adjusted of $2.6 billion.
That's why GM's profit in North America dropped by about $200 million last quarter.
10 stocks we like better than General MotorsWhen investing geniuses David and Tom Gardner have a stock tip, it can pay to listen. After all, the newsletter they have run for over a decade, Motley Fool Stock Advisor, has tripled the market.*
David and Tom just revealed what they believe are the 10 best stocks for investors to buy right now... and General Motors wasn't one of them! That's right -- they think these 10 stocks are even better buys.
Click here to learn about these picks!
*Stock Advisor returns as of February 6, 2017
John Rosevear owns shares of General Motors. The Motley Fool recommends General Motors. The Motley Fool has a disclosure policy.