Why General Motors Investors Should Take Note of the 2018 Chevrolet Traverse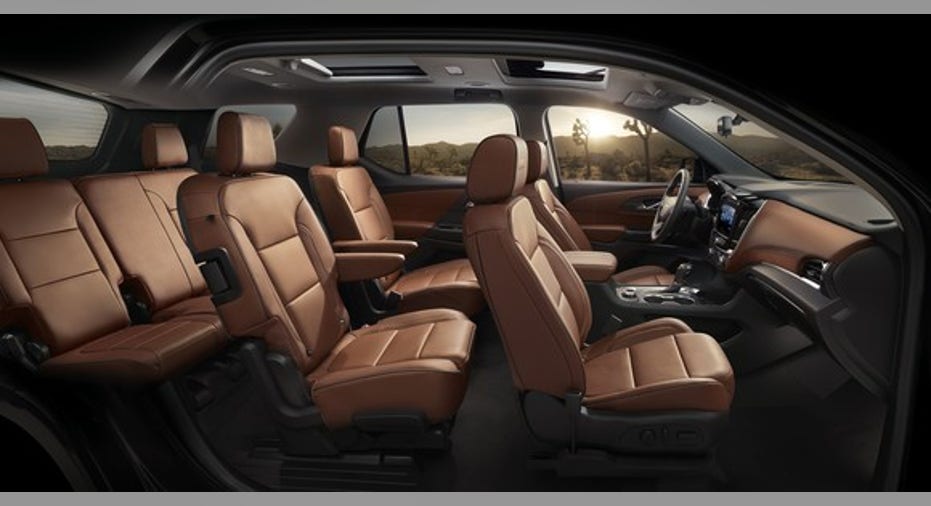 General Motors (NYSE: GM) rolled out its all-new 2018 Chevrolet Traverse SUV at the North American International Auto Show on Monday. The new version of the big Chevy family hauler has a more brawny, upscale look than the model it will soon replace -- but it's lighter in weight and offers improved power and fuel economy.
The 2018 Chevy Traverse sheds its predecessor's minivan-ish looks for handsome new sheet metal inspired by GM's big SUVs. Image source: General Motors.
What it is: A big family hauler
The Traverse is a big crossover SUV that's aimed at family hauling duty. Like the minivans still offered by some rivals, the Traverse is a big three-row vehicle that offers plenty of room for, well, the kind of stuff that tends to accumulate in minivan-type vehicles. It's a popular minivan alternative that has sold well since GM first introduced the Traverse as a 2009 model.
What's new about the "all-new" Traverse
Most of it really is "all-new." The 2018 Traverse is built on a new vehicle architecture that takes advantage of GM's weight-saving "mixed material" strategy. That's a big deal: All other things being equal, reducing a vehicle's weight generally improves fuel economy, handling, and performance.
The 2018 Traverse will seat eight adult-sized passengers with easy access to the third row, GM promises. Image source: General Motors.
This new Traverse offers seating for eight (eight adult-sized passengers, promises Chevy brand chief Alan Batey), along with more room for that family "stuff" in a package that shaves over 350 pounds from the current model's curb weight. As with other recent GM models, the interior is well-thought-out and makes good use of premium materials.
It's wrapped in completely new sheet metal that takes stylistic cues from GM's big truck-based SUVs like the Chevy Tahoe and Suburban. It's a handsome look that's at least a couple of notches upscale from the current model. And for the first time, GM will offer upscale "High Country" and "RS" trims on the Traverse, in a bid to give the big crossover's profit margins an extra boost.
Why GM investors should take note
Models like the Traverse aren't the ones that excite auto enthusiasts. But there's a strong market for big family haulers: GM sells over 100,000 of these in the U.S. every year, and they're solidly profitable products.
The 2018 Traverse's seats fold down, giving it cargo-hauling abilities comparable to those of its minivan rivals. Image source: General Motors.
U.S. sales of the Traverse slipped a bit in 2016, down 2.7% from the year before. That's not a surprise: The current Traverse is generally well-regarded, but it debuted in late 2008 as a 2009 model. By the standards of most other GM models, that's positively ancient. It's no surprise that sales slipped. But it's something of a surprise that they didn't slip more. That speaks to the strength of the segment, and it also hints at a big opportunity for a thoughtfully executed all-new model with an up-to-date, premium look.
GM appears to have delivered the right product to take advantage of that hinted-at opportunity. Even if it only matches its predecessor's annual sales, the new Traverse should deliver improved profit margins thanks to both efficiencies in its basic design and those new premium trim options.
Long story short: Yeah, it's a kid-hauler. But thoughtful kid-haulers can be big-selling and highly profitable products, and it looks like GM hit the right notes with the new Traverse.
10 stocks we like better than General Motors When investing geniuses David and Tom Gardner have a stock tip, it can pay to listen. After all, the newsletter they have run for over a decade, Motley Fool Stock Advisor, has tripled the market.*
David and Tom just revealed what they believe are the 10 best stocks for investors to buy right now... and General Motors wasn't one of them! That's right -- they think these 10 stocks are even better buys.
Click here to learn about these picks!
*Stock Advisor returns as of January 4, 2017
John Rosevear owns shares of General Motors. The Motley Fool recommends General Motors. The Motley Fool has a disclosure policy.