Why Garmin Ltd.'s Shares Soared 31% in 2016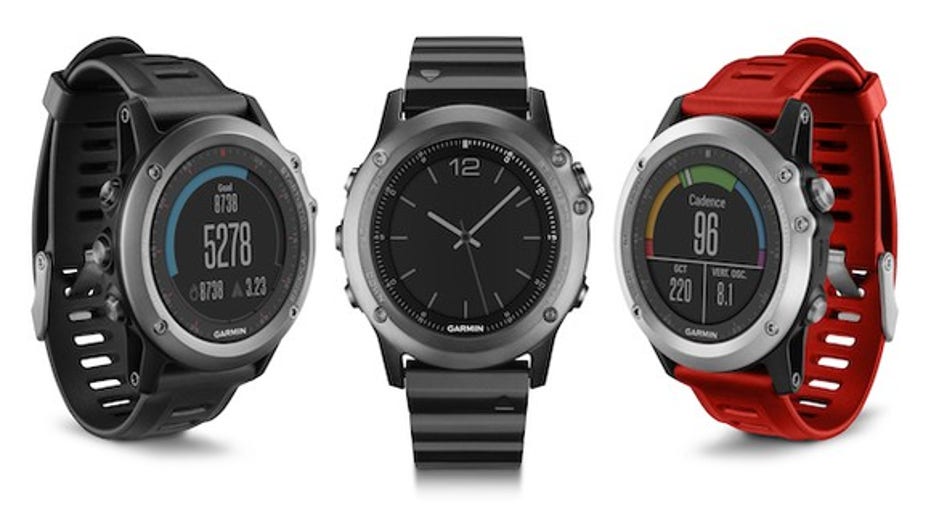 Garmin's watches, like the Fenix, have been key to the company's turnaround. Image source: Garmin.
What happened
Shares of GPS product company Garmin Ltd. (NASDAQ: GRMN) jumped 30.5% in 2016, according to data provided by S&P Global Market Intelligence, as operating conditions began to improve once again. The days of Garmin as a car GPS company are coming to an end, and the transition is happening at a great time for the company.
So what
Garmin's bounce in 2016 can be traced to two events: the release of fourth quarter 2015 earnings and second quarter 2016 earnings.
The Q4 2015 report showed a continued decline in revenue to $781.4 million, and earnings per share fell 36% to $0.70. But fitness sales rose 14%, outdoor was up 6%, and aviation was up 12%. This demonstrated an important streak of growth in products outside of the auto industry, where Garmin is quickly being replaced by smartphones.
In the second quarter, sales began to grow, increasing 5% to $811.6 million with fitness sales jumping 34% and outdoor up 23%. Finally, Garmin was back to being a growth business.
These two quarters showed the transition Garmin has successfully undertaken, transforming itself from primarily an auto GPS company to a health, fitness, and outdoor activity company. It's a transition that was full of risk, but 2016 showed Garmin has a future with GPS-based products, and will be able to grow as their products improve in capability.
Now what
Shares of Garmin are still fairly expensive, with a P/E ratio of 18 times trailing earnings, but improving operations are a good sign for the company. As non-auto products become a larger percentage of sales we could even see growth pick up steam. But in a highly competitive fitness and outdoor market, I would be cautious paying too much of a premium for a stock like Garmin, no matter how good the stock's performance was in 2016.
10 stocks we like better than Garmin When investing geniuses David and Tom Gardner have a stock tip, it can pay to listen. After all, the newsletter they have run for over a decade, Motley Fool Stock Advisor, has tripled the market.*
David and Tom just revealed what they believe are the 10 best stocks for investors to buy right now... and Garmin wasn't one of them! That's right -- they think these 10 stocks are even better buys.
Click here to learn about these picks!
*Stock Advisor returns as of January 4, 2017
Travis Hoium has no position in any stocks mentioned. The Motley Fool has no position in any of the stocks mentioned. The Motley Fool has a disclosure policy.