Why Gannett, Changyou.com, and Time Warner Cable Jumped Today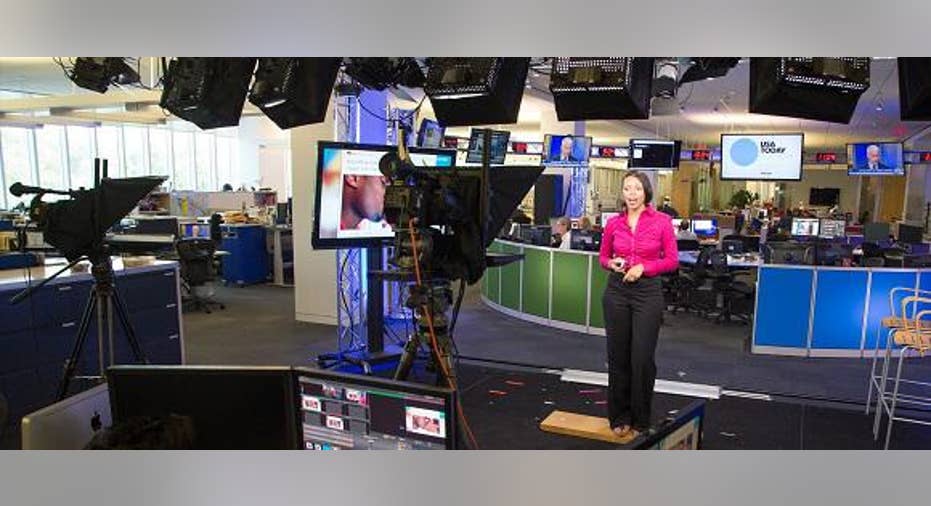 Image source: Gannett.
Monday wasn't a very exciting day on Wall Street, and most major stock market benchmarks were down only slightly from Friday's levels. Investors seemed content to wait for the latest news from the Federal Reserve's Open Market committee, which will give the latest indication on the direction of U.S. interest rates later this week. In the meantime, a decline in oil prices and mild losses in the bond market set a negative tone for stocks. Nevertheless, some individual companies posted good news that lifted their share prices, and among the winners in today's session were Gannett , Changyou.com , and Time Warner Cable .
Gannett rose more than 6% after making an unsolicited proposal to buy fellow newspaper giant Tribune Publishing in a deal that would be worth $815 million. Tribune shareholders would receive $12.25 per share in cash, and Gannett would also agree to assume certain Tribune debt in the amount of about $390 million. The deal offers Tribune investors a quick 63% profit compared to where its shares closed on Friday, but Gannett believes that acquiring Tribune would nevertheless "deliver substantial strategic and financial benefits for the combined company." With the potential to grow Gannett's USA Today Network to include an even larger swath of local markets and create new platform opportunities, a combination could provide financial stability and a greater chance of outlasting the downward trend that has hurt newspaper giants over the past 20 years.
Changyou.com climbed 5% in the wake of its first-quarter earnings report. The online game developer and operator said that revenue fell 38% to $130 million, with online gaming revenue plunging 45%. Adjusted net income fell by about a third, and declines in monthly active accounts for both PC and mobile games boded poorly for the company. Yet Changyou said that its results were in line with its guidance, and investors seemed satisfied even though the company's guidance for the second quarter included further sequential revenue declines and weak income figures. Given that the stock trades at a level that takes into account large expected contraction in its bottom line, anything short of a cataclysmic failure could give Changyou.com stock substantial upside.
Finally, Time Warner Cable finished the day up 4%. The company finally received antitrust approval from the U.S. Department of Justice for its planned acquisition by Charter Communications, representing one more obstacle that the two companies have managed to overcome. Charter still needs to get the signoff of the Federal Communications Commission, but FCC Chair Tom Wheeler has recommended the deal's approval with conditions. In addition, the state of California also will have an opportunity to weigh in with any concerns it might have. In the end, most people following the ongoing merger discussions believe that the deal will pass with conditions to ensure the combined entity will allow competitors like streaming-video services to use broadband connections to deliver competing content without interference from Charter or its new subsidiaries.
The article Why Gannett, Changyou.com, and Time Warner Cable Jumped Today originally appeared on Fool.com.
Dan Caplinger has no position in any stocks mentioned. The Motley Fool has no position in any of the stocks mentioned. Try any of our Foolish newsletter services free for 30 days. We Fools may not all hold the same opinions, but we all believe that considering a diverse range of insights makes us better investors. The Motley Fool has a disclosure policy.
Copyright 1995 - 2016 The Motley Fool, LLC. All rights reserved. The Motley Fool has a disclosure policy.