Why Francesca's Holdings Corp. Stock Popped Today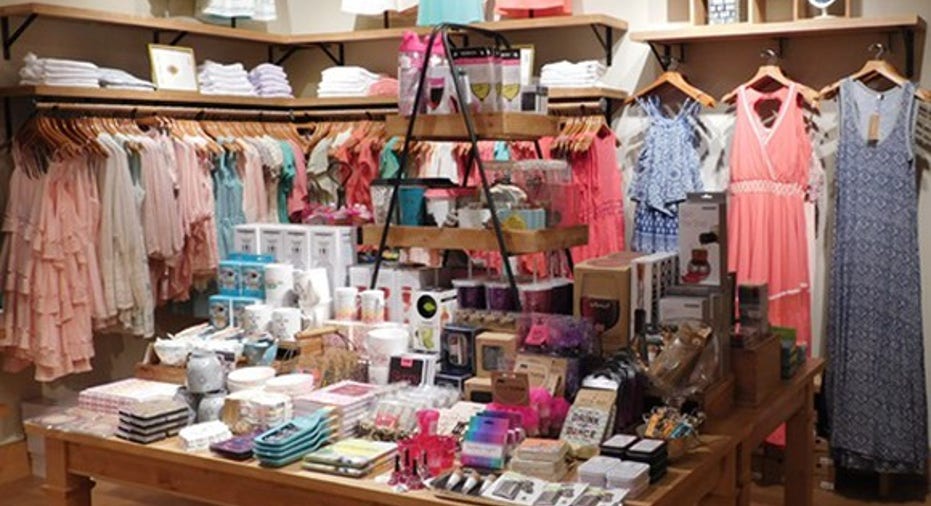 IMAGE SOURCE: Francesca's Holdings Corp.
What happened
Shares of Francesca's Holdings Corp. (NASDAQ: FRAN) were up by as much as 11.6% at 10:10 a.m. EST Monday, then settled back to trade up about 8% as of 11:20 a.m after the specialty boutique retailer offered an encouraging update based on its holiday sales results.
So what
Specifically, Francesca's now expects revenue in its fiscal fourth quarter -- with ends Jan. 28 -- to be in the range of $144 million to $146 million -- narrowed from previous guidance, which called for $143 million to $148 million -- assuming comparable sales ranging from a 1% decline to a 1% increase year over year. On the bottom line, that should translate to diluted earnings per share of $0.35 to $0.37. Prior guidance called for diluted EPS of $0.33 to $0.37.
"We are pleased with our solid holiday performance which came on top of an 11% comparable sales increase in the fourth quarter last year," said CEO Steve Lawrence. "Our results reflect a strong response to our merchandise offering as well as a disciplined and effective promotional strategy."
Now what
The timing of today's announcement is no coincidence, as Francesca's is set to present at the 19th annual ICR Conference in Orlando tomorrow. But in the meantime, given its strong results during this crucial time of year despite today's difficult retail climate, it's no surprise to see Francesca's stock trading significantly higher today.
10 stocks we like better than Francesca's Holdings When investing geniuses David and Tom Gardner have a stock tip, it can pay to listen. After all, the newsletter they have run for over a decade, Motley Fool Stock Advisor, has tripled the market.*
David and Tom just revealed what they believe are the 10 best stocks for investors to buy right now... and Francesca's Holdings wasn't one of them! That's right -- they think these 10 stocks are even better buys.
Click here to learn about these picks!
*Stock Advisor returns as of January 4, 2017
Steve Symington has no position in any stocks mentioned. The Motley Fool has no position in any of the stocks mentioned. The Motley Fool has a disclosure policy.