Why Fossil Group Inc. Stock Plunged Today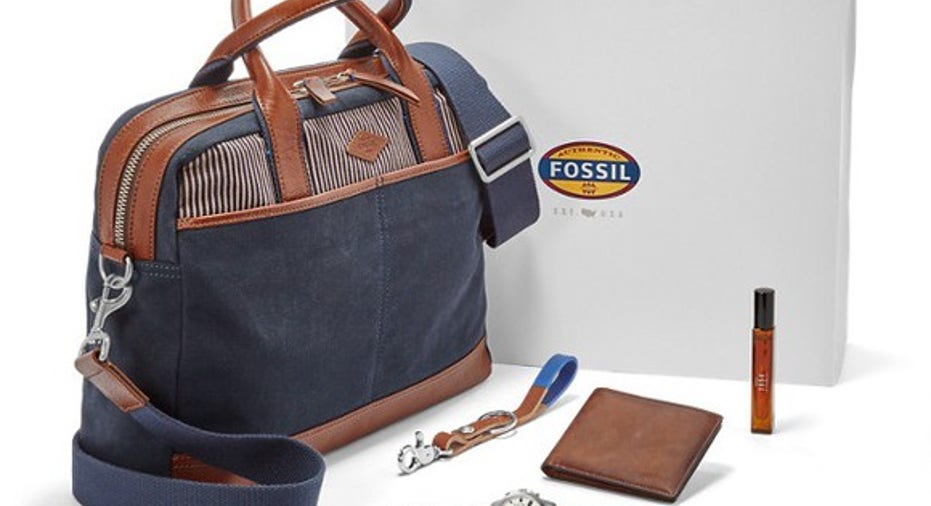 Image source: Fossil Group.
What:Shares of Fossil Group fell as much as 34% early Thursday after the fashion accessories company announced weaker-than-expected first-quarter 2016 results and disappointing forward guidance.
So what:Quarterly revenue fell 9% year over year (7% on a constant-currency basis) to $659.8 million, driven by declines in Fossil's multi-brand watch portfolio and the negative impact of foreign exchange. More specifically, revenue from watches dropped 10% year over year (or down 8% at constant currency), while leathers sales were flat (but up 2% at constant currency), and jewelry dropped 13% (down 11% at constant currency).
On a geographic basis, revenue from the Americas fell 8% (down 7% at constant currency), Europe dropped 10% (down 8% at constant currency), and Asia declined 8% (down 4% at constant currency).
On the bottom line, that translated to an 84.8% decline in net income, to $5.8 million, or $0.12 per share, the latter of which was bolstered by Fossil's move to repurchase 0.1 million shares for $4.4 million during the quarter, or an average price of $47 per share. That leaves $825 million remaining under Fossil's current repurchase authorization.
Analysts, on average, were expecting higher earnings of $0.15 per share on revenue of roughly $667 million.
"While our financial results were in line with our expectations," explained Fossil Group CEO Kosta Kartsotis, "they were below last year given the persistent headwinds pressuring the traditional watch category and the challenging retail environment, particularly in our wholesale channel. We are disappointed that those headwinds have intensified, which will impact this year's expectations, despite our further expense management."
Now what:As such, Fossil expects second-quarter net sales to decline 10% to 8% year over year, or to a range of roughly $666 million to $681 million, well below analysts' expectations for revenue of $701.5 million. Fossil also anticipates second-quarter diluted earnings per share in a range of breakeven to $0.15, compared to consensus estimates calling for earnings of $0.59 per share.
Nonetheless, for the full-year 2016, Fossil expects revenue to fall 5% to 1.5%, or to a range of $3.07 billion to $3.18 billion, a reduction from previous guidance for 2016 revenue to be in the range of a 3.5% decline to growth of 1.5%. Fossil also expects that to translate to full-year diluted earnings per share of $1.80 to $2.80, a per-share reduction of between $0.80 and $1.00 from its old range.
In the end, it's hard to find anything to like about these results as Fossil strives for its core business to remain relevant. To be fair, Fossil did acquire wearable fitness tech specialist Misfit last quarter, the ongoing integration of which could serve to bolster growth going forward. But until that happens and Fossil shows signs of bringing its business back on the path toward sustained growth, it's no surprise to see shares plunging today.
The article Why Fossil Group Inc. Stock Plunged Today originally appeared on Fool.com.
Steve Symington has no position in any stocks mentioned. The Motley Fool recommends Fossil. Try any of our Foolish newsletter services free for 30 days. We Fools may not all hold the same opinions, but we all believe that considering a diverse range of insights makes us better investors. The Motley Fool has a disclosure policy.
Copyright 1995 - 2016 The Motley Fool, LLC. All rights reserved. The Motley Fool has a disclosure policy.