Why Forward Pharma A/S Stock Surged 107% in January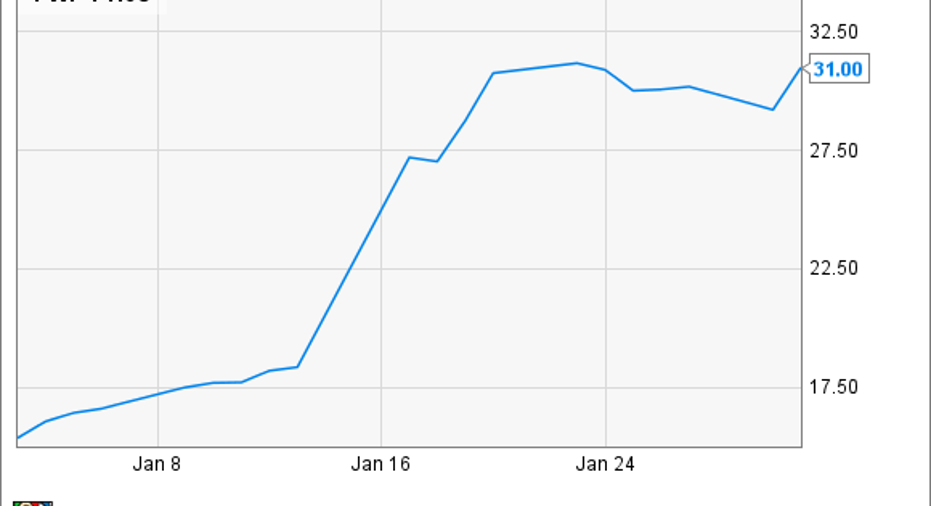 Image source: Getty Images.
What happened
Shares of ForwardPharma A/S(NASDAQ: FWP)jumped 106.7% in January according to data from S&P Global Market Intelligence. The Danish biopharmaceutical company is developing a proprietary formulation of the active ingredient in Biogen's (NASDAQ: BIIB) oral multiple sclerosis therapy, Tecfidera. The small biotech stock got a huge boost from a favorable ruling in a patent litigation suit with the much bigger biotech, giving the market a reason to cheer.
So what
Forward Pharma doesn't have any drugs to sell yet, but we can safely assume its lead candidate has potential in multiple sclerosis therapy. Forward's FP187 is a slow release version of dimethyl fumarate, which is also the active ingredient in Biogen's top-selling product, Tecfidera.
Tecfidera sales have begun to taper off, but the disputed therapy added $3.97 billion to Biogen's top line last year. In a pre-emptive move, the big biotech will pay Forward Pharma a $1.25 billion cash settlement. In return, Biogen receives a license to continue business as usual while the dispute continues to wind its way through the courts. A win for Forward Pharma could result in a coexclusive license for Tecfidera that leaves the tiny biotech eligible for Tecfidera royalties that begin around 1% and could rise as high as 20% in 2029.
Now what
The announced $1.25 billion cash settlement works out to about $26.67 per share of stock Forward Pharma reported outstanding last April, or about 87.5% of the company's recent market value.
If promptly delivered, the settlement would fill Forward Pharma's coffers with enough cash to continue at its present cash burn rate indefinitely. The biotech has had net free cash outflows of between $35 million and $40 million over the past 12 months.
While Forward Pharma might find itself on firm financial footing in the near term, there aren't many additional catalysts to anticipate. Its pipeline begins and ends with FP187. Although it intends to begin a late-stage trial with multiple sclerosis patients later in the year, an approval would hardly guarantee success.
With a bit of luck, the little biotech might be able to eventually launch its only late-stage candidate into an increasingly competitive multiple sclerosis space. In recent years, dimethyl fumarate's safety profile has suffered a few setbacks, and Biogen's Tecfidera is already firmly entrenched. The settlement may be a huge windfall for Forward Pharma now, but I don't see much potential to continue providing gains over the long term.
10 stocks we like better than Forward Pharma When investing geniuses David and Tom Gardner have a stock tip, it can pay to listen. After all, the newsletter they have run for over a decade, Motley Fool Stock Advisor, has tripled the market.*
David and Tom just revealed what they believe are the 10 best stocks for investors to buy right now... and Forward Pharma wasn't one of them! That's right -- they think these 10 stocks are even better buys.
Click here to learn about these picks!
*Stock Advisor returns as of January 4, 2017
Cory Renauer has no position in any stocks mentioned. The Motley Fool owns shares of and recommends Biogen. The Motley Fool has a disclosure policy.