Why Ford's Europe Sales Jumped in January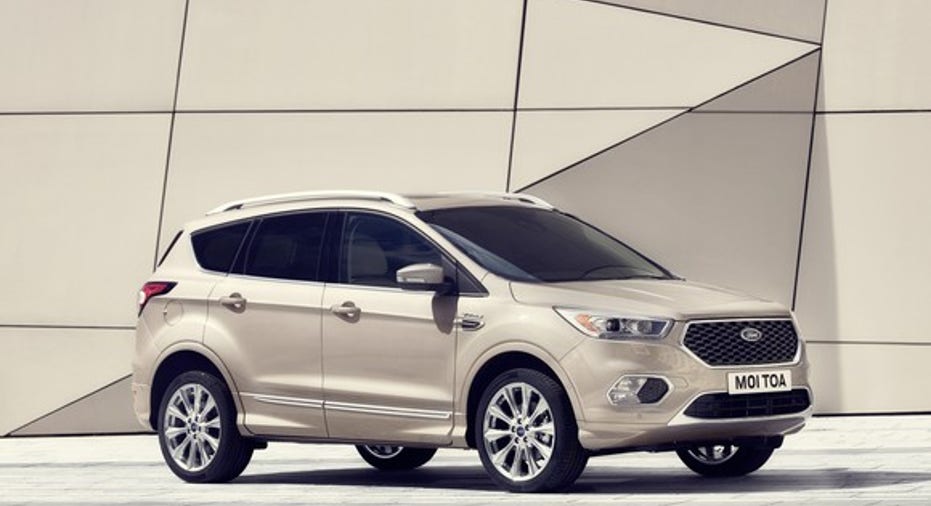 Ford Motor Company (NYSE: F) said that its sales in Europe rose 11% in January on strong demand for commercial vehicles and SUVs, including the recently revamped compact Kuga.
The key numbers: Ford gains in the U.K., Italy, and France
Ford sold about 107,700 vehicles in the 20 western and central European markets that it considers its traditional core market in Europe in January, up 11% from a year ago.
Ford's market share in what it calls the Euro 20 was up 0.1 point year over year to 8%, on strong year-over-year gains in the U.K., Italy, and France.
For Europe as a whole, including Russia, Turkey, the former Soviet republics, and the countries of eastern Europe (what Ford calls the Euro 50), Ford sold 117,200 vehicles, up about 11% from a year ago. Its Euro 50 market share was up 0.2 points from a year ago, to 7.8%.
What worked and what didn't for Ford in Europe in January
Just as in the U.S. and China, Ford is a leader in commercial-vehicle sales in Europe. That business has been on a tear lately, powered by strong demand for Ford's Transit line of commercial vans. Ford sold 25,600 commercial vehicles in the Euro 20 in January, up 21% from a year ago. Ford's share of the Euro 20 commercial-vehicle market rose 1.4 points to 14%, making Ford the leading commercial-vehicle brand in the region.
A Ford Kuga in high-end Europe-only "Vignale" trim, a step up from the more familiar Titanium. Image source: Ford Motor Company.
Ford's expanded European SUV lineup is also doing very well in a region that has traditionally favored small cars. Ford SUV sales in the Euro 20 jumped 35% to 16,700 in January, powered by a 24% gain for the Kuga. The Ford Kuga is the European twin of the U.S.-market Escape, and like the Escape, it was refreshed for the 2017 model year. Ford's small EcoSport SUV also had a good month, with sales up 16% to 5,100.
Ford also noted that sales of what it calls its "high-series" vehicles, those with high-end luxury or performance trims, represented 64% of its total Euro 20 sales in January, up 3 percentage points year over year. That's important: Loaded models sell with fatter profit margins than lower-level trims.
Analysis: A good opening to what could be a Brexit-challenged 2017
While rival General Motors (NYSE: GM) has struggled for years to break even in the Old World, Ford has recently done quite well in Europe. The Blue Oval's 2016 pre-tax profit in Europe was a hearty $1.2 billion, powered by the same themes that continued to work in January: Commercial vehicles, SUVs, and high-trim versions of its mainstream models.
That bodes well for Ford's profits in Europe in the first quarter of 2017. But there's a big caveat: Ford expects its overall profit in Europe to be lower in 2017 than in 2016 because of the currency movements that have followed the U.K.'s decision to exit the European Union last year. The British pound has fallen in value versus the dollar over the last several months. Ford still earns a lot of pounds in the U.K., but each of those pounds is worth less in dollar terms than they were a year ago.
Ford was able to hedge some of that currency risk with derivative securities. That will help in the first quarter, and possibly in the second. But Ford Europe chief Jim Farley recently warned that those hedges will expire in the first half of the year, leaving Ford more exposed to any further drops in the value of the pound in the second half of 2017.
Ford said it will try to offset some of the Brexit-related impact with cost cuts and other moves. Meanwhile, the best thing it can do is to keep sales strong, and January was an encouraging result on that front.
10 stocks we like better than FordWhen investing geniuses David and Tom Gardner have a stock tip, it can pay to listen. After all, the newsletter they have run for over a decade, Motley Fool Stock Advisor, has tripled the market.*
David and Tom just revealed what they believe are the 10 best stocks for investors to buy right now...and Ford wasn't one of them! That's right -- they think these 10 stocks are even better buys.
Click here to learn about these picks!
*Stock Advisor returns as of February 6, 2017.
John Rosevear owns shares of Ford and General Motors. The Motley Fool owns shares of and recommends Ford. The Motley Fool recommends General Motors. The Motley Fool has a disclosure policy.