Why Ford Needs More Than Job Cuts to Boost Its Stock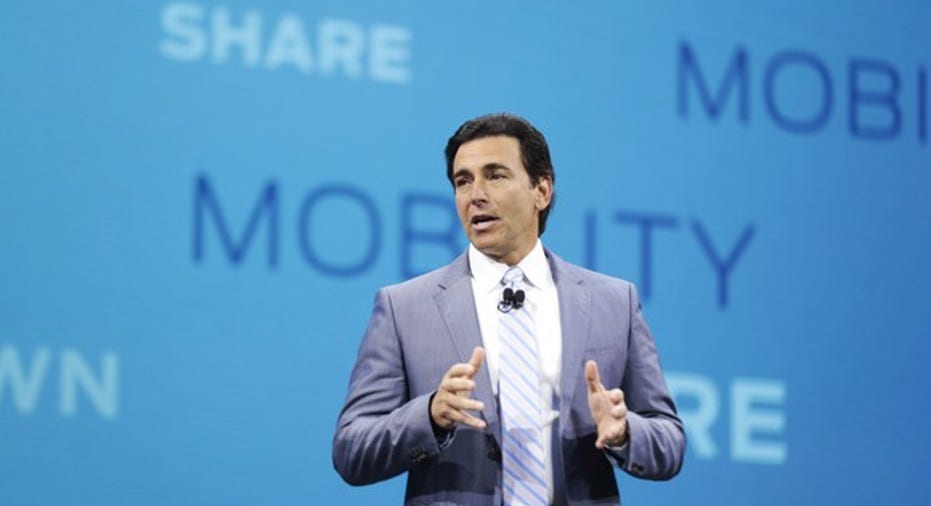 Ford Motor Company (NYSE: F) plans to make significant cuts to its global workforce in 2017, in hopes of boosting its profitability and stalled stock price, according to news reports.
But Ford CEO Mark Fields will probably need to do more to show skeptical investors that the Blue Oval's stock is a buy. Here's what we know about the coming job cuts, and why they probably won't be enough to give Ford's shares a meaningful boost.
Ford CEO Mark Fields discussed the company's future mobility initiatives in a presentation in January. Fields has recently come under pressure to do something about Ford's lagging stock price. Image source: Ford Motor Company.
What we know about the coming job cuts at Ford
The Wall Street Journal's Christina Rogers broke the story in a report on Monday night. According to that report, Ford's goal is to cut about 10% of its global workforce. This effort will be part of a previously announced Ford plan to generate $3 billion in cost reductions in 2017, the report said. The goal, according to the Journal, is to give Ford's profitability a boost in 2018 even if auto sales stall.
Ford has roughly 30,000 salaried employees in the United States.
Reuters subsequently reported that the cuts will take the form of "generous early retirement incentives" to be offered to salaried Ford employees in the U.S. and in Asia. Reuters' source, who wasn't identified, said that Ford will emphasize the voluntary nature of the cuts, and disputed the "10%" figure reported by the Journal.
What Ford said in response
I asked Ford whether it would confirm the reports. A Ford spokesperson sent me this short statement in response:
That's not confirmation, but it's also very much not a denial. I think it's reasonably safe to assume that the gist of these reports is accurate, though some details may not be.
Why would Ford want to cut so many jobs?
Here's the answer in one chart:
That chart shows Ford's stock price since Mark Fields became CEO on July 1, 2014, following Alan Mulally's retirement. Under Fields, Ford had the most profitable year in its history in 2015, followed up with a nearly as profitable result in 2016, and announced a comprehensive plan to invest aggressively in future opportunities late last year. But despite the strong results and convincing plan, Ford's stock has slumped.
That slump has recently put Fields under considerable pressure. Last week, multiple reports indicated that Fields faced heavy criticism during a board of directors meeting. And he was pushed again by shareholders during the Blue Oval's annual meeting later in the week (which was held online, rather than in person).
A cost-cutting program will yield near-term improvements in margin. But I think it doesn't address the real issue putting pressure on Ford's stock price.
What's really holding Ford's stock price back?
Investors buy a stock when they believe that the company has a chance of above-average growth. Put another way, growth stories are what drive stocks upward. I think part of what's holding Ford's stock price down is that Ford hasn't told its growth story very well.
We've heard that Ford plans to spend heavily on a slew of future-tech opportunities, including:
We've also heard that Ford will boost (or "fortify") what it calls its "profit pillars," the most profitable segments of its current automaking business (trucks, commercial vehicles, SUVs, performance cars, and Ford Credit). And, we've heard, it'll work to boost the profitability of the parts of its business that have historically lagged (luxury, small cars, and its operations in some emerging markets).
But what we haven't heard is Ford's estimate of how much all of these initiatives will add to the bottom line.
Ford is spending billions on future technologies like self-driving cars. But it hasn't explained clearly how or when it expects those investments to pay off. Image source: Ford Motor Company.
Ford needs to do this to boost its stock price
I understand that Ford might not want to commit to a growth number that it could end up missing. But Fields and his team could give us some idea of what they think each of these opportunities is worth in terms of profits -- and when those added profits could start to show up.
I think if we could say, "OK, Ford says it expects X% growth by 2022 if Y and Z happen" or whatever, then that would give investors a reason to look more closely at the stock (and hopefully, to buy it).
In aresponse to an analyst's question, Fields acknowledged during Ford's first-quarter earnings call that the company could do a better job of explaining how all of these investments will pay off:
That effort may be getting underway now. The Journal reported that Fields met with Wall Street analysts on Friday to talk up the resilience of Ford's core business and the potential payoffs from its investments in future technology. Hopefully, the next step for Ford will be to tell its revamped growth story in public.
10 stocks we like better than FordWhen investing geniuses David and Tom Gardner have a stock tip, it can pay to listen. After all, the newsletter they have run for over a decade, Motley Fool Stock Advisor, has tripled the market.*
David and Tom just revealed what they believe are the 10 best stocks for investors to buy right now... and Ford wasn't one of them! That's right -- they think these 10 stocks are even better buys.
Click here to learn about these picks!
*Stock Advisor returns as of May 1, 2017
John Rosevear owns shares of Ford. The Motley Fool owns shares of and recommends Ford. The Motley Fool has a disclosure policy.