Why Ford Motor Company Invested in an All-New 2018 Expedition SUV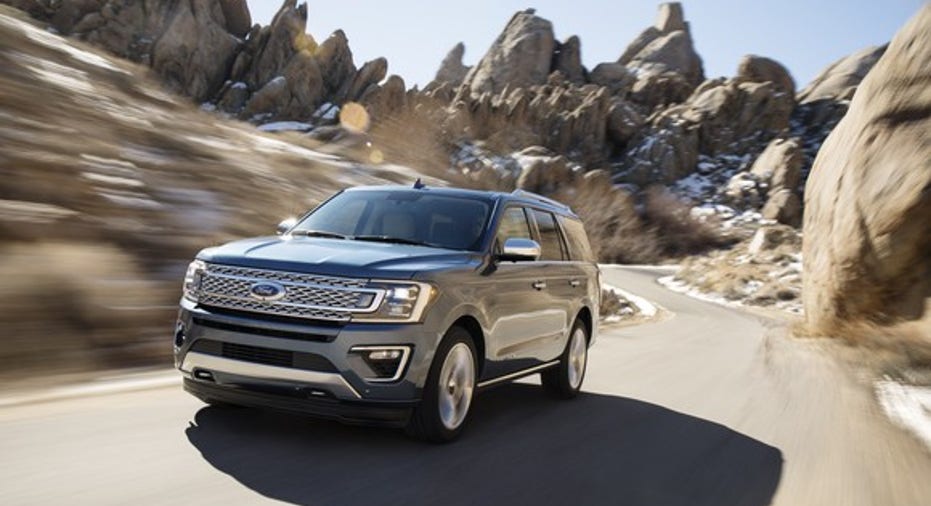 Ford Motor Company (NYSE: F) took the wraps off an all-new 2018 Ford Expedition, the latest version of its largest SUV, on Tuesday.
The 2018 Ford Expedition is the long-awaited replacement for a model that hadn't seen very many changes since its launch 15 years ago. But this Expedition is a complete redo: Like the latest versions of the Ford pickups that share some of its underpinnings, the Expedition was given a major overhaul, with a slew of new features including a brand-new aluminum body.
What's new about the 2018 Expedition?
Everything is new. The new Expedition is the latest product of the engineering effort that began with the redesign of the F-150 pickup for 2015. Just as with the 2015 F-150 (and the bigger Super Duty pickups that were launched last year), the Expedition is lighter in weight than its predecessor, loaded with high-tech features, and powered by a new-generation fuel-efficient drivetrain.
The all-new 2018 Ford Expedition's styling strongly resembles that of the popular Explorer. Image source: Ford Motor Company.
Ford had originally planned to use aluminum for its pickups and big SUVs, to significantly reduce their weight in an effort to improve fuel economy. But with gas prices relatively low, Ford chose to "reinvest" some of that weight savings in added capabilities and features. Ford said that the new Expedition is "up to 300 pounds" lighter than the old model, not a huge weight savings -- but it does have a lot of new technology.
That includes many of the latest offerings from Ford's suite of driver-assist technologies, including adaptive cruise control, lane-keeping and collision-avoidance systems, and an optional 360-degree camera system to make the big SUV easier to park. Other optional features include an onboard wifi hotspot, plenty of places to plug in mobile devices throughout the vehicle, optional video screens for those long family road trips, and Ford's "Pro Trailer Backup Assist" system, which makes attaching the Expedition to a trailer a lot easier.
As with Ford's latest pickups, the 2018 Ford Expedition's interior includes a long list of high-tech comfort and safety features. Image source: Ford Motor Company.
There are lots of options when it comes to convenience features, but under the hood, there's just one choice: It's Ford's well-regarded 3.5 liter EcoBoost turbo V6, with the new 10-speed automatic transmission that Ford developed jointly with General Motors (NYSE: GM).
Ford said that pricing, fuel-economy numbers, and a horsepower rating on that engine will all be announced before the new Expedition launches this fall. It'll be built alongside Ford's Super Duty pickups at a plant in Louisville, Kentucky.
Why is Ford investing in a huge truck-based SUV?
The popularity of car-based crossover SUVs has boomed in recent years, but there's still a market for big truck-based SUVs that can handle rougher terrain or pull a heavy trailer. Right now, that market mostly belongs to GM's big SUVs: the Chevrolet Tahoe and Suburban, GMC Yukon, and Cadillac SUV. Together, they have about three-quarters of the U.S. market for big body-on-frame SUVs -- and GM sold a little over 270,000 of them in the U.S. last year.
Another view of the 2018 Ford Expedition. Image source: Ford Motor Company.
Meanwhile, Ford sold a relatively paltry 59,835 Expeditions in the U.S. in 2016. Simply put, these are immensely profitable products, and Ford would like a bigger slice of the pie. The new Expedition looks the part, with a strong family resemblance to the handsome (and big-selling) Explorer. If reviews are positive, the Expedition could help Ford gain some ground here.
What's next for Ford on the SUV front?
The Expedition has an upscale sibling, the big Lincoln Navigator. Ford showed a "concept" version of the next-generation Navigator at last year's New York International Auto Show.
Last year's Lincoln Navigator Concept included some strictly for-show features, but the production model's overall shape is likely to be very close. Image source: Ford Motor Company.
Like many "concept" vehicles, that Navigator had some purely for-show features (huge gull-wing doors, among other things). But I expect the production version to look similar (minus the fancy doors) -- and I expect that we'll see it at this year's New York show in April.
10 stocks we like better than FordWhen investing geniuses David and Tom Gardner have a stock tip, it can pay to listen. After all, the newsletter they have run for over a decade, Motley Fool Stock Advisor, has tripled the market.*
David and Tom just revealed what they believe are the 10 best stocks for investors to buy right now... and Ford wasn't one of them! That's right -- they think these 10 stocks are even better buys.
Click here to learn about these picks!
*Stock Advisor returns as of February 6, 2017
John Rosevear owns shares of Ford and General Motors. The Motley Fool owns shares of and recommends Ford. The Motley Fool recommends General Motors. The Motley Fool has a disclosure policy.