Why Ford Is Giving Its Best-Selling F-150 an Overhaul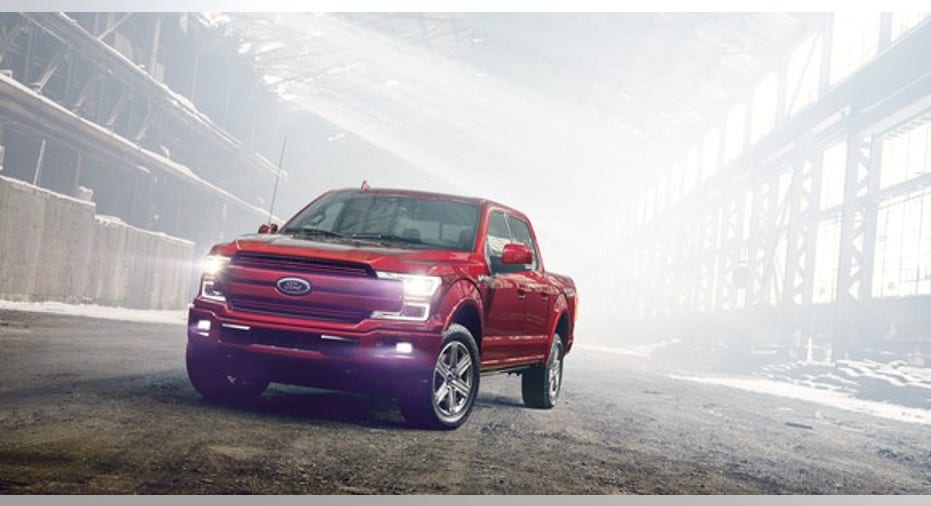 Just three years after a radical redesign, Ford Motor Company (NYSE: F) is giving its best-selling F-150 pickup a slew of upgrades for 2018 -- including its first-ever diesel engine option.
It's uncommon for an automaker to do a major product update just three years after launching an all-new model, especially when that new model has been a strong seller. But the F-150 is Ford's most profitable product, and the Blue Oval isn't taking any chance of letting it fall behind.
Ford's crown jewel will get a slew of upgrades for 2018, including seven new-look front-end designs. Image source: Ford Motor Company.
What's new: A diesel F-150
There are a lot of changes and updates coming to the 2018 iteration of the F-150 when it goes into production this fall. But the biggest news for truck fans is probably that diesel engine. The 3.0 liter "Power Stroke" V6 turbo-diesel is a new variant of the "Lion" engine that Ford builds for Tata Motors' (NYSE: TTM) Jaguar and Land Rover Brands. Like the Lion, the new Power Stroke will be made in England.
The new diesel will be paired with a new 10-speed automatic transmission developed jointly by Ford and General Motors (NYSE: GM) in what looks to be a bid to win the full-size pickup fuel-economy crown. Despite shedding hundreds of pounds with its 2015 redesign, the F-150 hasn't managed to match the fuel economy of Fiat Chrysler Automobiles' (NYSE: FCAU) Ram 1500 equipped with a diesel engine.
Image source: Ford Motor Company.
That diesel Ram gets an EPA-rated 21 miles per gallon (mpg) city, 29 mpg highway, and 24 mpg combined. The best of the current F-150s is a variant with a 2.7 liter turbocharged gasoline "EcoBoost" V6, at 19 mpg city, 26 mpg highway, and 22 mpg combined.
Ford also expects the torquey diesel to appeal to customers who put a high priority on towing and hauling heavy cargo.
Seven different grilles and lots of new tech
The 2018 F-150 gets a new face -- seven new faces, in fact. Ford has created seven different front-end designs for its big-selling truck, one for each of the F-150's seven trim levels. Ford says the range of grilles give the F-150 "a visually wider and more planted stance and maximum differentiation between the series."
Image source: Ford Motor Company.
Put another way, the new front ends show people who know pickups which trim level you bought -- which might encourage some buyers to pay up for a higher trim.
Ford has also folded some of its latest driver-assistance technology into the F-150. Buyers will be able to select a new adaptive cruise control system, the first in the big-pickup segment, along with collision-warning and 4G-enabled wifi hot-spot capabilities.
Why it's important for Ford's business
CEO Mark Fields has described the F-Series as Ford's "crown jewels," the most important products in the Blue Oval's global product portfolio. Not only are the pickups huge sellers (and the F-150 contributes the vast majority of those sales) and massively profitable for Ford (especially in those higher trim levels), but loyal F-Series fans are some of Ford's biggest brand evangelists, driving sales of other Ford models to family and friends.
Ford may also see an opportunity to build on its 2016 gains. F-Series sales rose 5.2% in 2016, while sales of GM's archrivalChevy Silverado fell 4.3%. GM updated its Silverado last year, but that update wasn't nearly as comprehensive as what Ford is bringing to the 2018 F-150.
Long story short: The F-150 is massively important to Ford's business, and Ford is willing (and able) to spend what it takes to keep them a step ahead of rivals.
10 stocks we like better than Ford When investing geniuses David and Tom Gardner have a stock tip, it can pay to listen. After all, the newsletter they have run for over a decade, Motley Fool Stock Advisor, has tripled the market.*
David and Tom just revealed what they believe are the 10 best stocks for investors to buy right now... and Ford wasn't one of them! That's right -- they think these 10 stocks are even better buys.
Click here to learn about these picks!
*Stock Advisor returns as of January 4, 2017
John Rosevear owns shares of Ford and General Motors. The Motley Fool owns shares of and recommends Ford. The Motley Fool recommends General Motors. The Motley Fool has a disclosure policy.