Why Ford Cancelled Its New Mexican Factory and Doubled Down on Electric Vehicles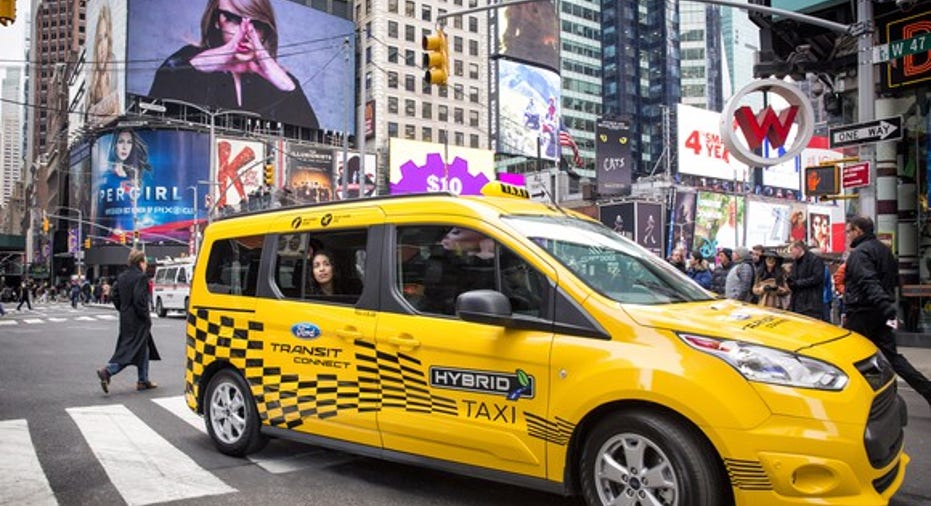 Ford's factory in Flat Rock, Michigan, currently builds the Mustang and the Lincoln Continental. Image source: Ford Motor Company.
In a sweeping series of announcements on Tuesday morning, Ford Motor Company (NYSE: F) CEO Mark Fields said that the Blue Oval is cancelling a long-planned new factory in Mexico and will instead expand an existing factory in Michigan, creating 700 new jobs. It's also rolling out several new hybrids and a fully electric SUV.
That's not just good politics in the age of Donald Trump. There are some goodbusiness reasons for these moves, and Ford shareholders should be pleased. Here's what Ford has in mind.
What Ford said: A lot of big things are happening
Speaking at Ford's factory in Flat Rock, Michigan, Fields said that Ford has cancelled plans to build a new $1.6 billion assembly plant in San Luis Potosi, Mexico. Instead, it will invest $700 million in a major expansion of the Flat Rock factory that will enable it to build two new advanced vehicles.
Flat Rock currently builds the Ford Mustang and Lincoln Continental. It will continue to do so, and with the expansion, it will add two additional products: an all-new self-driving hybrid vehicle for ride-hailing and ride-sharing services and a brand-new all-electric SUV.
Ford had previously announced the self-driving vehicle, but this is the first time it has confirmed the electric SUV. That SUV will have a range of "at least 300 miles" and will be in in production by 2020. Ford previously said the self-driving vehicle would go into production by 2021.
Those are two of a total of seven new "electrified" products confirmed by Fields on Tuesday. In addition:
A hybrid version of the F-150 pickup that "will offer powerful towing and payload capacity and operate as a mobile generator." That's consistent with Ford's past hints that it will use hybrid technology to offer product-specific benefits that go beyond fuel economy. It will go into production at Ford's Dearborn Truck Plant by 2020.
A hybrid version of the Mustang that will pair an electric motor with a gasoline V8 for "even more low-end torque". It will be built in Flat Rock starting in 2020.
A plug-in hybrid version of the Transit Custom commercial van, to go on sale in Europe starting in 2019.
Two new hybrid police vehicles. Ford didn't give much detail about these except to say that one would be built in Chicago. Among other products, Ford's Chicago Assembly Plant builds the Explorer SUV, already a popular police vehicle. (That's a hint that a hybrid Explorer for civilian use is likely on the way, too.)
Fields also said that upcoming hybrid versions of its SUVs will all be powered by its advanced "EcoBoost" turbocharged engines, and that Ford is currently testing a small fleet of hybrid Transit Connect taxis in several U.S. cities.
Why Ford cancelled the Mexican factory
The cancellation of the San Luis Potosi plant is a big deal. It's likely that Ford had intended to build the electric SUV and the self-driving vehicle along with some conventional small cars at that new $1.6 billion plant. The choice to spend $700 million to expand Flat Rock instead will leave Ford with a significant up-front savings, and it's also a response to falling U.S. demand for smaller vehicles. That savings could be helpful if the U.S. new-car market begins a cyclical contraction over the next couple of years.
Ford is currently testing hybrid Transit Connect taxis inseveral U.S. cities. Image source: Ford Motor Company.
The move will also create 700 new jobs in Michigan, a timely political gesture as President-elect Donald Trump prepares to take office. While Ford said the decision was made because of concerns about small-vehicle demand not because of pressure from Trump, don't underestimate the political ramifications. It puts Ford in a good position to have some influence with the new administration on some key points of concern: Like other automakers, Ford would prefer to avoid a trade war with China, for instance.
But it's worth noting that Ford still plans to build the next-generation version of the compact Focus sedan in Mexico, at its existing factory in Hermosillo. Ford will use the current Focus factory (in Wayne, Michigan) to build two new products, believed to be a new Ranger pickup and a mechanically related SUV to be called the Bronco. No U.S. jobs will be lost, Ford said.
The upshot: There's a lot for shareholders to like in this news
There's a lot to dig into here, and I'll be digging into it over the next couple of days. But the takeaway is this: Ford saved some money, created some new jobs, scored some political points, and emphasized that it plans to remain a major player as technology transforms the traditional auto business.
Ford shares jumped about 3% on the news. That's as it should be: This is all good news for the long-term health of Ford's business.
10 stocks we like better than Ford When investing geniuses David and Tom Gardner have a stock tip, it can pay to listen. After all, the newsletter they have run for over a decade, Motley Fool Stock Advisor, has tripled the market.*
David and Tom just revealed what they believe are the 10 best stocks for investors to buy right now... and Ford wasn't one of them! That's right -- they think these 10 stocks are even better buys.
Click here to learn about these picks!
*Stock Advisor returns as of Nov. 7, 2016
John Rosevear owns shares of Ford. The Motley Fool owns shares of and recommends Ford. The Motley Fool has a disclosure policy.