Why Five Below Inc Stock Jumped Today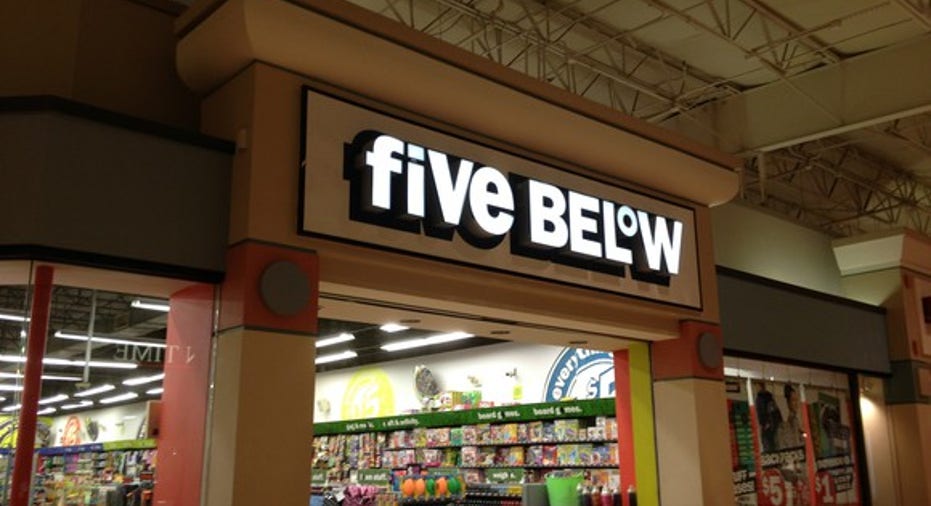 Image source: The Motley Fool.
What happened
Shares of discount retailerFive Below(NASDAQ: FIVE) were surging today after the company reported better-than-expected results in its third-quarter earnings report. As of 11:18 a.m. EST, the stock was up 12.5%.
So what
Five Below said overall revenue increased 17.6% to $199.5 million, matching analysts' expectations according to Factset, though those gains came entirely from new stores; sales from stores open more than a year edged down by 0.2%. Gross margin improved 150 basis points to 32.6%, helping to drive EPS up from $0.08 a year ago to $0.10, which was $0.01 better than expectations.
CEO Joel Anderson said, "We are pleased to have delivered earnings at the high end of our guidance in our third quarter.Our track record of outstanding new store performance continued and, despite being up against a strong third quarter last year, we delivered solid sales growth, expanded operating margins and increased EPS by 25% for the quarter."
Now what
Looking ahead, management said it expected EPS of $0.89 to $0.92 in the key holiday quarter on comparable sales growth of 2% to 3% and total revenue of $391 million to $397 million. That compares with the analyst consensus of $0.91 in EPS and $393.5 million in revenue. While those aren't outstanding numbers, they do show Five Below executing on its growth plan. The stock isn't cheap at a price-to-earnings ratio over 30, but the company sees room to expand to 2,000 stores nationwide from just 517 at the end of the third quarter. As long as new store performance remains strong, that goal is within reach. Keep your eye on new store openings and comparable sales in the future, as that should determine Five Below's long-term performance.
10 stocks we like better than Five Below When investing geniuses David and Tom Gardner have a stock tip, it can pay to listen. After all, the newsletter they have run for over a decade, Motley Fool Stock Advisor, has tripled the market.*
David and Tom just revealed what they believe are the 10 best stocks for investors to buy right now... and Five Below wasn't one of them! That's right -- they think these 10 stocks are even better buys.
Click here to learn about these picks!
*Stock Advisor returns as of November 7, 2016
Jeremy Bowman has no position in any stocks mentioned. The Motley Fool recommends Five Below. Try any of our Foolish newsletter services free for 30 days. We Fools may not all hold the same opinions, but we all believe that considering a diverse range of insights makes us better investors. The Motley Fool has a disclosure policy.