Why Fitbit Stock Is Down 57% in 2016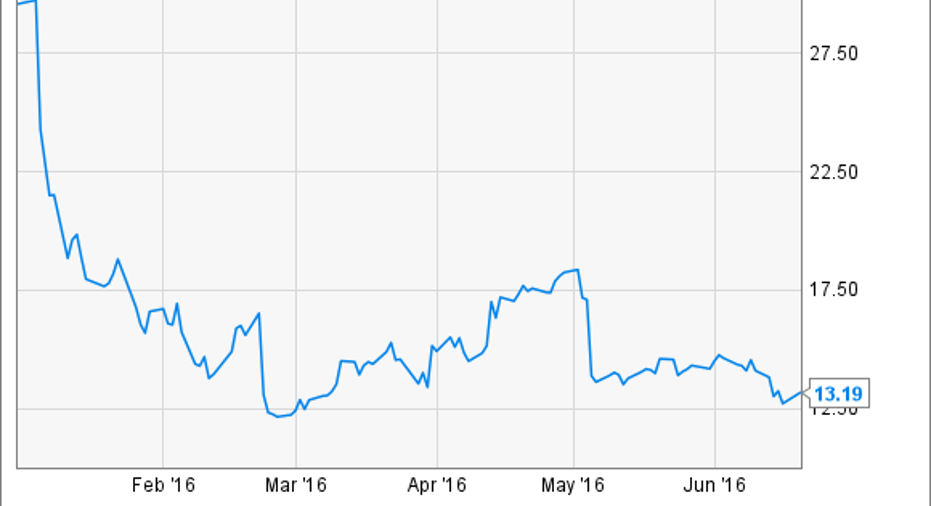 The Fitbit Blaze. Image source: Fitbit.
What: Shares of fitness-wearables company Fitbit were down 57% year to date as of June 20, according to data provided byS&P Global Market Intelligence. A series of earnings reports featuring vast increases in spending and weak guidance, as well as general pessimism regarding the staying power of Fitbit's products, led to the decline.
So what: Trouble started early for Fitbit this year. The company launched the $200 Blaze smartwatch on Jan. 5, and the stock fell sharply on the news. The Blaze represented an attempt to compete head-on with the Apple Watch, a move that investors didn't like.
On Feb. 22, Fitbit reported its fourth-quarter results, easily beating analyst estimates for revenue and earnings. Revenue grew by an impressive 92% year over year, but the company's guidance for the first quarter was below expectations. A slew of analyst downgrades followed, with a common concern being the long-term picture.
On May 4, the company again handily beat analyst estimates when it reported its first-quarter results. Revenue jumped by 50% year over year, driven by strong sales of the Blaze and the Alta, a fashionable fitness tracker. Each new product moved over 1 million units each, accounting for nearly half of total revenue collectively.
The stock tumbled again, this time driven by massive spending increases that drove down earnings. Total operating expenses exploded, rising 171% year over year during the quarter. Research and development spending more than tripled, and sales and marketing spending more than doubled. Fitbit CEO James Park defended the heavy spending: "The strong growth and defensibility of our business continues to be powered by product innovation, the network effects of our community, our expanding global distribution, and investment in our brand."
Now what: While Fitbit is still growing revenue rapidly, the fear is that the bottom will eventually fall out. GoPro , another consumer gadget company, reported strong revenue growth every quarter until the holiday season of 2015 turned into a disaster. GoPro's sales fell off a cliff, and a recovery is nowhere in sight. Investors are assuming that Fitbit will follow a similar path.
Heavy spending is a sign that Fitbit is feeling pressure from competing products, and while the company's fitness bands have proved to be popular, there's a real risk that the market is near saturation, and that more capable products such as the Apple Watch will ultimately prove more appealing to consumers. There's a tremendous amount of uncertainty surrounding Fitbit, and investors have responded by pushing shares down sharply this year.
The article Why Fitbit Stock Is Down 57% in 2016 originally appeared on Fool.com.
Timothy Green has no position in any stocks mentioned. The Motley Fool owns shares of and recommends AAPL and GPRO. The Motley Fool has the following options: long January 2018 $90 calls on AAPL and short January 2018 $95 calls on AAPL. The Motley Fool recommends FIT. Try any of our Foolish newsletter services free for 30 days. We Fools may not all hold the same opinions, but we all believe that considering a diverse range of insights makes us better investors. The Motley Fool has a disclosure policy.
Copyright 1995 - 2016 The Motley Fool, LLC. All rights reserved. The Motley Fool has a disclosure policy.