Why Fitbit Inc. Shareholders Have Something to Worry About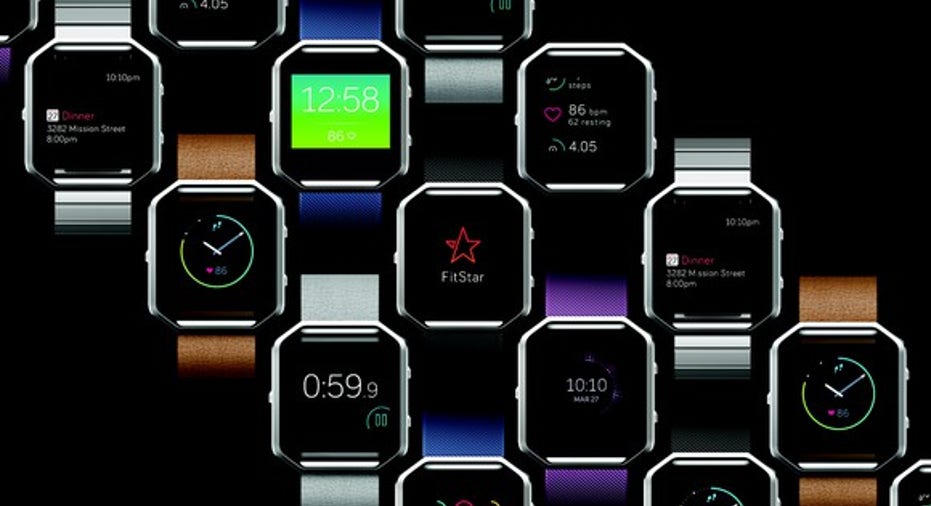 Fitbit (NYSE: FIT) has been a painful stock to own. After going public at $20 in mid-2015, the stock rallied to nearly $50 before tumbling to just over $5 per share. The reasons for the decline were easy to see -- slowing sales growth, plunging margins, and a lack of a moat against cheaper fitness trackers and full-featured smartwatches.
I discussed Fitbit's possible future and its four main competitors in two recent articles. But today, I'll examine three specific market trends which should trouble Fitbit's long-suffering shareholders -- the growth of wearable apps, the evolution of smartphone chips, and ongoing questions about the safety and accuracy of its devices.
Fitbit's Blaze. Image source: Fitbit.
1. It's all about the apps
When Fitbit first entered the wearables market, it only needed to sync its devices to its own mobile app. But after Android Wear devices and the Apple (NASDAQ: AAPL) Watch arrived, consumers turned their attention toward full-featured wearable apps.
Fitbit tried to counter this shift byupdating its software to auto-detect workouts in late 2015, but rivals likeGarmin (NASDAQ: GRMN) quickly added similar features. In early 2016, Fitbit launched its answer to the Apple Watch, the Blaze, butthe device still only ran a handful of first-party apps.
Meanwhile, the number of Apple Watch appstopped 19,000 last year, and developers have produced "thousands" of Android Wear apps. In 2015, Garmin also launched its own app store, Connect IQ, for developers to submit their own wearable apps.
In early 2017, Fitbit CEO James Park stated that thecompany would launch its own app store later this year. That's probably why it recently acquired the assets of Pebble, which ownsits own app store of basic smartwatch apps, for $23 million. But looking ahead, every quarter which passes without a beefier smartwatch and a third-party app store could leave Fitbit further behind this key technological curve.
2. Do I need a smartphone and a fitness tracker?
Another major challenge for Fitbit is the evolution of smartphone chips into motion-tracking tools. Back in 2013, Apple introduced theM7 motion coprocessor, which enabled smartphones to accurately track a user's movements without firing up the main application processor.
Google Fit. Image source: Google Play.
Qualcomm (NASDAQ: QCOM) countered this move with the Hexagon 680 DSP, which was paired with the Snapdragon 820 three years later. The arrival of these motion coprocessors meant that many popular fitness apps -- like Google Fit and Map My Run -- could easily track walks, runs, or bike rides without a need for additional fitness trackers.
While that might not satisfy hard-core athletes, putting a smartphone in a pocket or in an armband might be enough for casual users. Modern smartphones can also measure heart rates with the camera, which could eliminate the need for wrist-worn heart trackers -- as long as the user doesn't require continuous readings.
3. Questions about accuracy and safety
For hard-core fitness tracker users, accuracy is a top priority. However, the accuracy of some of Fitbit's heart rate sensors was questioned in a class action lawsuit last year. In late 2015, anMIT Technology Review article claimedthat doctors were generally "unimpressed" with those tracking features, and questioned "the validity of the deluge of data" gathered from those devices.
That skepticism stems from the fact that Fitbit's trackers aren't fully certified medical devices. Instead, they're approved under the Food and Drug Administration's less-rigorous "wellness-focused" device category. Fitbit could certainly pursue more robust certifications, but doing so would be costly and time consuming, and slow down its product launch cycle.
The safety of Fitbit's devices has also been questioned before. The Fitbit Force was recalled in 2014 aftercausing rashes and burns. A report of an exploding Fitbit Flex 2, whichFitbit claims was caused by "external forces," also sparked unflattering comparisons to Samsung's Note 7 fiasco earlier this year. All these issues could impact Fitbit's long-term plans to win bulk orders with its corporate wellness programs.
The key takeaways
Fitbit's biggest challenge is the ever-growing number of competitors in the wearables space. But investors should also realize that third-party apps, improving smartphone chips, and accuracy issues could all hurt Fitbit's ability to win over mainstream users and serious athletes in the foreseeablefuture.
10 stocks we like better than FitbitWhen investing geniuses David and Tom Gardner have a stock tip, it can pay to listen. After all, the newsletter they have run for over a decade, Motley Fool Stock Advisor, has tripled the market.*
David and Tom just revealed what they believe are the 10 best stocks for investors to buy right now... and Fitbit wasn't one of them! That's right -- they think these 10 stocks are even better buys.
Click here to learn about these picks!
*Stock Advisor returns as of May 1, 2017
Leo Sun owns shares of Qualcomm. The Motley Fool owns shares of and recommends Apple, Fitbit, and Qualcomm. The Motley Fool has a disclosure policy.