Why FireEye Inc. Stock Slumped Today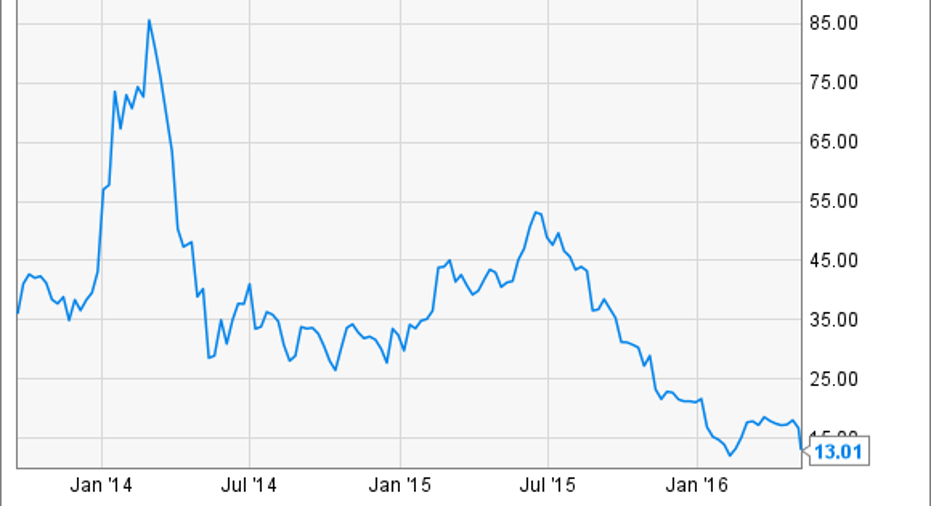 Image source: FireEye.
What: Shares of cybersecurity company FireEye slumped on Friday following the company's first-quarter earnings report. Mixed results, weak guidance, and the departure of the company's CEO pushed the stock down about 18.5% by 11:45 a.m. ET.
So what: FireEye reported quarterly revenue of $168 million, up 34% year over year but about $3.8 million shy of the average analyst estimate. Product revenue declined 16% year over year to $33.7 million, while subscription and services revenue jumped 57.7%. Billings of $186 million grew by 23%, above the company's guidance.
FireEye reported a non-GAAP loss of $0.47 per share, compared to a loss of $0.48 per share during the prior-year period. This was slightly better than analyst expectations, which called for a loss of $0.50 per share. FireEye was even more unprofitable on a GAAP basis, with a net loss of $155.9 million, or $0.98 per share.
The company expects second-quarter revenue between $178 million and $185 million, below analyst expectations of $192.8 million. Full-year revenue is expected between $780 million and $810 million, also below analyst expectations of $828.6 million. Non-GAAP EPS is expected to be a loss of $0.38-$0.40 per share during the second quarter and a loss of $1.20-$1.27 per share during the full year. This compares to analyst estimates calling for a loss of $0.36 per share next quarter and a loss of $1.25 per share in 2016.
Now what: FireEye CEO Dave DeWalt is stepping down, transitioning to the role of executive chairman of the board effective June 15. The current president, Kevin Mandia, will take the helm as the new CEO.
An executive shuffle, mixed earnings, and lackluster guidance were more than enough to send shares of FireEye tumbling on Friday. The stock is now down about 86% from its peak in 2014.
FireEye's revenue guidance represents growth of 27.6% at the midpoint, a substantial slowdown compared to recent years. While growth becomes more difficult the larger the company becomes, investors appear unwilling to assign FireEye its former nosebleed valuation while the company continues to post massive losses. With FireEye guiding for slower growth than expected, investors are punishing the stock.
The article Why FireEye Inc. Stock Slumped Today originally appeared on Fool.com.
Timothy Green has no position in any stocks mentioned. The Motley Fool owns shares of and recommends FireEye. Try any of our Foolish newsletter services free for 30 days. We Fools may not all hold the same opinions, but we all believe that considering a diverse range of insights makes us better investors. The Motley Fool has a disclosure policy.
Copyright 1995 - 2016 The Motley Fool, LLC. All rights reserved. The Motley Fool has a disclosure policy.