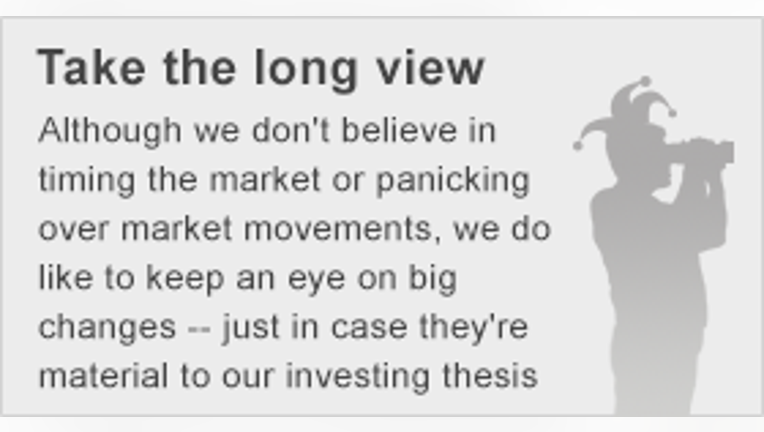 Finisar's QSFP28 100-gigabit transceiver. Image source: Finisar.
What: Shares of Finisar rose 25.1% in March 2016, according to data from S&P Global Market Intelligence. Thanks to a solid third-quarter report, the stock jumped as much as 20% in a single day, and that's all she wrote.
So what: Third-quarter earnings stayed flat year over year on 3.7% lower revenues. If that sounds unremarkable or downright disappointing, consider that analysts had expected earnings to slide 12% lower. The reported results were on the top end of Finisar's own earnings guidance for the quarter, despite only mid-guidance revenues.
Sales were particularly healthy in the telecom department, driven by strong orders from the three largest service providers in China. North American telecoms are also busy upgrading their metro networks, helping that segment again. Profit margins were helped by a surprisingly rich product mix, as customers flocked to high-margin products like the 100-gigabit QSFP28 transceiver.
Now what: The Chinese infrastructure buildout is unlikely to stop anytime soon, and then the North Americans will get ready to take advantage of newfound bandwidth licenses won in the the soon-to-open FCC auction.
Finisar doesn't like to provide guidance beyond the next quarter, but it seems like it -- and the rest of the optical networking industry -- is pretty much done with the recent market downturn. Finisar shares had gained 55% over the last six months at press time, and some rivals have actually doubled that fantastic half-year return.
The article Why Finisar Corp. Gained 25% in March originally appeared on Fool.com.
Anders Bylund has no position in any stocks mentioned. The Motley Fool has no position in any of the stocks mentioned. Try any of our Foolish newsletter services free for 30 days. We Fools may not all hold the same opinions, but we all believe that considering a diverse range of insights makes us better investors. The Motley Fool has a disclosure policy.
Copyright 1995 - 2016 The Motley Fool, LLC. All rights reserved. The Motley Fool has a disclosure policy.