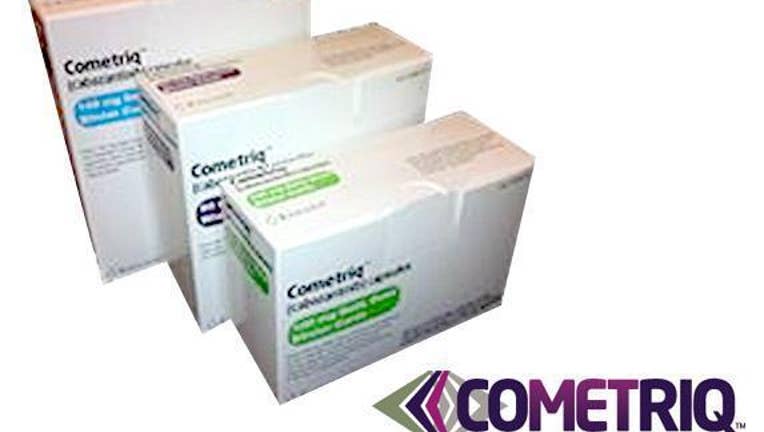 What: Shares of Exelixis , a small-cap biopharma focusing on the development of cancer treatments, fell by 10.42% yesterday on higher-than-normal volume. The good news is that this double-digit decline doesn't appear to be linked to a company-specific event, but rather is the result of yet another volatile day among biotechs in general. The iShares Nasdaq Biotechnology ETF , for instance, also fell by a noteworthy 3.57% yesterday.
So what: According to data provided by S&P Global Market Intelligence, nearly a third of Exelixis' shares were sold short at the end of January, making it one of the most heavily shorted biotech stocks. So, with this much pressure from short-sellers, it's not all that surprising that Exelixis' stock took an especially big hit on a fairly widespread sell-off among biotechs.
Image source: Exelixis.
Now what: Looking ahead, I think the most important issue for investors to understand is why shorts are piling into this stock. The short thesis, to me, seems to center around the potential commercialization ofcabozantinib (brand name: Cometriq) in the second-line kidney cancer setting.
Although the FDA won't actually render its regulatory decision until later this year -- reportedly June 22 at the latest -- the late-stage data that's been made public so far implies that cabozantinibmay be a major step forward in the treatment of advanced kidney cancer. Specifically, Exelixis reported thatcabozantinib significantly outperformed Novartis' Afinitor -- in terms of both progression-free survival and overall survival in a large randomized study known as METEOR.
The elephant in the room, though, is that Bristol-Myers Squibb's checkpoint inhibitor Opdivo recently gained a regulatory approval for this exact same indication, meaning that cabozantinib will face serious competition if it is approved by the FDA for advanced kidney cancer.
All things considered, I personally think that cabozantinib will ultimately carve out a profitable niche in the second-line kidney cancer setting based on its ability to prolong survival within this patient population, and in turn, prove to be an important value driver for Exelixis going forward. This short thesis looks (to me, at least) to be grounded more in fear than in reality.
The article Why Exelixis' Stock Dropped 10% on Tuesday originally appeared on Fool.com.
George Budwell owns shares of iShares NASDAQ Biotechnology Index (ETF). The Motley Fool recommends Exelixis. Try any of our Foolish newsletter services free for 30 days. We Fools may not all hold the same opinions, but we all believe that considering a diverse range of insights makes us better investors. The Motley Fool has a disclosure policy.
Copyright 1995 - 2016 The Motley Fool, LLC. All rights reserved. The Motley Fool has a disclosure policy.