Why Excluding Snap From the S&P 500 Is a Big Deal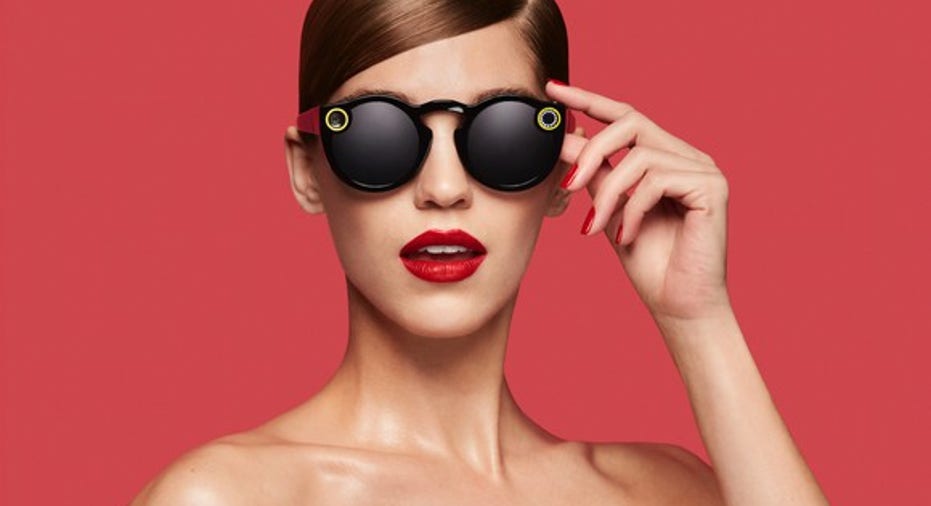 Snap's (NYSE: SNAP) decision to issue non-voting shares through its IPO may already have cost it billions of dollars in investor support.
A group of institutional investors have approached stock index providers S&P Dow Jones Indices and MSCI to bar the shares from becoming part of several major indexes. Their argument is that one of the criteria for inclusion in the indexes is "a corporate governance structure consistent with U.S. practice." Snap's corporate structure is quite unusual, with the founders holding about 90% of the voting rights, and average investors holding no votes at all.
Excluding Snap shares from the S&P 500 may not sound like a big deal -- it doesn't affect the underlying fundamentals of the company. But the growing popularity of index funds and ETFs means Snap will miss out on billions of dollars of buyer support that early investors may have been expecting down the road.
Image source: Spectacles.com.
$6 trillion and growing
Index funds and ETFs are expected to overtake actively managed investments in the next seven years or so, according to Moody's. Currently, investors have plowed $6 trillion in assets into the passive investments. $2 trillion of those assets track the S&P 500 index.
Getting added to the S&P 500 is a big deal. When Alphabet (NASDAQ: GOOG) (NASDAQ: GOOGL) was added to the S&P 500, it received an immediate 7% bump in its share price. Facebook (NASDAQ: FB) received a 4% boost upon the news that it would have a place in the index.
What's more, the stocks continued to benefit for some time as active funds that are benchmarked against the index were compelled to buy more shares of the heavily weighted stocks. Alphabet and Facebook are two of the largest companies in the S&P 500. Snap, with its market cap floating around $30 billion, would be more moderately weighted than both, but it would still see similar benefits.
Snap knew this was a possibility
In Snap's S-1 filing with the SEC, it wrote that it couldn't predict whether its decision to make its Class A shares non-voting "will result in adverse publicity or other adverse consequences." Certainly, it saw it as a possibility, and it even noted that no other company has made an IPO with non-voting shares.
While Snap's capital structure is different from those of most U.S. companies, it's worth noting that it's not the only company with non-voting shares. In fact, Alphabet has two publicly traded share classes -- one voting and one non-voting -- and it's included in the S&P 500. Likewise, Facebook plans to issue two non-voting (Class C) shares to current shareholders of any class under its approved stock split plan.
But the fact that investors cannot buy voting shares of Snap on the open market makes its situation unique.
How will it impact investors?
While having buyer support in the form of institutional investors is a nice insurance policy, it's not the only thing that matters. After all, the primary driver of a stock's value is the underlying company's performance. If Snap can continue growing its user base and revenue at a rapid clip, the share price should inevitably climb to meet its fundamental performance.
There are a lot of question marks surrounding Snap, especially in light of the recent slowdown in user growth seemingly brought on by the increased intensity of Facebook's competition. The potential for several major indexes to exclude the stock make it even riskier.
10 stocks we like better than Snap Inc.When investing geniuses David and Tom Gardner have a stock tip, it can pay to listen. After all, the newsletter they have run for over a decade, Motley Fool Stock Advisor, has tripled the market.*
David and Tom just revealed what they believe are the 10 best stocks for investors to buy right now...and Snap Inc. wasn't one of them! That's right -- they think these 10 stocks are even better buys.
Click here to learn about these picks!
*Stock Advisor returns as of February 6, 2017.
Suzanne Frey, an executive at Alphabet, is a member of The Motley Fool's board of directors. Adam Levy has no position in any stocks mentioned. The Motley Fool owns shares of and recommends Alphabet (A and C shares) and Facebook. The Motley Fool has a disclosure policy.