Why Exact Sciences' Stock Could Go Much Higher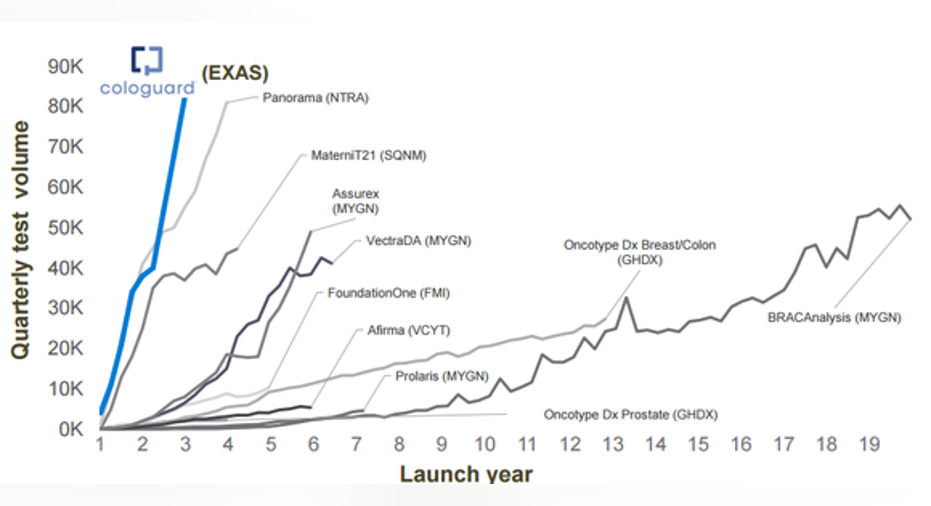 Exact Sciences (NASDAQ: EXAS) announced preliminary fourth-quarter and full-year 2016 financial results on Sunday. Those numbers were so impressive that the molecular diagnostics company's stock soared more than 20%. On Thursday, Exact Sciences CEO Kevin Conroy spoke at the J. P. Morgan Healthcare Conference. Conroy's presentation showed why the company's stock could go even higher over the long run.
Image source: Exact Sciences.
Skyrocketing growth
The better-than-expected preliminary results that Exact Sciences announced stemmed from what can only be described as skyrocketing growth for the company's Cologuard DNA screening test for colorectal cancer. Kevin Conroy showed a chart in his presentation at the J. P. Morgan conference that illustrates just how strong Cologuard's growth has been so far.
Image source: Exact Sciences.
Several diagnostics tests haven't experienced particularly strong launches. It took years, for example, for the breast cancer tests marketed by industry pioneer Myriad Genetics (NASDAQ: MYGN) and Genomic Health (NASDAQ: GHDX) to achieve more than 20,000 tests in a quarter. Foundation Medicine's (NASDAQ: FMI) FoundationOne cancer test,Veracyte's (NASDAQ: VCYT) Afirma thyroid DNA test, and Myriad's Prolaris prostate cancer test didn't grow volume much after several years on the market.
Others product roll-outs have gone better. Assurex, which is now owned by Myriad Genetics, has enjoyed a solid launch for its Genesight pharmacogenomic test. Sequenom'sMaterni21noninvasive prenatal screening test (NIPT) performed even better. So didNatera's Panaroma NIPT.
None, however, have experienced a launch as strong as Cologuard's. And Kevin Conroy's J. P. Morgan presentation showed good reason to believe the momentum can continue.
Market potential
In the U.S. alone, there are roughly 80 million patients who should be tested for colorectal cancer. Exact Sciences thinks it can capture around 30% of that market. That reflects around $4 billion in potential annual revenue.
Can the company actually make this happen, though? There are three primary hurdles to jump. The first is winning over payers to cover Cologuard. On that front, Exact Sciences is doing quite well. Conroy said that Cologuard is now covered for 70% of the addressable target patient population, with more expansion of coverage on the way.
The next hurdle is making healthcare providers aware of Cologuard's benefits. Conroy showed a chart that reflected Exact Sciences' progress.
Image source: Exact Sciences.
The third hurdle to overcome is educating patients. This ties in with provider awareness, because if patients ask about Cologuard it will force physicians to become more familiar with the test. Exact Sciences has kicked off a major marketing campaign including nationwide TV ads. Volume growth for Cologuard has increased noticeably since the TV ads began airing. I suspect this exposure will also benefit the company as patients recommend Cologuard to their friends and families.
Bigger opportunities
Perhaps the most intriguing comments by Conroy at the J. P. Morgan conference related to Exact Sciences' plans to expand beyond colorectal cancer testing. The company has partnered with the Mayo Clinic to develop a technology platform to detect cancer from a blood sample.
Conroy cited studies using this liquid biopsy technology that showed high accuracy rates for detection of lung cancer, liver cancer, and pancreatic cancer. Exact Sciences thinks the market for liquid biopsies could top $13 billion annually by 2030.
Others want their piece of the pie
One wrinkle for Exact Sciences' plans is that other companies are pursuing similar goals. Myriad Genetics already markets a suite of liquid biopsy tests with over 2 million tests performed so far. Foundation Medicine, Genomic Health, and Veracyte also have liquid biopsy tests on the market.
Still, though, Exact Sciences appears to be on the right track for sustained growth. With increased awareness of Cologuard and great potential for its products in development, I think the stock has room to go a lot higher.
10 stocks we like better than EXACT Sciences When investing geniuses David and Tom Gardner have a stock tip, it can pay to listen. After all, the newsletter they have run for over a decade, Motley Fool Stock Advisor, has tripled the market.*
David and Tom just revealed what they believe are the 10 best stocks for investors to buy right now... and EXACT Sciences wasn't one of them! That's right -- they think these 10 stocks are even better buys.
Click here to learn about these picks!
*Stock Advisor returns as of January 4, 2017
Keith Speights has no position in any stocks mentioned. The Motley Fool owns shares of and recommends Genomic Health. The Motley Fool has a disclosure policy.