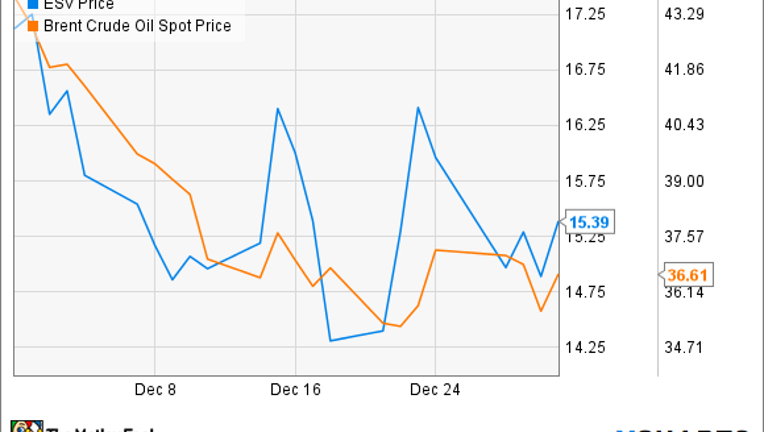 What: Shares of Ensco PLC had another bad month in December, falling 10.1% as the oil market suffered mightily...again.
So what: Ensco is suffering from the same problem as many of its offshore drilling competitors: a lack of new offshore drilling contracts. Oil companies big and small are cutting back on capital spending, and as rigs come off contracts, there's simply no new work for them. So, the company faces a dire financial future unless oil prices turn around in the near future.
The problem is that instead of oil prices rising as U.S. oil production drops, they're moving even lower. There are a variety of reasons why, from OPEC's rising production to China's shaky economy, but the fundamental problem for Ensco is that $35/barrel oil will lead to major financial difficulty if it lasts too long.
Now what: The longer oil prices stay below $50, the worse the financial condition of offshore drillers gets. Ensco can survive through 2016 without an uptick in demand, but if this weak oil market lasts years, it's going to be a major problem for Ensco and everyone else who has invested billions of dollars in ultra-deepwater offshore drilling rigs.
I think there will be upside in stocks like Ensco eventually, but when that upside will come, or if it will be before drillers start to go bankrupt is anybody's guess, and that's what keeps me cautious in offshore drilling right now.
The article Why Ensco PLC's Shares Dropped Double Digits in December originally appeared on Fool.com.
Travis Hoium owns shares of Ensco. The Motley Fool has no position in any of the stocks mentioned. Try any of our Foolish newsletter services free for 30 days. We Fools may not all hold the same opinions, but we all believe that considering a diverse range of insights makes us better investors. The Motley Fool has a disclosure policy.
Copyright 1995 - 2016 The Motley Fool, LLC. All rights reserved. The Motley Fool has a disclosure policy.