Why Enbridge Energy Partners Stock Got Hammered in January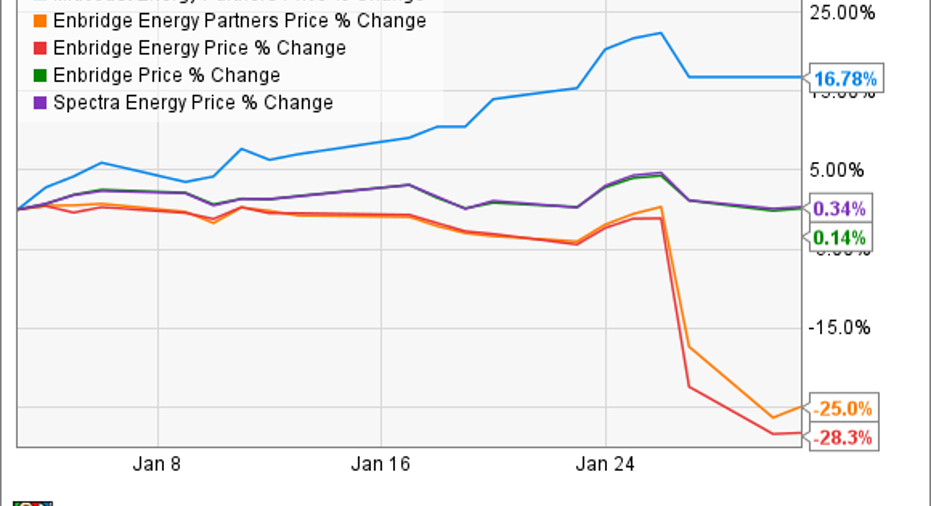 What happened
Shares of Enbridge Energy Partners (NYSE: EEP) and Enbridge Energy Management (NYSE: EEQ) dropped 25% and 28%, respectively, in January. The impetus for the large decline came late in the month when the partnership announced that it would acquire the remaining interest in its publicly traded subsidiary,Midcoast Energy Partners (NYSE: MEP).
Image source: Getty Images.
So what
Investors have known for a while that Enbridge Energy Partners planned to do something with Midcoast. For close to a year now, management has said that it was exploring strategic alternatives for natural gas gathering and processing business because of perpetual underperformance. Midcoast had been in so much trouble that Enbridge Energy Partners was actually giving it cash to help pay out distributions to its publicly held units.
There were likely two reasons why this deal was done. The first is that this deal will simplify the business structure of the company and will provide Midcoast better access to capital. This is a hard pill to swallow, though, because Midcoast was spun off from Enbridge Energy Partners back in 2013 for the exact same reason.
The more likely reason this deal was done was because the parent company, Enbridge (NYSE: ENB), is in the middle of a major merger with Spectra Energy (NYSE: SE). Spectra Energy has significant business in natural gas gathering and processing as well through its joint ownership with DCP Midstream (NYSE: DCP). There is a large amount of geographic overlap between these two companies' assets, and it doesn't make a whole lot of sense for them to operate as separate entities that will compete for capital from the parent company.
Now what
I'm speculating here, but it doesn't look as though this story is done yet. The advantages of having Midcoast as a wholly owned subsidiary of Enbridge Energy Partners don't change the fact that Midcoast and DCP Midstream will be fighting to spend money on the same type of assets. One has to imagine that there are some unannounced moves here waiting to happen.
This is the challenge of investing in a company that is in the middle of such a massive merger. Spectra Energy, Enbridge, and all of its subsidiaries are likely going to witness some significant changes to their asset portfolios or corporate structure to realize business synergies. Otherwise, it's just a combined company operating assets in a less-than-optimal way.
With so much of this situation up in the air, it is incredibly difficult for investors to know exactly what they are buying. Those who are buying a company under the Spectra/Enbridge umbrella are likely doing so because they want consistent dividend payments with modest growth built in for years to come. Without that visibility of what assets are owned by which entity and how all of these businesses will be structured long term, it's hard to make that leap of faith for investors.
Considering this, it's probably best for investors to sit back and watch how this merger unfolds over the next couple of quarters and the dust settles.
10 stocks we like better than Enbridge Energy PartnersWhen investing geniuses David and Tom Gardner have a stock tip, it can pay to listen. After all, the newsletter they have run for over a decade, Motley Fool Stock Advisor, has tripled the market.*
David and Tom just revealed what they believe are the 10 best stocks for investors to buy right now... and Enbridge Energy Partners wasn't one of them! That's right -- they think these 10 stocks are even better buys.
Click here to learn about these picks!
*Stock Advisor returns as of February 6, 2017
Tyler Crowe has no position in any stocks mentioned. The Motley Fool owns shares of and recommends Spectra Energy. The Motley Fool recommends DCP Midstream. The Motley Fool has a disclosure policy.