Why Elizabeth Arden, Inc. Shares Jumped 50% in June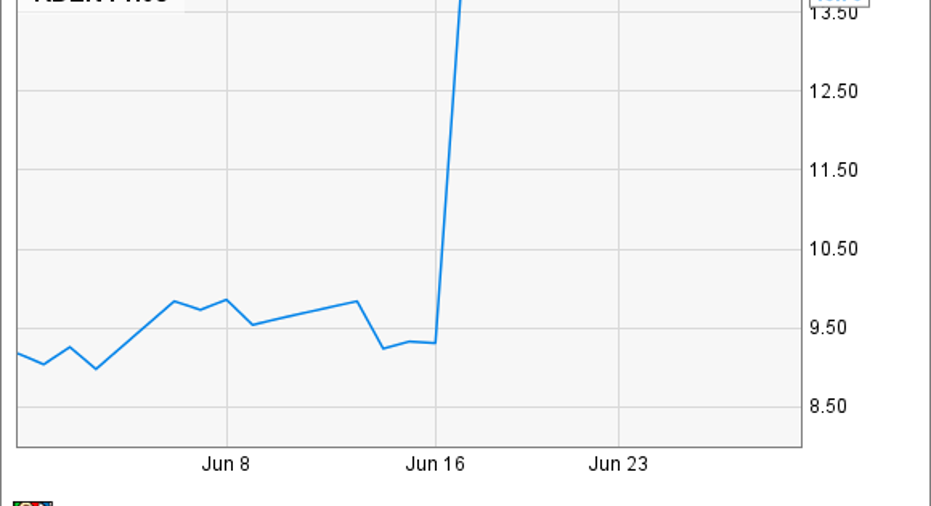 Image source: The Motley Fool.
What:Shares of cosmetics specialistElizabeth Arden, Inc. popped 50% last month after it agreed to be acquired by rivalRevlon, Inc.. As you can see from the chart below, virtually all of Elizabeth Arden's gains came on June 17, the day of the announcement.
So what:According to the terms of the deal, Revlon will pay $14 a share for Elizabeth Arden, valuing the company at $870 million in an all-cash transaction. Revlon shares increased 7% on the news, indicating approval from both sides of the negotiating table.
The two companies called the acquisition "highly complementary," saying the new business would benefit from greater scale, expanded global footprint, and diversified presence across all major beauty categories and channels." The press release also said the two companies expect to realize cost savings of $140 million from the combination.
Now what:With Elizabeth Arden stock trading near $14 today, investors seem to be confident that the deal will go through as planned. While Arden shares had traded higher as recently as last year, the stock had plummeted since a peak in 2013 near $50 as the company's put up quarterly losses and seen sales slide. As the industry consolidates and competition intensifies, selling to Revlon looks like the best move for Elizabeth Arden. The deal is expected to close by the end of the year.
The article Why Elizabeth Arden, Inc. Shares Jumped 50% in June originally appeared on Fool.com.
Jeremy Bowman has no position in any stocks mentioned. The Motley Fool has no position in any of the stocks mentioned. Try any of our Foolish newsletter services free for 30 days. We Fools may not all hold the same opinions, but we all believe that considering a diverse range of insights makes us better investors. The Motley Fool has a disclosure policy.
Copyright 1995 - 2016 The Motley Fool, LLC. All rights reserved. The Motley Fool has a disclosure policy.