Why Electronic Arts' "Star Wars: Battlefront" Sales Are Likely to Impress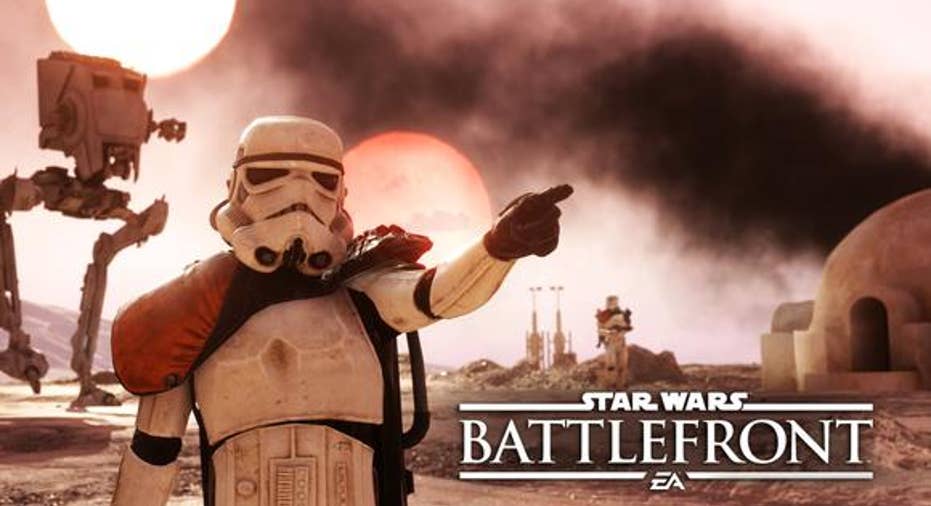 Star Wars Battlefront. Image source: EA.com.
Disney is not the only one making money on the incredibly popular Star Wars: The Force Awakens, which had grossed more than $1.2 billion at the worldwide box office going into the final weekend of the year, racking up its first billion faster than any other movie. Electronic Artsis another company set to get a huge payday in the next few monthsthrough sales of its latest game,Star Wars: Battlefront, which was released in November, about a month before the movie hit theaters. There were some early concerns about the game, especially whenGameStop reported light sales a week following the game's release. However, here's why those concerns seem overblown and why EA is likely to report great Battlefront sales in its next earnings release.
A new Force finally awakensLucasArts released the original Battlefront game in 2004, andBattlefront II in 2005. Then in 2012, when Disney purchased the Star Wars franchise, it signed the rights to produce the next installment of the Star Wars-themed video game over to EA.
Now, 10 years after the last Battlefront game was released, EA finally released its own. EA's Star Wars: Battlefront, released Nov. 17,shows just how much the industry has changed in the last decade, combining the best of live, multiplayer online gaming with stunning graphics and features. EA said it expects to sell 13 million units in its fiscal year.
Some early reviews of the new game were poor, reporting that it lacks original content. Unfortunately, one of the most important bears was GameStop. In GameStop's third-quarter results reported Nov. 23, management blamed missing earnings estimates on soft game sales, calling out EA's Star Wars: Battlefront as one game underperforming expectations. "We had high expectations that diminished somewhat as it got closer, and then it failed to hit those lowered expectations," said GameStop COO Tony Bartel.
Image source: EA
3 reasons EA's will post huge sales on this gameElectronics Arts COO Peter Moore said in early December that the game was still on track to meet the 13 million-unit goal. Here's why the game is likely to meet or exceed that 13 million sales goal and could be even more lucrative than you think.
1. Digital sales: One reason GameStop's sales looked soft initially could have been that it is underestimating the shift toward digital sales, away from physical games that someone would buy in a GameStop store. That's bad news for GameStop, but good news for EA, which has said that Star Wars: Battlefront is the "largest digital launch" in its history.
2. The Force Awakens' huge box office success:EA's Star Wars: Battlefront was released during a highly competitive time in the multiplayer online game market, with other big-name titles going on sale in the same month. Now that Star Wars: The Force Awakenshas opened, notching the highest opening weekend of all time at nearly $250 million domestic and nearly $530 million worldwide, it's likely the excitement and positive reviews of the movie (currently 97% on RottenTomatoes.com) will drive more sales for EA's game as fans want more.
3. Additional content on the way:For all of the reviews talking about how Star Wars: Battlefront was lacking in new content, what did they expect? The game was obviously unable to use the storyline, characters, or planets of Star Wars: The Force Awakens until the movie came out, so as not to spoil the movie. However, because of the digital nature of this game, it will be easy for EA to continue to add content that is likely going to be related to the new movie -- which is likely to continue selling units and subscriptions to the new content in 2016.It's been advertised that a "season pass" would include "4 upcoming digital expansion packs filled with new content that will take you to new locations across a galaxy far, far away. ... The first expansion pack will be released in early 2016."
The Force is strong with this oneEA had a tough launch with Star Wars: Battlefrontwith some poor media around certain negative reviews as well as GameStop's comments on soft sales. However, with what we have heard from EA management about the scope of the game digitally, how well the new movie has performed at the box office and in reviews, and the ability for EA to continue pushing out new game-play content that it will charge customers for, it's likely that EA is going to make a killing on this game.
The article Why Electronic Arts' "Star Wars: Battlefront" Sales Are Likely to Impress originally appeared on Fool.com.
Bradley Seth McNew owns shares of Walt Disney. The Motley Fool owns shares of and recommends Walt Disney. Try any of our Foolish newsletter services free for 30 days. We Fools may not all hold the same opinions, but we all believe that considering a diverse range of insights makes us better investors. The Motley Fool has a disclosure policy.
Copyright 1995 - 2016 The Motley Fool, LLC. All rights reserved. The Motley Fool has a disclosure policy.