Why Eldorado Gold Corporation, Verint Systems, and Exar Corporation Jumped Today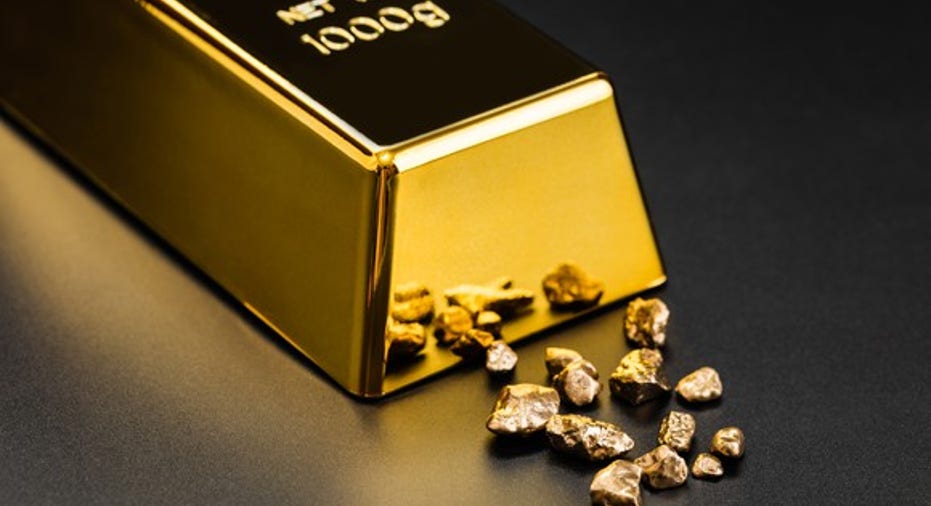 After posting solid gains on Tuesday, the stock market was mixed on Wednesday as theDow Jones Industrial Averagedeclined 42 points, or 0.2%, while theNasdaqandS&P 500rose 0.4% and 0.1%, respectively.But several individual stocks delivered more impressive returns for investors today, including Eldorado Gold(NYSE: EGO),Verint Systems (NASDAQ: VRNT), andExar Corporation (NYSE: EXAR).Read on to learn what drove these unusual pops.
All that glimmers is Eldorado Gold
Shares of Eldorado Gold climbed 9.8% after the Canada-based gold producer announced improved concentrate sales terms for the phase 2 expansion of its Olympias project in Greece.
More specifically, Eldorado revealed in a press release today that it has received "multiple tenders for significantly better concentrate sales terms for material produced beyond 2017," including maximum gold payability rates of 71% (up from 58% previously). That should translate to an increase of roughly 15,000 ounces of payable gold production per year for the company, bringing annual phase 2 production to 85,000 ounces of gold and 55,000 ounces of gold equivalent production.Eldorado Gold further confirmed that construction of phase 2 is "substantially complete and commissioning has commenced," with the "[a]ddition of low-grade ore to the crushing circuit expected next week," while "[u]nderground development is well positioned to support 2017 production guidance."
Image source: Getty Images.
Perhaps unsurprisingly, the news prompted upgrades to Eldorado Gold stock from analysts at both Canaccord Genuity (which rates the stock a buy with a $5.50-per-share price target), and Credit Suisse (which maintained its outperform rating and increased its price target to $5.25 from $4.75).
Verint's quarterly beat
Verint Systems stock climbed 10% today after the business and security analytics specialist announced strong fiscal fourth-quarter results. Quarterly revenue rose 5.4% year over year, to $295.9 million, and translated to net income attributable to Verint Systems of roughly $8 million, or $0.13 per diluted share. On an adjusted basis, which adds perspective by excluding items like acquisition expenses and stock-based compensation, Verint's net income was $56.6 million, or $0.90 per share. By contrast, Wall Street was looking for lower adjusted net income of $0.86 per share on revenue of $294.6 million.
"Our fourth quarter is typically our strongest quarter of the year and we are pleased with our strong sequential and year-over-year revenue increase in Q4 in both Customer Engagement and Cyber Intelligence," stated Verint CEO Dan Bodner. "Our strong finish to the year, and recent business activity, has contributed to our improved outlook of high single digit revenue growth in the current year for Cyber Intelligence."
For the current fiscal year ending Jan. 31, 2018, Verint expects total revenue of $1.14 billion, plus or minus 2% -- slightly above the $1.13 billion investors were expecting -- and earnings of $2.70 per share at the midpoint of that range.
Exar finds a suitor
Finally, shares of Exar Corporation jumped 22.3% today after the designer and developer of high-performance analog mixed-signal integrated circuits announced it has agreed to be acquired by MaxLinear Inc. (NYSE: MXL) for $13 per share in cash. That brings the total value of the deal to roughly $700 million (or $472 million net of cash acquired), and represents a 22% premium over Exar's closing price on Tuesday. MaxLinear, for its part, will fund the purchase with both cash on hand and a $425 million term loan, and expects the transaction to close before the end of the second quarter of 2017.
"Based on my extensive interactions with [MaxLinear CEO Dr. Kishore Seendripu] and his team, I am confident that Exar's customers and employees will benefit significantly from the enhanced R&D scale, technology breadth, and market leadership of the combined organization," stated Exar CEO Ryan Benton. "MaxLinear's commitment to and its proven track record of providing its customers with innovative and differentiated high performance analog, mixed-signal and RF technology will present exciting new opportunities for our employees, customers and supply chain."
The deal is still subject to regulatory approval and other customary closing conditions. But with shares of Exar now trading almost exactly at the agreed acquisition price -- and unless waiting to sell would result in more favorable long-term capital gains tax treatment -- I think Exar investors would do well to take their profits and put them to work elsewhere.
Offer from The Motley Fool: The 10 best stocks to buy nowMotley Fool co-founders Tom and David Gardner have spent more than a decade beating the market. In fact, the newsletter they run, Motley Fool Stock Advisor, has tripled the S&P 500!*
Tom and David just revealed their ten top stock picks for investors to buy right now.
Click here to get access to the full list!
*Stock Advisor returns as of 3/24/2017.
Steve Symington has no position in any stocks mentioned. The Motley Fool has no position in any of the stocks mentioned. The Motley Fool has a disclosure policy.