Why Edwards Lifesciences Could Bounce Back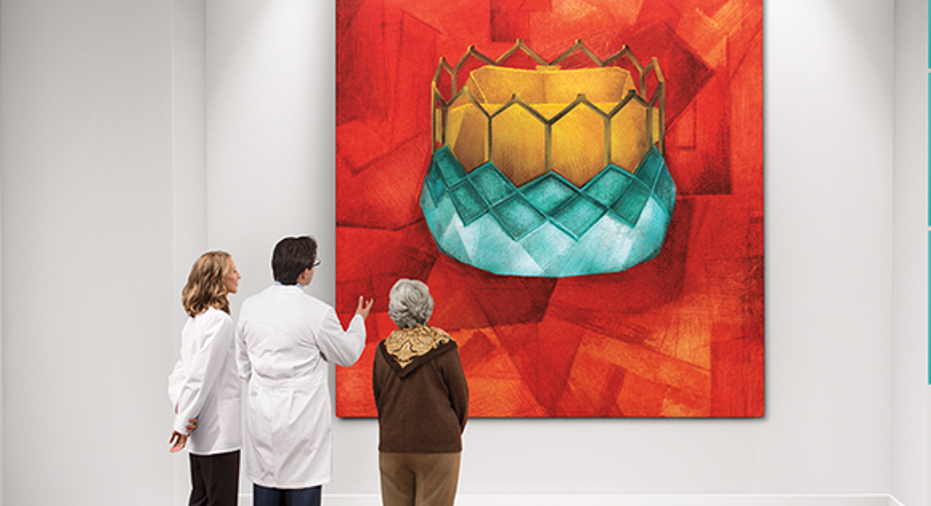 In the past, surgeons had to conduct open heart surgery to replace narrowing arteries in a patient's heart. Thanks to innovation at Edwards Lifesciences (NYSE: EW), a growing number of those patients are getting a less invasive surgery called transcatheter aortic valve replacement (TAVR). The rising adoption of TAVR propelled Edwards Lifesciences' shares up 231% between 2011 and last fall. However, shares have slipped 26% since September on worries of slower growth. Can this company's shares bounce back?
A bit of background
It's estimated that up to 1.5 million Americans suffer from aortic stenosis, or the narrowing of the heart's aortic valve opening. Historically, patients diagnosed with this condition have their valve replaced through open heart surgery. However, many patients areelderly or diagnosed with multiple diseases that make them a high risk for this type of heart surgery. In these high-risk patients, surgeons are increasingly embracing TAVR procedures, wherein a new valve is inserted into the narrowed valve via a catheter placed in a major artery in the groin or through a small incision in the chest.
Image source: Edwards Lifesciences.
Because the procedure doesn't require opening the chest cavity, TAVR patients can recover more quickly, and sometimes achieve better outcomes.Although Medtronicoffers valves that can be used in these procedures, its Edwards Lifesciences' Sapien 3 that often gets the nod.
Capitalizing on the trend
Edwards Lifesciences sells valves used in traditional surgery, but it's the company's TAVR sales that are really moving the needle.
In the second quarter, TAVR sales grew 48.7% year over year to $418.6 million. In the third quarter, TAVR sales rose 38.5% year over year to $410.1 million. And, in the fourth quarter, TAVR sales jumped 29% to $432 million. Overall, TAVR sales growth has led to these valves representing more than half of the company's $2.96 billion in 2016 revenue.
Importantly, rising TAVR revenue is driving growth in Edwards Lifesciences' profit. In 2016, the company'sadjusted EPS grew 24.6% year over year to$2.89.
Rewarding investors
If you look at the quarterly progression in TAVR sales, you'll notice that sales growth is decelerating. That deceleration has caused worried investors to sell shares. However, it might make more sense to focus less on a normalizing growth rate and more on thelong-term opportunity that's still ahead of this company.
Recently, the Food and Drug Administration approved the use of the Sapien 3 in intermediate-risk patients. That means that roughly 50% of aortic stenosis patients requiring surgery can now be treated using TAVR. Studies are underway that could allow TAVR's use in low-risk patients, too. Also, Edwards Lifesciences recently disclosed that its going to evaluate the procedure even earlier in patients. A study comparing TAVR against clinical observation in aortic stenosis patients without symptoms should begin soon.
As it stands today, Edwards Lifesciences estimates that the total TAVR market will about double to $5 billion in 2021. If expansion studies push the use of TAVR for even more patients, then the market could get even bigger.
Clearly, the long-term opportunity is large, but the short-term outlook doesn't seem to me to be as bad as the share price might suggest. Despite decelerating growth, the company still delivered year-over-year sales and earnings increases of19% and 25%, respectively, in 2016. This year, sales and earnings growth will slip, but the company's forecast is still for a solid 14.8% growth in sales and 19.4% growth in earnings, at the high end of expectations. That's hardly cause for panic. Overall, I think that if the company hits its 2017 targets, then investors will be rewarded.
10 stocks we like better than Edwards LifesciencesWhen investing geniuses David and Tom Gardner have a stock tip, it can pay to listen. After all, the newsletter they have run for over a decade, Motley Fool Stock Advisor, has tripled the market.*
David and Tom just revealed what they believe are the 10 best stocks for investors to buy right now... and Edwards Lifesciences wasn't one of them! That's right -- they think these 10 stocks are even better buys.
Click here to learn about these picks!
*Stock Advisor returns as of February 6, 2017
Todd Campbell has no position in any stocks mentioned.His clients may have positions in the companies mentioned.The Motley Fool owns shares of Medtronic. The Motley Fool has a disclosure policy.