Why DreamWorks Animation SKG Inc. Jumped 22% in November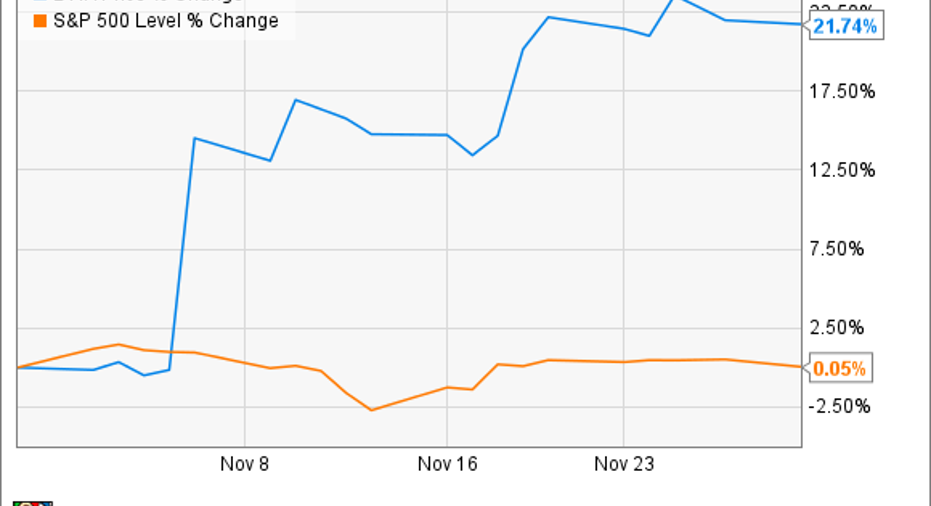 What: Shares of DreamWorks Animation SKG gained 21.7% in November, according to data from S&P Capital IQ. Following on the heels of a 16% surge in October, the animated-film studio gained 41% in just two months.
So what: The big driver of DreamWorks' November gains came early on, when the company reported solid third-quarter results. Both earnings and revenues came in ahead of analyst expectations, in large part thanks to a profitable distribution relationship with Netflix .
Now what: The TV segment helped DreamWorks crush analyst targets, and CFO Fazal Merchant spoke himself starry-eyed about how "a disproportionate amount of that is Netflix-related." So it's crystal clear that this partnership is good for DreamWorks' top line, especially from a stability point of view.
If all of that sounds like roses and unicorns, you must have forgotten about August already. Because of a disappointing second-quarter report with weak consumer-goods sales, DreamWorks shares fell more than 17% in that quarter.
This is a highly volatile stock, and not even the Netflix tie-in is certain to save DreamWorks' long-term bacon. The company must execute with a steady stream of high-quality content, and DreamWorks has honestly been hit-and-miss in that crucial department lately.
So depending on how you look at DreamWorks today, the stock looks either very expensive (negative earnings and even forward P/E ratios are through the roof) or extremely cheap (the PEG ratio is a rock-bottom 0.3). And from where I sit, there's no reliable way to see which one of these extreme assessments would be more accurate.
I like how DreamWorks is exploring high-quality partnerships and new revenue streams, but this company has a lot to prove. For now, DreamWorks is simply a "show-me" stock.
The article Why DreamWorks Animation SKG Inc. Jumped 22% in November originally appeared on Fool.com.
Anders Bylund owns shares of Netflix. The Motley Fool owns shares of and recommends Netflix. The Motley Fool recommends DreamWorks Animation. Try any of our Foolish newsletter services free for 30 days. We Fools may not all hold the same opinions, but we all believe that considering a diverse range of insights makes us better investors. The Motley Fool has a disclosure policy.
Copyright 1995 - 2015 The Motley Fool, LLC. All rights reserved. The Motley Fool has a disclosure policy.