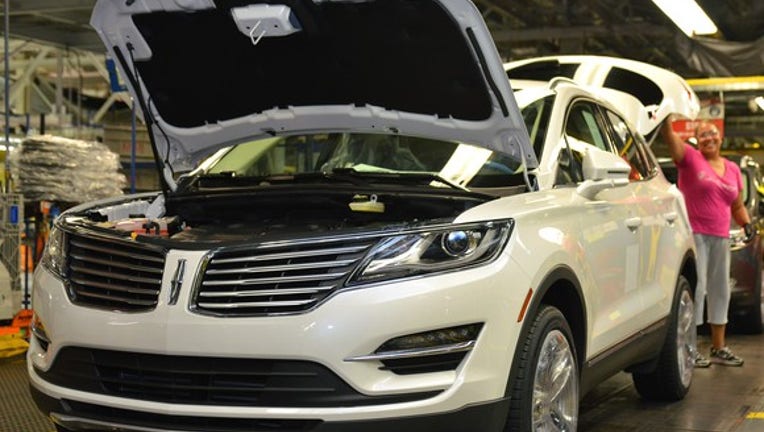 President-elect Donald Trump said he "worked hard" to keep a Ford (NYSE: F) factory from moving to Mexico. But media reports said on Friday that Trump's statement wasn't true, that Ford never intended to move the factory.
It's true that Ford never plannedto move thefactory. But it's also true that there was some basis for Trump's statement. Here's the story.
Ford was never going to move this factory to Mexico
Ford said that production of theLincoln MKC willstay at its plant in Lexington, Kentucky. Ford had previouslyplanned to move MKCproduction to Mexico. Imagesource: Ford Motor Company.
First, some background. The factory in question is Ford's Louisville Assembly Plant, in Kentucky. The Louisville factory makes two products: the Ford Escape and Lincoln MKC crossover SUVs.
Here's the president-elect's tweet from Thursday night.
Is it incorrect? Technically, yes. Ford had never considered moving the factory to Mexico. Even if Ford wanted to do that (which it doesn't), such a move would effectively be impossible under the company's current agreement with the United Auto Workers (UAW) union, which represents Ford's hourly workers at the factory.
But Donald Trump wasn't exactly wrong, either
Ford did consider moving production of the MKC elsewhere. Not to cut U.S. jobs, but so that it could make more Escapes at the Louisville plant.
For a while, Ford was selling all of the Escapes it could make in the U.S., and dealers were clamoring for more. During contract negotiations last year, Ford had given the UAW a heads-up that it might move MKC production out of the country. It didn't say where, but the safe assumption was that MKC production would move to a factory in Mexico.
Ford now says that it had planned to move production of the MKC, and it confirmed that its factory in Cuautitlan, Mexico was the likely destination. But, according to Ford spokesperson Christin Baker, Ford changed its mind. Baker confirmed that Ford told Trump that the MKC would stay in Louisville, and that Bill Ford had spoken to Trump on Thursday.
Late on Friday afternoon, the UAW and Ford released a joint statement saying that the change in place was due to "changing business conditions" and that "our president-elect tweeted about this on Thursday evening after Bill Ford spoke with him and let him know of the change in plans."
So what really happened?
Ford concluded that it didn't need the added production capacity for the Escape right now, because the U.S. new-car market is slowing a bit. It decided to let Donald Trump know, probably as a way of extending an olive branch -- and Trump garbled the message somewhat in his tweet.
The real story here is that the president-elect was tough on Ford during his campaign, and the Blue Oval has been working to build a better relationship with Trump and his incoming administration. Ford will want to have Trump's ear when it comes time to review U.S. fuel-economy regulations next year -- and if or when Trump tries to deliver on his promise to overhaul or scrap the North American Free Trade Agreement, which would be an expensive mess for Ford.
Long story short: Things didn't happen quite the way Trump said they did. But I suspect the Blue Oval was happy to hand Donald Trump the appearance of a victory now, in hopes that Trump's administration will hear Ford's concerns later on.
Forget the 2016 Election: 10 stocks we like better than Ford Donald Trump was just elected president, and volatility is up. But here's why you should ignore the election:
Investing geniuses Tom and David Gardner have spent a long time beating the market no matter who's in the White House. In fact, the newsletter they have run for over a decade, Motley Fool Stock Advisor, has tripled the market.*
David and Tom just revealed what they believe are the ten best stocks for investors to buy right now... and Ford wasn't one of them! That's right -- they think these 10 stocks are even better buys.
Click here to learn about these picks!
*Stock Advisor returns as of November 7, 2016
John Rosevear owns shares of Ford. The Motley Fool owns shares of and recommends Ford. Try any of our Foolish newsletter services free for 30 days. We Fools may not all hold the same opinions, but we all believe that considering a diverse range of insights makes us better investors. The Motley Fool has a disclosure policy.