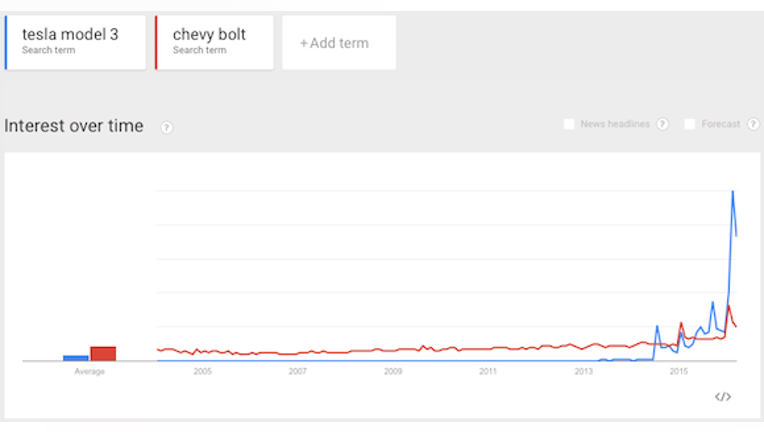 Model S is the No. 1 vehicle in its market segment. Image source: Tesla.
There are a handful of arguments that Tesla Motors bears like to cite when predicting the upstart electric-auto maker's impending doom.
To be clear, there are some very legitimate concerns, such as the company's astronomical valuation relative to traditional automakers'. When combined with execution risks in the years ahead, it's entirely possible that Tesla may fail to live up to the lofty growth expectations that are currently being priced in. This is easily my most prominent fear as a Tesla bull and longtime shareholder.
But there's another argument that shorts use that doesn't quite stand up: that Tesla won't be able to withstand intense competition.
Stop me if you've heard this one beforeThe story goes like this. Tesla is attacking the most lucrative market segment that automakers enjoy right now, high-end luxury vehicles. Tesla's initial success will attract the attention of incumbents, who will then be very motivated to compete fiercely. Subsequent competition will bring pricing pressures, erode margins, and Tesla will be destined to always be a niche player with minimal market share, particularly when it comes to the mainstream market.
For instance, Citron Research's Andrew Left is taking a short position (again), and will likely be proven wrong (again). While his current thesis leaves a lot to be desired, vaguely pointing to "Supply AND demand problems" with no evidence to back it up, we can look at his original 2013 short thesis (link opens PDF):
This is just one example, but skeptics often point to competitive concerns in saying that Tesla's Model 3 will have a tough time achieving mainstream volumes.
Tesla is winning in the only meaningful market that it participates inIgnoring the market for two-seater supercars (since it's so small), there are no lessons that are applicable to the mainstream, as Tesla has only meaningfully competed in one market segment to date. But in that market, Tesla is crushing it. The company recently noted that the Model S jumped to become the No. 1 vehicle in the U.S. market for luxury four-door sedans in 2015, overtaking the venerable Mercedes-Benz S-Class for the first time ever. It was the only vehicle to enjoy robust sales growth throughout the year, while all rivals saw declines in unit sales from 2014 (when Model S was No. 2).
So when it comes to Tesla's admittedly short track record with competition, it has done quite well. It is true that the market for mainstream cars is a different beast than the market for luxury vehicles, but at that point you can rely on fundamental advantages that EVs have to substantially broaden its market opportunity.
EVs are finally about to hit the mainstreamThere's this temptation to compare General Motors' upcoming Chevy Bolt to the Model 3, and while the two EVs will compete on paper, I see little overlap. By some measures, Model 3 already has more interest than the Bolt, which will hit the market first. Consider current search trends as a rough proxy for consumer interest:
Image source: Google Trends.
Anecdotally, there's considerable interest in online forums and communities and among my friends who have already expressed interest in purchasing a Model 3. And this is before anyone even knows what it looks like.
But more important, this isn't even about Model 3 competing with the Bolt, which will be inevitable to some extent. This is about the Model 3 competing with every other gas-powered car that costs as little as $20,000.
You might not think that the Model 3 should be included in that market segment, but Tesla's demonstrated ability to attract buyers from lower market segments suggests that the comparison might be relevant. This market segment is also sensitive to fuel savings, which helps expand the addressable market to lower thresholds relative to the expected $35,000 starting price. That's good news for the Bolt, too.
The Model 3 will likely look very compelling next to almost any other gas-powered car, and we'll find out more about the vehicle in a matter of weeks.
The article Why Do Bears Think Tesla Motors Will Have Trouble Competing? originally appeared on Fool.com.
Evan Niu, CFA owns shares of Tesla Motors. The Motley Fool owns shares of and recommends Tesla Motors. The Motley Fool recommends General Motors. Try any of our Foolish newsletter services free for 30 days. We Fools may not all hold the same opinions, but we all believe that considering a diverse range of insights makes us better investors. The Motley Fool has a disclosure policy.
Copyright 1995 - 2016 The Motley Fool, LLC. All rights reserved. The Motley Fool has a disclosure policy.