Why Disneyland Shanghai Is So Important for Disney Investors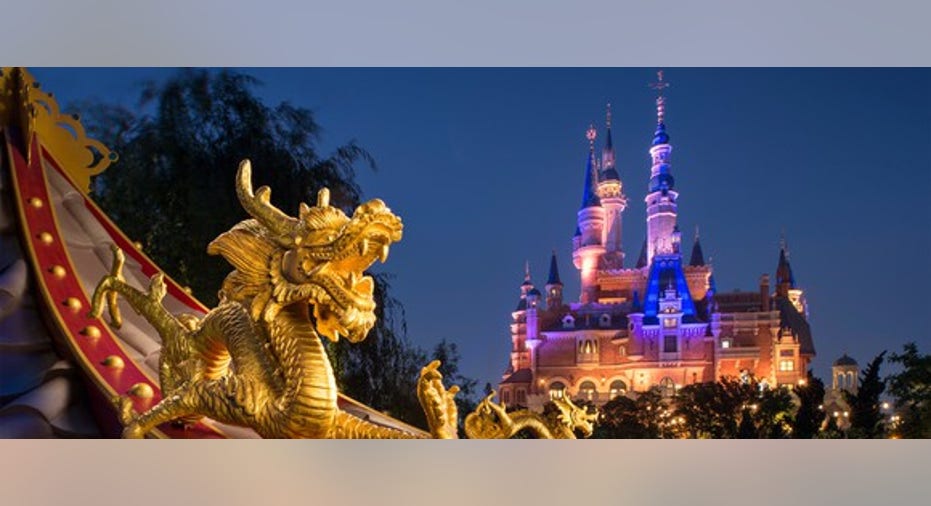 Last week, one of the world's biggest construction projects finally opened to the public.Walt Disney Co took the wraps off the highly anticipated Disneyland Shanghai, the House of Mouse's first foray into mainland China.
With a price of tag $5.5 billion, the Shanghai theme park is more expensive than the expansion of the Panama Canal,and was described by CEO Bob Iger as "the biggest step" the company has ever taken.
Image Source: Disney.
The Shanghai park, which took five years to build, represents Disney's biggest bet yet on the world's fastest-growing economy. Here's why the park is so important to the company's future.
1. International parks have struggled
While revenue has surged at Disney's domestic parks in the post-recession era, performance at its theme parks in France, Japan, and Hong Kong has been less impressive, due in part to the economic malaise in Europe. Revenue from Disneyland and Disney World has jumped 46% in the last five years to $13.5 billion, but at the international parks revenue has been flat at just $2.5 billion.
While Disney is among the most iconic of American brands around the world, it has at times struggled to translate the Disneyland experience abroad. Disneyland Paris was notoriously greeted with protests, and labeled a "cultural Chernobyl" by French patriots.Disney adjusted, and today the park attracts more than 10 million visitors annually, but because of a heavy debt burden and still underwhelming attendance, the park has been a financial loser for its parent Euro Disney, in which Disney holds a stake.
China has been quick to embrace a number of American brands, but the communist country has also been fraught with pitfalls for others, especially on issues like intellectual property and free speech. What plays in Florida and California won't necessarily work in China, and though the company has taken steps to make the park "distinctly Chinese" -- including Disney renditions of Chinese zodiac symbols, for example -- only time will tell if Disney is able to navigate the cultural gap.
2. China is a huge opportunity
It's no surprise Disney would want to plant its flag in China. The country is the world's most populous nation and its second-biggest economy. A whopping 330 million people live within a three-hour car or train ride from Shanghai Disney, more than the population of the entire U.S.Not only is the potential for the park itself enormous, but it also gives Disney an excellent opportunity to leverage its brand in a key market.
From an investor standpoint, the magic of Disney is that the theme park, studio entertainment, and consumer products segments all reinforce one another. That's why acquiring studios like Pixar, Marvel, and LucasFilm has been so valuable. The company can leverage those characters into things like rides and toys, enhancing the value of the brand in a way that essentially no other company can.
With China's upper middle class population set to reach 100 million by 2020, the country could soon be Disney's biggest market.
The Chinese have also proven to be avid moviegoers, as China is now the world's second-biggest movie market. Box office sales boomed nearly 50% last year to $6.8 billion, with Hollywood movies grabbing almost 40% of that share, and China is expected to top North America in the box office by next year.Shanghai Disneyland may be as much a bet on the fast-growing Chinese economy and its love for American movies as it is on the theme park itself.
3. Disney's biggest cash cow is drying up
As the Shanghai resort opened, Disney shares were trading down nearly 20% from all-time highs reached less than a year ago. The reason is simple. Disney's most profitable business segment is its cable networks, in particular ESPN, and as cord-cutting proliferates, that revenue stream is becoming increasingly threatened.
Disney has conceded that ESPN is losing subscribers, and every time it does the stock plummets. The cable unit continues to grow in revenue thanks to increased advertising revenue and affiliate fees, and ESPN would still be valuable as a stand-alone entity apart from the cable bundle, but there are legitimate concerns about it turning into a commodity business.
As profit growth slows at its media networks segment , it may fall upon the parks and resorts segment, its next biggest segment, to pick up the slack. That division contributed over $3 billion in operating income last year, up 14% from the year before.The Shanghai park won't immediately be accretive to earnings, as analysts expects it to lose money over its first few years,but Disney is focused on the long term. CEO Iger sees the park as a beachhead in China similar to its domestic theme parks. In 2009, he said at a conference, "As Walt did with Disneyland in the '50s, enabling Disneyland to really grow the Disney brand in the United States, we believe we will have some really interesting opportunities to do the same in China."Whether or not Disney can unleash the same magic in China rests on the success of the Shanghai park more than anything else. With 10 million projected visitors this year and only a third of the space built out, Disney will likely expand in the coming years. Keep an eye on the park's progress, as that should be the best indicator of the company's future in China.
The article Why Disneyland Shanghai Is So Important for Disney Investors originally appeared on Fool.com.
Jeremy Bowman has no position in any stocks mentioned. The Motley Fool owns shares of and recommends Walt Disney. Try any of our Foolish newsletter services free for 30 days. We Fools may not all hold the same opinions, but we all believe that considering a diverse range of insights makes us better investors. The Motley Fool has a disclosure policy.
Copyright 1995 - 2016 The Motley Fool, LLC. All rights reserved. The Motley Fool has a disclosure policy.