Why Dillard's, Inc Stock Fell 17% in April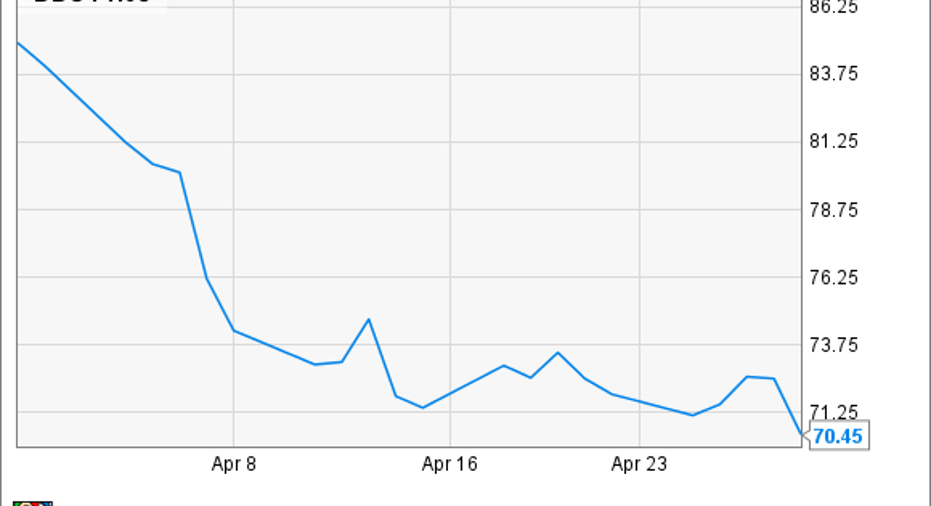 Image source: Dillard's.
What:Shares ofDillard'slost 17% last month, according to data fromS&P Global Market Intelligence, tracking with a widespread sell-off in the department-store industry. As youcan see from the chart below, most of the decline came during the first week of the month when retail stocks were hit the hardest.
So what:The slide in retail stocks, which brought many of Dillard's peers down by double digits, came as a number of retailers reported weak same-store sales. Among them wasGap,seen by some as a bellwether for the apparel industry, where comparables slipped 6%. Other retailers posting disappointing results for the month includedCostco,and smaller retailers likeThe Buckle andZumiez. Industry-wide, comparable sales improved just 0.2%, according to Retail Metrics.
There was little news out on Dillard's itself during the month, but as the company is a mall anchor, its fate tends to be tied to overall retail traffic.
Now what:Dillard's is expected to report first-quarter earnings by the end of next week, but retailers are sliding Wednesday after a dismal report byMacy's, with Dillard's shares off more than 6%. That may be the best indicator that a disappointing quarterly report is on the way from the southern department-store chain. Like Macy's, Dillard's has been closing stores lately, and carries a similarly cheap valuation, indicating that investors are skeptical of future growth from the company.
For the first quarter, analysts are expecting earnings per share of $2.52, down from $2.66 a year ago; but the company has missed estimates in three of its last four reports. As other retail earnings reports come in, we should get a better sense of Dillard's results.
The article Why Dillard's, Inc Stock Fell 17% in April originally appeared on Fool.com.
Jeremy Bowman has no position in any stocks mentioned. The Motley Fool owns shares of and recommends Costco Wholesale. Try any of our Foolish newsletter services free for 30 days. We Fools may not all hold the same opinions, but we all believe that considering a diverse range of insights makes us better investors. The Motley Fool has a disclosure policy.
Copyright 1995 - 2016 The Motley Fool, LLC. All rights reserved. The Motley Fool has a disclosure policy.