Why Did Weight Watchers International, Inc. Shares Lose 11% in April?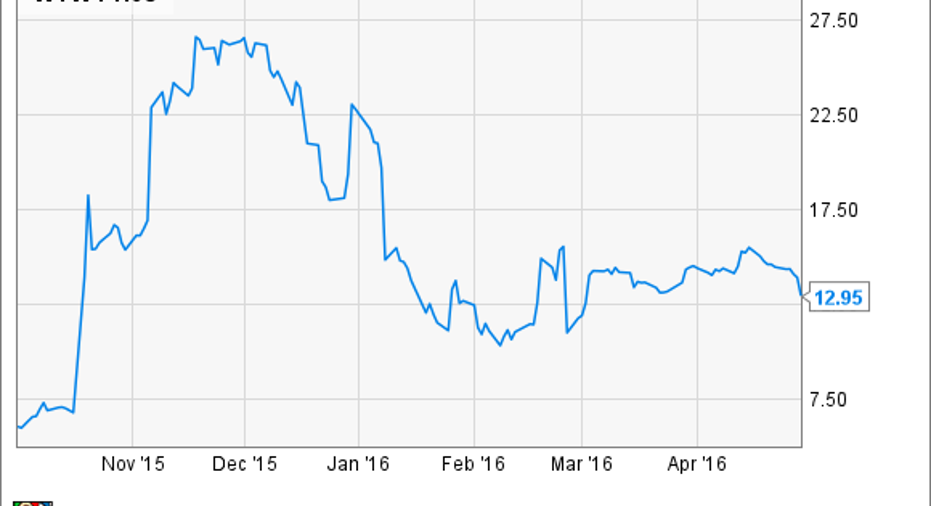 It's only possible to remain elated for so long.
Even though Weight Watchers shareholders were invigorated by the news that Oprah Winfrey had bought 10% of the company and joined its board in October 2015, that enthusiasm faded as the months went on. Because of that, after popping big at the announcement of the former talk show host's involvement, the company's shares began a slow descent.
Image source: YCharts.com.
What: Nothing bad happened with Weight Watchers' business in April that caused its stock to fall, but shares declined from a March 31 close of $14.53 to finish last month at $12.95, a nearly 11% drop, according to data provided by S&P Global Market Intelligence. The reason for that decline -- which left shares well above their $6.79 close on Oct. 16, the day before Winfrey's involvement was announced -- was largely because the excitement had faded.
So what: The former talk show host has a big following and there is reason to believe her association with the company would be good, but until some actual proof of that is shown, it was inevitable that the initial enthusiasm would fade. It also has not helped that aside from her initial statement in the press release announcing the deal, Winfrey has been mostly silent. She has appeared in some ads for the brand, but it's yet to be seen if the media mogul will put her full strength into the company.
Now what: Weight Watchers reported its first-quarter numbers in early May and the results were inconclusive. The stock rose the next day but has since dropped. It posted modest subscriber growth, which is encouraging, but not enough to suggest a huge gain simply because Winfrey owns 10% and sits on the board.
"Leveraging the success of our new Beyond the Scale program, we expect to deliver revenue and profit growth for the full year 2016 and we are raising our earnings guidance to a range of $0.80 to $1.05 per share," said CEO Jim Chambers in the earnings release. "Our first quarter loss was smaller than we expected, and for the first time since 2012 we grew our total subscribers year-over-year, clearly demonstrating that our business is turning around."
Essentially these numbers are better but not great. That's probably enough to stabilize the stock, but not enough to fully answer whether Winfrey will make a long-term difference.
The article Why Did Weight Watchers International, Inc. Shares Lose 11% in April? originally appeared on Fool.com.
Daniel Kline has no position in any stocks mentioned. He has never watched a full episode of Winfrey's talk show. The Motley Fool has no position in any of the stocks mentioned. Try any of our Foolish newsletter services free for 30 days. We Fools may not all hold the same opinions, but we all believe that considering a diverse range of insights makes us better investors. The Motley Fool has a disclosure policy.
Copyright 1995 - 2016 The Motley Fool, LLC. All rights reserved. The Motley Fool has a disclosure policy.