Why Did Vera Bradley Inc. Shares Drop Nearly 13% in May?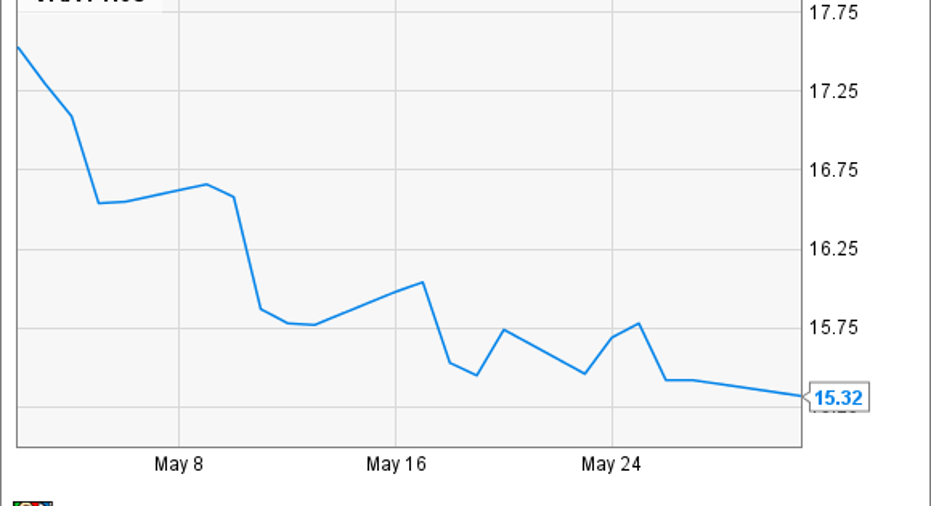 Vera Bradley shares declined steadily in May as investors fretted over their expectations for its first quarter fiscal 2017 results. And on June 1, the company posted a 4% year-over-year gain in revenue for the period -- $105.2 million -- up from $101.1 million during the year-ago quarter, which was not enough to pacify shareholders.
Data byYCharts
What:The company's shares fell throughout May, not due to any specific financial news but simply because of general fears about the company's prospects. After closing April at $17.54, Vera Bradley stock dropped to $15.32 to finish May, a decline of nearly 13%, according to data provided by S&P Global Market Intelligence.
So what: Investors have been skeptical about the brand's prospects as it undergoes a turnaround plan led by CEO Robert Wallstrom. The initial results have actually been promising with first quarter earnings per share coming in at $0.06, up from a loss of $0.10 during the prior-year quarter.
"First quarter diluted EPS was at the high end of our guidance, primarily due to diligent expense management and a lower than planned tax rate. We achieved this EPS despite revenues at the low end of our guidance range, a reflection of a more challenging retail environment," Wallstrom said in the earnings release. "We are beginning the third year of our multi-year turnaround. Our team is committed to executing our long-term strategic plan, focusing on the core areas of product, distribution, and marketing, and we are encouraged by our progress to return the business to sustainable growth."
Now what: Vera Bradley stock has continued its decline after the earnings numbers were released -- the market does not seem convinced yet that the turnaround efforts will work. That's a pessimistic view given that the first quarter numbers were solid, albeit not spectacular.
This is one of the cases where only time will tell. If the company keeps delivering incremental improvements, its share price should catch up. Right now, public perception may not match reality, and investors are waiting for stronger signs of a long-term, sustainable turnaround.
The article Why Did Vera Bradley Inc. Shares Drop Nearly 13% in May? originally appeared on Fool.com.
Daniel Kline has no position in any stocks mentioned. He does not own a single handbag. The Motley Fool has no position in any of the stocks mentioned. Try any of our Foolish newsletter services free for 30 days. We Fools may not all hold the same opinions, but we all believe that considering a diverse range of insights makes us better investors. The Motley Fool has a disclosure policy.
Copyright 1995 - 2016 The Motley Fool, LLC. All rights reserved. The Motley Fool has a disclosure policy.