Why Did Southwestern Energy Take Out a $1.5 Billion Loan for 2 Days?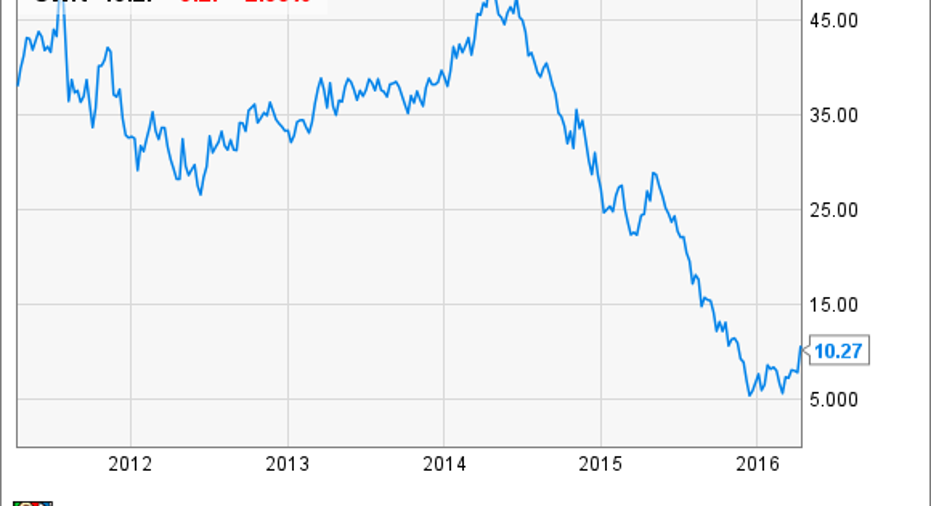 Source: Southwestern Energy.
Like so many oil and gas producers in North America, Southwestern Energy (NYSE: SWN) has seen its share price collapse over the past two years. From a high of over $45 per, shares Southwestern shares have had to double over the past couple of months just to get back to the $10 level.
Companies like Southwestern that have seen their share prices drop by 80% and 90% all have one thing in common. They have balance sheets with a lot of debt relative to the cash flows that they can generate in this low commodity price environment.
Since debt is a big concern that the market has about Southwestern, it might seem strange that the company did something positive when it recently added a whopping $1.5 billion of debt.
How does adding debt help a company with too much of it?One thing I have learned is how creative these management teams are when it comes to managing their debt. The current collapse in prices is even worse, and management teams have again been pulling out all of the stops.
In early April, Southwestern Energy disclosed with the SEC that it borrowed $1.55 billion on its credit line on March 30. That might in itself have caused concern for shareholders, but the company also disclosed that it then repaid the amount in full just two days later. Southwestern didn't have to repay the money until the end of 2018 but chose to keep the loan for only two days.
The obvious question is, why in the world a company would need a $1.55 billion loan for only two days? Was a loan shark threatening to break someone's fingers? Southwestern supplied the reason for the $1.55 million ultra-short term loan in the same SEC filing:
The amount of secured debt that Southwestern is allowed to borrow is determined in part by the amount of cash it has on its balance sheet at a given point. By borrowing $1.55 billion and having it in cash at March 30, Southwestern has increased its ability to add secured debt.
With $1.7 billion in debt maturities looming in 2018, adding this $232 million of secured debt borrowing capability may help the company repay some of that maturing debt and replace it with longer-term money.
Source: Southwestern corporate presentation.
Good assets, but you'd better believe in the commodityIt's hard to imagine an industry accomplishing as many great things as North American natural gas producers have while creating such little value for shareholders.
These companies are truly victims of their own success, Southwestern being the perfect example. Back in 2007, Southwestern produced on average 113 billion cubic feet of natural gas per day. Last year Southwestern hit 976 billion cubic feet per day, an incredible 860% increase.
Source: Southwestern corporate presentation.
The production increase is incredible. The related increase in EBITDA is just as incredible, but for how small it is. Southwestern's 2015 EBITDA of $1.44 billion was barely more than the $1.362 billion the company generated in 2008, when production was only 20% of the 2015 level.
Source: Southwestern corporate presentation.
That's pretty depressing, but it's nothing compared to 2016, where expected EBITDA will be less than $500 million. That is lower than it was way back in 2007 and is just awful considering the billions of dollars Southwestern has spent between then and now.
Source: Southwestern corporate presentation.
I'm not criticizing Southwestern management. In fact I don't really know who to blame. The problem is that shale gas has been a monumental game changer, and this industry can't seem to stop itself from drilling the price of the commodity into the ground.
If you're going to own Southwestern or any other natural gas producer, you need to get yourself convinced that natural gas prices are going to improve. I think there's a possibility of that by the end of 2016, as the incredibly low price of natural gas is forcing these companies to finally dramatically curtail drilling.
Southwestern, for example, is going to spend only $400 million in 2016, versus $1.8 billion in 2015. In the fourth-quarter earnings call held in late February, the company indicated that by December 2016 production could be down by as much as 25%. With the entire industry feeling the same pain, natural gas production levels could decline in 2016 after years of growth, and that should provide some real help to improve prices.
The article Why Did Southwestern Energy Take Out a $1.5 Billion Loan for 2 Days? originally appeared on Fool.com.
TMFWolfpack has no position in any stocks mentioned. The Motley Fool has no position in any of the stocks mentioned. Try any of our Foolish newsletter services free for 30 days. We Fools may not all hold the same opinions, but we all believe that considering a diverse range of insights makes us better investors. The Motley Fool has a disclosure policy.
Copyright 1995 - 2016 The Motley Fool, LLC. All rights reserved. The Motley Fool has a disclosure policy.