Why Did ServiceNow, Inc. Gain 17% in April?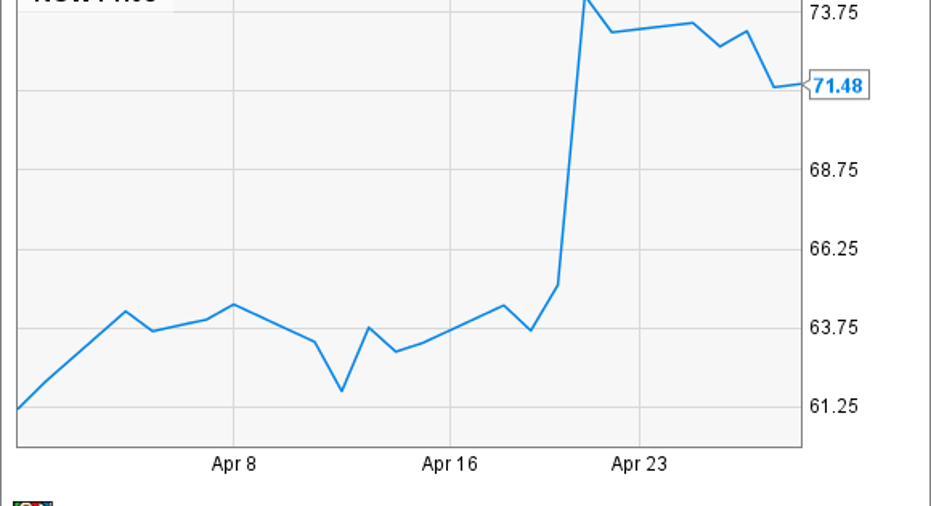 ServiceNow had a great start to 2016 and its first quarter earnings report sent its stock price flying.
What: After closing March at $61.18, shares in the company actually climbed fairly steadily throughout April. They spiked however on April 21 after the company reported 44% year-over-year growth in revenue after the market closed on April 20. The company's stock jumped to $74.27 the day after the earnings report before settling back to Earth a bit to close April at $71.48, a nearly 17% gain for the month, according to data provided by S&P Global Market Intelligence.
Image source: YCharts.com.
So what: Investors clearly like the growth story ServiceNow is telling. The company grew revenues dramatically and it made a little bit of money ($0.01 per diluted share) on a non-GAAP basis (which the company fully explains in its earnings release). On a GAAP basis it increased its loss from $58.1 million in the same quarter last year to $333.3 million in Q1, 2016, but that did not seem to deter investors.
"We now have 249 customers each paying us more than $1 million in annualized contract value, an increase of 48% year over year," said Michael Scarpelli, chief financial officer, ServiceNow. "We also landed a record 13 upsells in the quarter each with an annualized contract value greater than $1 million."
Now what: ServiceNow has set the bar high for the rest of the year. The company forecasts growing total revenues between $1.35 billion and $1.38 billion, which would be year-over-year growth between 35% and 37%. That assumes total billing of approximately $1.6 billion, a growth rate of 33% with subscription billing accounting for the bulk of that at roughly $1.42 billion, for year-over-year growth of 37%.
Those are big numbers and keeping (and building on) these share price gains requires that the company hit these aggressive numbers.
CEO Frank Slootman is confident in the numbers after the way the company started its year.
"We're off to a strong start with our best first quarter ever," he said in the earnings release. "Strong upsells and traction with our emerging products were two key growth vectors during the quarter."
The signs look good and subscription-revenue generally builds months after month. ServiceNow has a ways to go, but Q1 was a big sign that it's pointing in the right direction.
The article Why Did ServiceNow, Inc. Gain 17% in April? originally appeared on Fool.com.
Daniel Kline has no position in any stocks mentioned. He likes to arrive absurdly early to the airport. The Motley Fool has no position in any of the stocks mentioned. Try any of our Foolish newsletter services free for 30 days. We Fools may not all hold the same opinions, but we all believe that considering a diverse range of insights makes us better investors. The Motley Fool has a disclosure policy.
Copyright 1995 - 2016 The Motley Fool, LLC. All rights reserved. The Motley Fool has a disclosure policy.