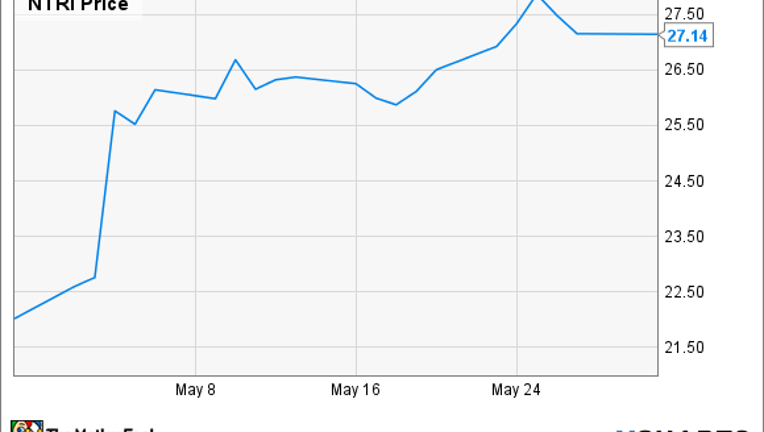 Nutrisystem had a better-than expected first quarter, which sent its share price soaring. The company closed April at $22.02 before moving steadily up in May on the strength of its earnings report to finish May at $27.14, a 23% change, according to data provided by S&P Global Market Intelligence.
Image source: YCharts.com.
What: The weight loss brand had a great Q1, reporting an 18% top-line increase while also saying it was on track to achieve its third consecutive year of double-digit revenue growth. The company raised its forecast for the full year. It now expects 2016 revenue in the range of $517 to $532 million, compared to the previous prediction of $505 to $525 million, while it forecasts earnings per share (EPS) between $1.03 and $1.13, up from a range of $0.95 to $1.05.CEO Dawn Zier discussed the results in Nutrisystem's first quarterearnings release.
So what: Nutrisystem has been a steady performer while rival Weight Watchers (NYSE: WTW) has been much less consistent.That may be because while Weight Watchers has been caught up in the excitement of Oprah Winfrey buying a stake in the company, Nutrisystem has steadily focused on results, product mix, and customer satisfaction.
The company has also consistently spent on product development, with plans for a summer 2017 version of its South Beach Diet and continued refinement of its Shake360 brand.
Now what: The company must continue to sustain their success, which it has shown the ability to do well. CFOMike Monahan also discussedplans for a share buyback program.
Nutrisystem clearly has a plan, and it has steadily executed it rather than going for a short-term fix. That suggests the company should be able to deliver on its promises during the rest of 2016.
The article Why Did Nutrisystem Inc. Gain 23% in May? originally appeared on Fool.com.
Daniel Kline has no position in any stocks mentioned. He would enjoy a shake, but probably not the weight loss kind (which is what he should be having). The Motley Fool has no position in any of the stocks mentioned. Try any of our Foolish newsletter services free for 30 days. We Fools may not all hold the same opinions, but we all believe that considering a diverse range of insights makes us better investors. The Motley Fool has a disclosure policy.
Copyright 1995 - 2016 The Motley Fool, LLC. All rights reserved. The Motley Fool has a disclosure policy.