Why Did Halozyme Therapeutics, Inc. Plunge 29.5% in October?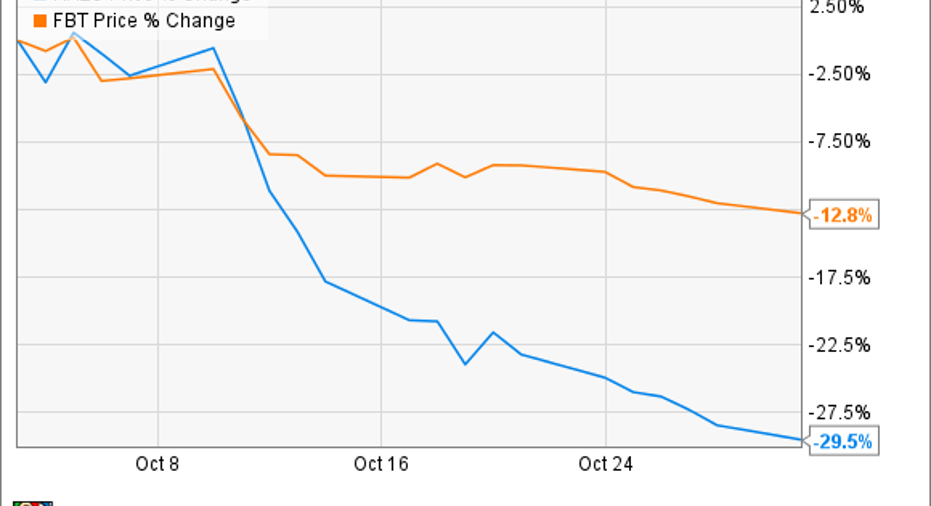 Image source: Getty Images.
What happened
Halozyme Therapeutics, Inc. (NASDAQ: HALO), a small-cap biotech focused on products that enhance drug delivery, fell 29.5% in October, according to data from S&P Global Market Intelligence. That was much worse that the biotech sector, in general, as measured by the First Trust NYSE Acra Biotech ETF (NYSEMKT: FBT).
So what
Halozyme had a quiet month on the news front, so you can't blame the decline on negative press releases. In fact, the only news to come out of the company during the month was an announcement that itsinvestigational drug PEGPH20 willbe used in a new pancreatic cancer clinical trial initiative called Precision Promise.This initiative is acollaborationbetween clinicians, researchers, and drug developers, and has set a goal of offering patients treatment options based on the molecular profile of their tumors. The program kicks off in the Spring of 2017.
Given the complete lack of other news, I'm left scratching my head as to why shares performed so poorly during the month.
Now what
Despite the plunge, Halozyme continues to offer investors reasons to be optimistic.For one, management recently raised its revenue and cash balance guidance for 2016. In addition, investors have a catalyst to look forward to in the fourth quarter.
Management will be announcing mature response rate and progression-free survival data from stage two of a phase two study that used PEGPH20 in combination withgemcitabine and Celgene's Abraxane to treat metastatic pancreatic cancer.
Beyond the data release, Halozyme continues to make progress on its other product candidates that are being developed in collaboration with big pharma companies like Roche,Johnson & Johnson,AbbVie,Pfizer, and more. In total, the company could earn upto $900 million in milestone payments plus single-digit royalties on any future sales if these drugs pan out.
All in all, Halozyme Therapeutics has multiple shots on goal coming up in the years ahead. With the stock now selling at a steep discount, it might not be a bad time for the company's bulls to add a few more shares to their portfolios.
10 stocks we like better than Halozyme Therapeutics When investing geniuses David and Tom Gardner have a stock tip, it can pay to listen. After all, the newsletter they have run for over a decade, Motley Fool Stock Advisor, has tripled the market.*
David and Tom just revealed what they believe are the ten best stocks for investors to buy right now and Halozyme Therapeutics wasn't one of them! That's right -- they think these 10 stocks are even better buys.
Click here to learn about these picks!
*Stock Advisor returns as of November 7, 2016
Brian Feroldi owns shares of Celgene.Like this article? Follow him onTwitter where he goes by the handle@Longtermmindsetorconnectwith him onLinkedInto see more articles like this.
The Motley Fool owns shares of and recommends Celgene. The Motley Fool recommends Johnson and Johnson. Try any of our Foolish newsletter services free for 30 days. We Fools may not all hold the same opinions, but we all believe that considering a diverse range of insights makes us better investors. The Motley Fool has a disclosure policy.