Why Did Facebook, Inc. Shares Gain 12% in January?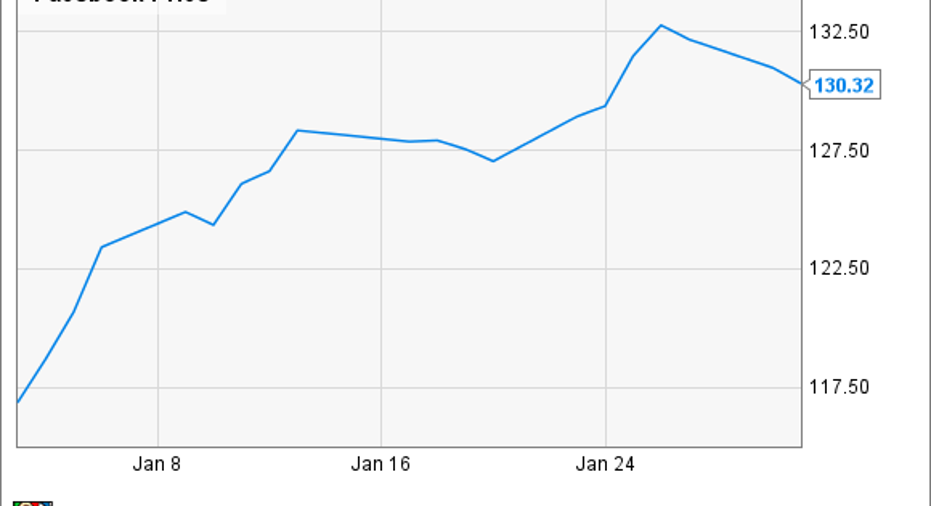 Facebook (NASDAQ: FB) shares climbed steadily in January in anticipation of its Q4 and full-year 2016 earnings report, which was released on Feb. 1.
What happened
The social-media giant didn't make any significant moves or report any results in January, but it did gain some publicity over the presence of "fake news" on its site and app that could have affected the U.S. presidential election. However, if you go by the adage that any publicity is good publicity, that controversy, along with an increased use of social media in general in relation to the election, probably contributed to the rising share price.
After opening January at $116.03, shares rose to $130.32 as the month closed. That's a 12% increase, according to data fromS&P Global Market Intelligence.
Image source: YCharts.com.
So what
Facebook has become so steadily successful that investors price in a good earnings report before it even gets released. That was justified in this case, as the social-media giant saw its Q4 advertising revenue rise to $8.6 billion in Q4 2016, up from $5.6 billion the previous year. The company also saw its earnings per share more than double year over year, going from $0.54 in Q4 2015 to $1.21 during the same period a year later.
Essentially, the Q4 earnings report capped off a year of strong results. Not only has Facebook continued to grow its revenue, but it's also still adding customers and increasing how long people use its products. That's fairly stunning when you consider that the company entered the year averaging over 1 billion daily active users, yet that number grew 18% in December to 1.23 billion.
Facebook has over 1 billion daily active users. Image source: Facebook.
Now what
Facebook is a machine that seems impossible to stop. The challenge for the company is that investors expect stellar results. Merely posting a good quarter could be bad for its stock price, given the outsized expectations.
That day may someday come, but it certainly didn't come in Q4 or in 2016. Facebook shares rose before the final numbers were released, but the company more than met expectations, and the increases proved to be justified by the results.
10 stocks we like better than FacebookWhen investing geniuses David and Tom Gardner have a stock tip, it can pay to listen. After all, the newsletter they have run for over a decade, Motley Fool Stock Advisor, has tripled the market.*
David and Tom just revealed what they believe are the 10 best stocks for investors to buy right now... and Facebook wasn't one of them! That's right -- they think these 10 stocks are even better buys.
Click here to learn about these picks!
*Stock Advisor returns as of February 6, 2017
Daniel Kline owns shares of Facebook. The Motley Fool owns shares of and recommends Facebook. The Motley Fool has a disclosure policy.