Why Did Best Buy Co., Inc. Stock Jump 17% in November?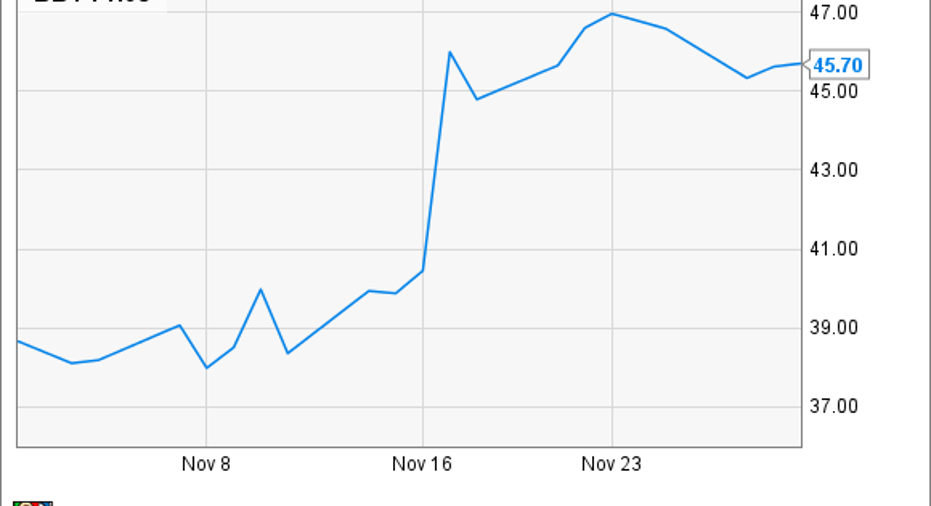 When a company puts "better-than-expected" in the headline of its earnings release, that's usually a very good sign. Best Buy (NYSE: BBY) did exactly that in its Q3 release, which gives shareholders a reason to cheer.
Image source: YCharts.com.
What happened
Best Buy reported GAAP diluted earnings per share from continuing operations of $0.60, an increase of 62% from $0.37 in the same period last year. The company also saw a slight rise in overall sales, a similarly small uptick in domestic sales, and a 1.8% improvement in domestic same-store sales. Perhaps most importantly, its United States online sales grew by 24%.
Those were encouraging numbers that suggest the company's turnaround efforts, which involve careful cost management, have been effective. Sales have stabilized and turned back to growth, and CEO Hubert Joly's plan seems to be working. That was enough to send its stock from a November 1 opening of $38.93 to a November 30 close of $45.70, a 17.3% change, according to data provided by S&P Global Market Intelligence.
So what
Best Buy has been one of the more stunning comebacks in recent history. The company looked like it would be a casualty of the digital era, but it has fought its way back to relevance under Joly, who took a bit of a victory lap in his remarks in the earnings release:
Now what
These are encouraging numbers, but big-box retailers are judged by Q4, not Q3. Joly seemed to think his company is ready for that challenge:
That's a wordy way for the CEO to say he thinks Q4 will deliver. If that happens, it's probably time to stop talking about Best Buy's comeback and begin focusing on its future growth prospects.
10 stocks we like better than Best Buy When investing geniuses David and Tom Gardner have a stock tip, it can pay to listen. After all, the newsletter they have run for over a decade, Motley Fool Stock Advisor, has tripled the market.*
David and Tom just revealed what they believe are the 10 best stocks for investors to buy right now...and Best Buy wasn't one of them! That's right -- they think these 10 stocks are even better buys.
Click here to learn about these picks!
*Stock Advisor returns as of Nov. 7, 2016.
Daniel Kline has no position in any stocks mentioned. He likes looking around at Best Buy, but never buys much. The Motley Fool has no position in any of the stocks mentioned. Try any of our Foolish newsletter services free for 30 days. We Fools may not all hold the same opinions, but we all believe that considering a diverse range of insights makes us better investors. The Motley Fool has a disclosure policy.