Why Did Angie's List, Inc. Drop Over 12.5% in March?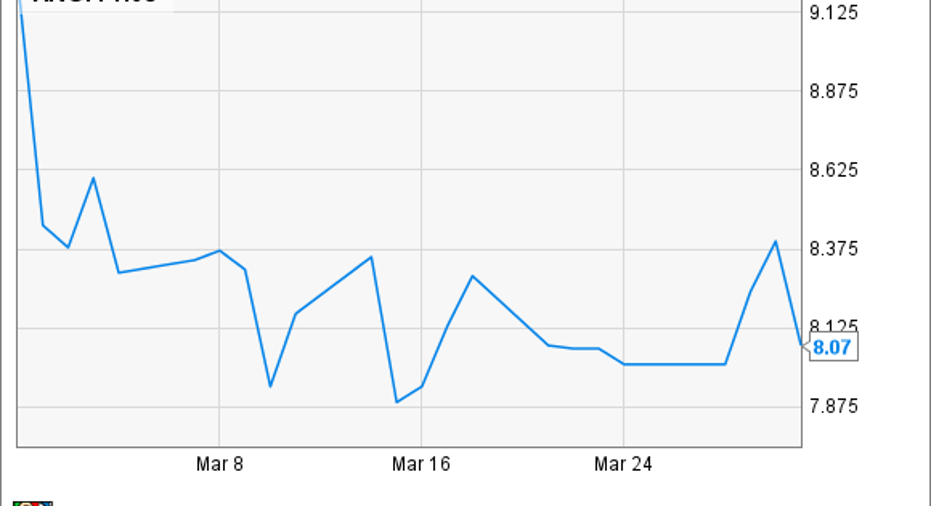 Investors did not like the turnaround plan Angie's List presented at its March 3, 2016 Investors Day, which sent its stock tumbling.
Source: YCharts.com
What: Despite the company announcing what it called a new Profitable Growth Plan at the March 3 meeting, investors were unimpressed. After closing on Feb. 29 at $9.23 Angie's List shares moved more or less steadily downward before closing the month at $8.07, a 12.5% drop, according to data provided by S&P Global Market Intelligence.
So what: The stock drop suggests that investors question the fundamental business model changes the company plans to make as part of its Profitable Growth Plan. Under the new model Angie's List will weaken its paywall. Traditionally consumers have to join the service in order to access it ratings and reviews. Now, the company will be removing that paywall and instead introducing new freemium and premium services.
The company noted in a press release that pilot tests of the new model showed "significant increases in consumer engagement and service provider value, including increases in consumer registrations, total profile views, reviews and originations." That might be true, but it's still a big pivot which CEO Scott Durchslag tried to sell to investors.
"The new plan announced today transforms our legacy business model to bring in a new era of growth and profitability at Angie's List," he said. "... By removing the paywall for ratings and reviews, our new Profitable Growth Plan removes the barrier that has limited our growth and enables Angie's List to engage with more consumers and more service providers than ever before. Through this three-phased plan, we expect to reignite revenue growth and drive significant increases in profitability over time with minimal disruption to the business."
Now what: Investors did not react well to the plan but that will mean very little if it actually turns out to work well. The new model will not be in place until the second quarter of 2016, according to the company, and if it increases revenue, the initial objections won't matter a bit.
The CEO certainly seems to believe in the plan.
"Given the unique strengths of Angie's List, the tremendous growth in the home services market, and the new strategies we are announcing today, we have many reasons to be excited about the long-term value creation opportunity for Angie's List," he said.
This is a case where only time will tell. It's a massive change and the market tends to be wary when companies make big pivots off their business model. In this case, it may have been needed, and it could work (or it could fail) but the March reaction was entirely speculative without any substance behind it.
The article Why Did Angie's List, Inc. Drop Over 12.5% in March? originally appeared on Fool.com.
Daniel Kline has no position in any stocks mentioned. He does not care for Angie or Craig and actually does not like lists all that much. The Motley Fool has no position in any of the stocks mentioned. Try any of our Foolish newsletter services free for 30 days. We Fools may not all hold the same opinions, but we all believe that considering a diverse range of insights makes us better investors. The Motley Fool has a disclosure policy.
Copyright 1995 - 2016 The Motley Fool, LLC. All rights reserved. The Motley Fool has a disclosure policy.