Why Cypress Semiconductor Corp. Gained 13% in November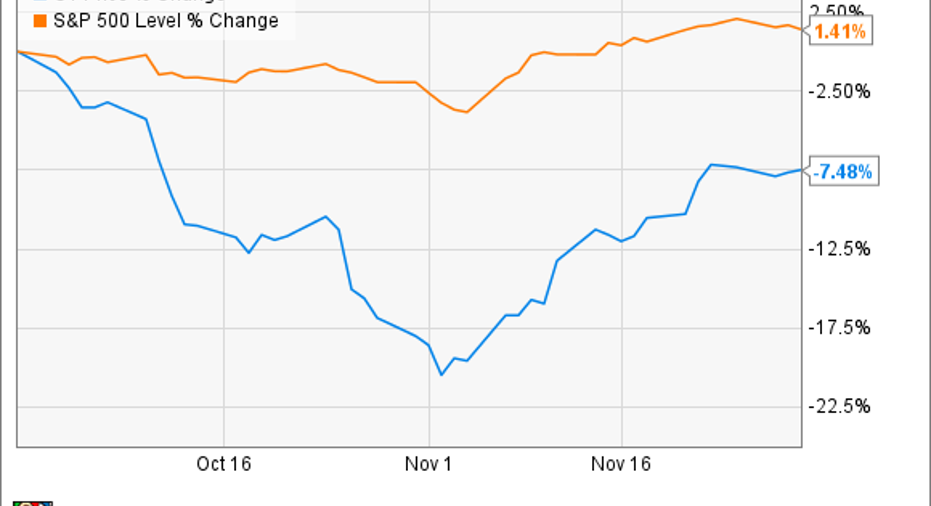 Image source: Getty Images.
What happened
Shares of Cypress Semiconductor (NASDAQ: CY) rose 12.8% in November 2016, according to data from S&P Global Market Intelligence. The surge was a sharp bounce from the 18% plunge Cypress recorded in October, inspired by a fantastic earnings report from automotive computing rival NVIDIA (NASDAQ: NVDA).
So what
Cypress didn't have much investor-friendly news of its own to share in November. Apart from announcing its next quarterly dividend at $0.11 per share -- unchanged since the spring of 2012 -- and dropping in a few new products in the Internet of Things space, the company had a quiet month.
But when NVIDIA blew away analyst expectations and internal guidance in its third-quarter report, the event carried over to other players in the automotive computing market. That company saw its car-related chip sales increase 61% year over year, reminding investors everywhere that the automotive space holds plenty of growth opportunity for several chip suppliers.
And Cypress has some serious game in that crucial market. NVIDIA's huge sales growth landed its third-quarter automotive sales at $127 million. During the same reporting period, Cypress' automotive sales rose 25% to stop at $144 million.
Now what
What's good for the goose is good for the gander, and Cypress absolutely deserved to ride on NVIDIA's automotive coattails in November. Don't forget that the October drop looked like a pessimistic overreaction in the first place.
That said, Cypress still has a lot to prove before making it onto my "buy now" list. The company is attempting a drastic turnaround, looking back at negative earnings over the last four quarters. Some 12% of Cypress' public shares are currently sold short, reflecting the risky nature of the company's growth-by-acquisition strategy.
Again, Cypress was entitled to a decent bounce last month even if the trigger event came from a competitor. But I'm staying on the sidelines until management can prove that the company has a place in the rapidly evolving automotive and Internet of Things markets.
10 stocks we like better than Cypress Semiconductor When investing geniuses David and Tom Gardner have a stock tip, it can pay to listen. After all, the newsletter they have run for over a decade, Motley Fool Stock Advisor, has tripled the market.*
David and Tom just revealed what they believe are the 10 best stocks for investors to buy right now... and Cypress Semiconductor wasn't one of them! That's right -- they think these 10 stocks are even better buys.
Click here to learn about these picks!
*Stock Advisor returns as of Nov. 7, 2016
Anders Bylund has no position in any stocks mentioned. The Motley Fool owns shares of and recommends Nvidia. The Motley Fool also recommends Cypress Semiconductor. Try any of our Foolish newsletter services free for 30 days.
We Fools may not all hold the same opinions, but we all believe that considering a diverse range of insights makes us better investors. The Motley Fool has a disclosure policy.