Why Cvent, BofI Holding, and Energy Transfer Equity Jumped Today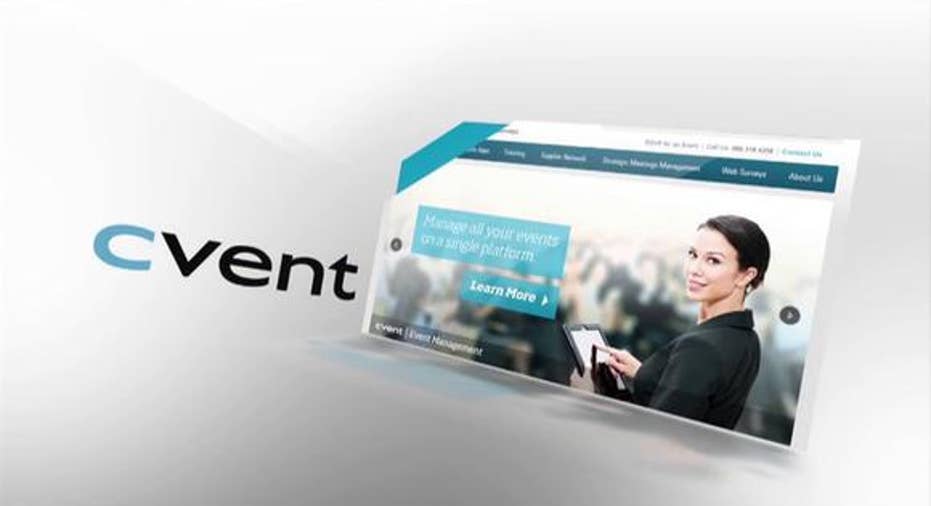 It has been almost a year since the Dow Jones Industrials last set a new all-time record high, and investors have grown impatient with the recent volatility and market corrections that they've had to endure since then. On Monday, stocks took a major step forward, climbing above the 18,000 mark for the first time since last July and supporting optimistic investors who maintain that the seven-year-old bull market still has room to run further. The Dow's gains amount to about half a percent, but many stocks did better. Some of the best performers were Cvent , BofI Holding , and Energy Transfer Equity .
Image source: Cvent.
Cvent soared 65% after the provider of cloud-based event planning software and services announced that private equity firm Vista Equity Partners will acquire it for $1.65 billion. Cvent shareholders will get $36 per share in cash in the deal, representing nearly a 70% premium to where the stock closed last Friday. CEO Reggie Aggarwal referred to the deal as "the next chapter in our 17-year history," pointing to the financial resources that Vista will bring to the table as leaving Cvent "better positioned to deliver innovative solutions that transform the meetings and events industry." The going-private transaction is expected to close in the third quarter of 2016, subject to shareholder approval from Cvent investors and other regulatory hurdles. Analysts pointed to heavy demand for cloud-based companies in driving the deal, but Cvent has had its finger in a lucrative niche for a long time.
BofI Holding climbed 7% in the latest in a string of volatile moves in both directions in recent days. The bank made an aggressive response Monday, arguing that it "continues to be the target of anonymous short-seller hit pieces designed to manipulate the market in a veiled effort to benefit themselves at the expense of BofI's shareholders." BofI also drew a contrast between the negative stories that short-sellers have highlighted and the bank's experience with its own regulators, and it said that "the absence of public enforcement actions highlight how disconnected these allegations are from the reality of BofI's highly compliant and top-performing business." Nevertheless, BofI's gains today were relatively modest compared to the beating that the stock has taken in just the past week.
Finally, Energy Transfer Equity climbed 10%. Investors have looked for any sign that the pipeline company's merger with Williams Companies might fall through as a potential positive, and they got what they might see as a favorable piece of news today when Energy Transfer Equity revealed that a law firm involved in the merger might not be able to get a crucial legal opinion done in a timely manner. The opinion is important because it involves Section 721 of the Internal Revenue Code, which governs whether the structure of the merger would qualify for nontaxable treatment under the partnership provisions of the tax laws, and any uncertainty about how the merger would get taxed could easily put a stop to the deal. Williams fell in response, but investors clearly still have mixed feelings about whether a merger is in Energy Transfer Equity's best interests.
The article Why Cvent, BofI Holding, and Energy Transfer Equity Jumped Today originally appeared on Fool.com.
Dan Caplinger has no position in any stocks mentioned. The Motley Fool owns shares of and recommends BofI Holding. The Motley Fool recommends Cvent. Try any of our Foolish newsletter services free for 30 days. We Fools may not all hold the same opinions, but we all believe that considering a diverse range of insights makes us better investors. The Motley Fool has a disclosure policy.
Copyright 1995 - 2016 The Motley Fool, LLC. All rights reserved. The Motley Fool has a disclosure policy.