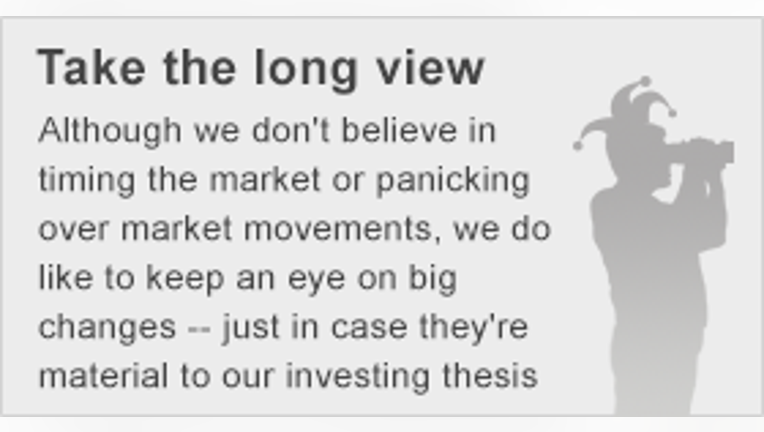 What: Cummins' shares dropped around 12.3% last month, capping a year in which the stock was down roughly 40%. Basically, December was more about investor sentiment than any change in the underlying trends facing the engine maker.
So what:It's pretty clear that a falling share price has been the name of the game for a little while at Cummins. It's been facing a few notable headwinds all year long, including end-customer weakness in heavy machinery, currency headwinds affecting the roughly 40% of its business that comes from outside of the U.S. and Canadian markets, and economic weakness in China (7% of the top line) and other emerging markets.
The company has outlined plans on how it intends to deal with the issues it's facing, but the hits just keep coming. For the most part, there's not much Cummins can do about it except to try and adapt -- which it's doing. So the December drop was basically driven by more of the same. For example, economic numbers out of China continue to be weak and the dollar continues to be strong globally.
Although none of this is new information, an analyst downgrade at the start of the month appears to have poured salt on Cummins' wounds, reminding investors of all the problems the company is dealing with. Mr. Market promptly sent shares sharply lower. In fact, the stock actually started to pick up steam toward the end of month, paring what had been a 15% decline to a still-painful final 12% or so drop.
Now what:The Cummins story is still less than inspiring, and it will remain so until key industrial markets like mining start to recover. However, the engine maker is broadly diversified, has a solid balance sheet, and with a history that dates back to 1919, has clearly been through a few business cycles before. Contrarian investors, perhaps even those with a conservative bent, should definitely give this unique company consideration. A hefty 4.4% yield is an enticement to stick around while Cummins works through this tough spell.
The article Why Cummins Shares Fell More Than 12% in December originally appeared on Fool.com.
Reuben Brewer has no position in any stocks mentioned. The Motley Fool owns shares of and recommends Cummins. Try any of our Foolish newsletter services free for 30 days. We Fools may not all hold the same opinions, but we all believe that considering a diverse range of insights makes us better investors. The Motley Fool has a disclosure policy.
Copyright 1995 - 2016 The Motley Fool, LLC. All rights reserved. The Motley Fool has a disclosure policy.