Why Cummins, Breitburn Energy Partners, and Joy Global Slumped Today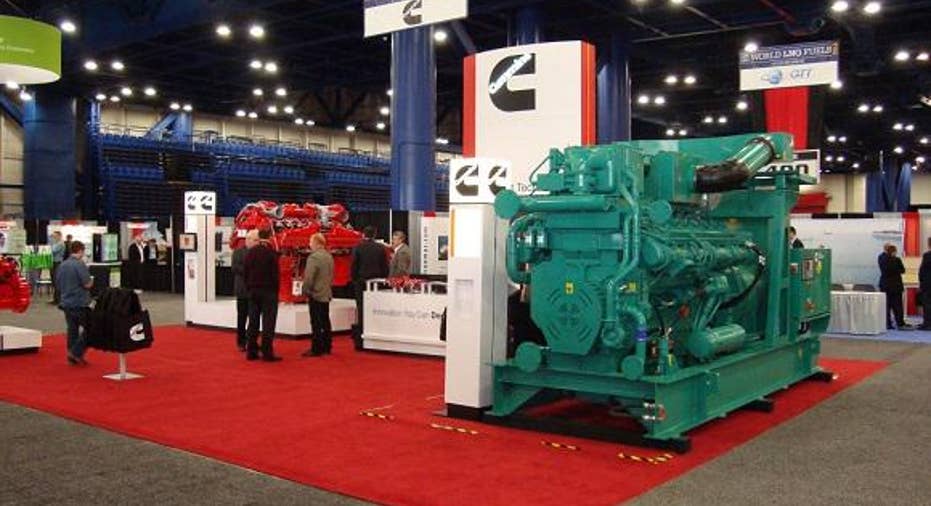 Engine-maker Cummins was one of the stock market's casualties Tuesday. Image: Cummins.
Stocks often rise on the first day of the month, and December proved to be no exception to that rule, with popular stock indexes climbing nearly 1% on Tuesday. The broader market was able to overcome downward pressure from reports suggesting that the manufacturing sector might be weaker than many had previously thought, but that negative sentiment did weigh on several individual stocks. Among the worst performers were Cummins , Breitburn Energy Partners , and Joy Global .
Cummins dropped 8% after the engine-maker found itself on the receiving end of an analyst downgrade from a Wall Street firm. Analysts at Merrill Lynch argued that poor macroeconomic conditions, including weakness in key emerging markets like China and the strength of the U.S. dollar against most major foreign currencies, will continue to weigh on Cummins' overall results. Even though the engine-maker is taking steps to reward shareholders through stock buybacks and high dividend payments, Cummins is still likely to suffer as long as its core customers see reduced demand for the transportation products that use its engines. The move highlights the disconnect between some of the more successful sectors of the market, such as technology, and the ailing industrial and energy sectors that have lagged well behind the market's recent gains.
Breitburn Energy Partners plunged more than 20% after the master limited partnership joined several of its industry peers in choosing to stop distributing cash to its unitholders. The MLP believes that with capital at a premium, Breitburn will be better served if it uses the money that would otherwise go back to investors to reduce its debt instead. Given how many investors have looked to MLPs as a reliable source of income, the carnage in the sector that has resulted from falling energy prices has given many unitholders a hard-learned lesson about the risks of these income-producing investments.
Finally, Joy Global posted a 13% decline on Tuesday. The same Merrill Lynch report that targeted Cummins also noted the difficulties that Joy Global has had in the mining-equipment sector, as the ailing commodities markets have led mining companies to reduce their capital expenditures to the bone in order to preserve cash and try to survive through tough times. The drop sent Joy Global shares to their worst levels in more than a decade, and with the prices of major commodities like copper, iron ore, and coal continuing to plunge, few investors expect Joy Global to give shareholders much relief in the near future. With so much pain in the natural resources arena and in the industries that support their extraction, investors will need to see a bounce in the commodities market before they can expect stocks like Joy Global, Breitburn, and Cummins to mount a big rebound.
The article Why Cummins, Breitburn Energy Partners, and Joy Global Slumped Today originally appeared on Fool.com.
Dan Caplinger has no position in any stocks mentioned. The Motley Fool owns shares of and recommends Cummins. The Motley Fool recommends BreitBurn Energy Partners. Try any of our Foolish newsletter services free for 30 days. We Fools may not all hold the same opinions, but we all believe that considering a diverse range of insights makes us better investors. The Motley Fool has a disclosure policy.
Copyright 1995 - 2015 The Motley Fool, LLC. All rights reserved. The Motley Fool has a disclosure policy.