Why Criticism of Under Armour's Curry Two Low Won't Hurt Footwear Sales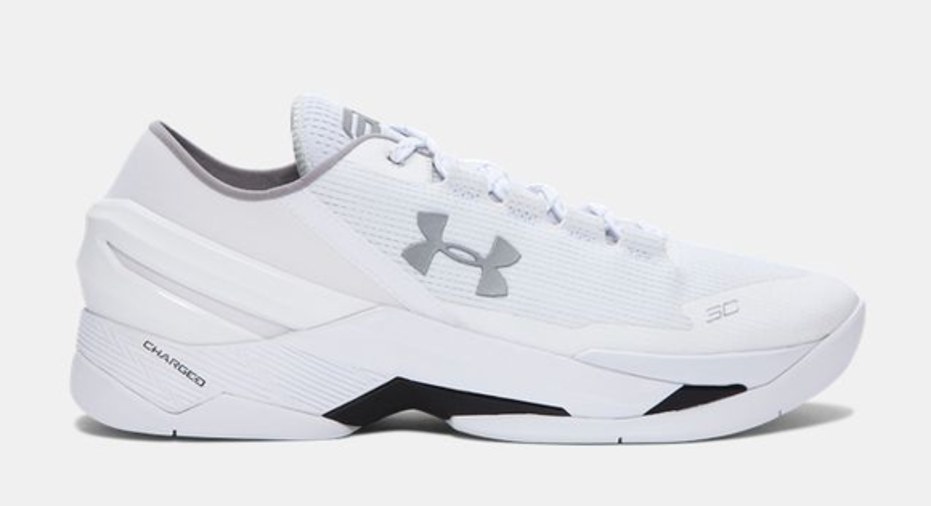 Not every UA Curry Two Low shoe is as bland as this one. Image source: Under Armour, Inc.
When Under Armourunveiled its new Curry Two Low "Chef" shoe last week, footwear fans all over the world went wild -- but not in the way you might expect.
Rather than heap praise on the latest signature footwear bearing NBA MVP Stephen Curry's name, netizens widely criticized the "bland" white version of the Chef shoe as something more suited to taking out the garbage than playing basketball. Nicknames for the new shoes ranged from the "Early Bird Special 1s" to the "Kirkland Signatures" and "Nursing Home 2s."
On the surface, however, the negative attention was no laughing matter for Under Armour investors.
Recall that, in April, Under Armourmarked its 24th consecutive quarter of achieving at least 20% year-over-year revenue growth. And though that growth was broad-based across Under Armour's various categories, the most impressive gains came from its footwear segment, where revenue climbed an incredible 64% from the equivalent year-ago period, to $264 million.Most pertinent to this discussion, Under Armour cited the Curry Two basketball shoe line -- the high-top version of which was the company's best-selling online itemduring the quarter -- as the primary driver of the footwear segment's success.
Under Armour CEO Kevin Plank went on to call Stephen Curry the "footwear MVP for Under Armour," stated his sponsorship was a "once-in-a-generation opportunity for our brand," and insisted Under Armour is "laser focused on delivering against that potential."
Let it suffice to say, then, that Under Armour shareholders are right to take seriously any missteps within Under Armour's evolving lineup of Curry Two shoes.
But despite the initial criticism, there are a number of reasons to believe the launch of Under Armour's Curry Two Low has actually been a success so far.
For one, the "bland" white version is only one of six variations of the Curry Two Low. And a quick glance at its product pageon Under Armour's website shows many of the other color schemes are already sold out in all but the most common sizes.
The Curry Two Low is available in six styles, with many sold out. Image source: Under Armour, Inc.
What's more, in keeping with a "no press is bad press" theme, this negative attention has given Under Armour an enviable chance to highlight their already wildly popular Curry Two shoes. Canaccord Genuity analyst Camilo Lyon echoed this sentiment in a note to investors Friday, stating, "In our channel checks and discussions with industry contacts, the Chef shoe has actually sold better than some of its predecessor color [styles], likely due to all the attention paid to it."
It also helped that, when asked about the initial backlash to the Curry Two Low Chef, Stephen Curry kept his sense of humor intact by insisting: "If I had them in the road bag, I would have definitely worn them and showed you how fire they are. I love the nicknames they came up with, but I like them."
In an interview later, Curry wore the same white version of the shoe customized with a fire emoji, which was highlighted on the Golden State Warriors'Twitter feed:
Then earlier this week, Masters champion (andfellow Under Armour athlete)Jordan Spieth added fuel to that fire by giving Curry's new kicks a nod:
In the end, between the Curry Two Low Chef's more exciting color schemes, the generous press coverage, and words of support from Under Armour's influential athletes, it seems Under Armour has been able to brilliantly swing the momentum of this criticism in its favor. As a result, when Under Armour reports second-quarter 2016 results next month, I suspect we'll see its footwear segment is as strong as ever.
The article Why Criticism of Under Armour's Curry Two Low Won't Hurt Footwear Sales originally appeared on Fool.com.
Steve Symington owns shares of Under Armour (A Shares) and Under Armour (C Shares). The Motley Fool owns shares of and recommends Twitter and Under Armour (A Shares). The Motley Fool owns shares of Under Armour (C Shares). Try any of our Foolish newsletter services free for 30 days. We Fools may not all hold the same opinions, but we all believe that considering a diverse range of insights makes us better investors. The Motley Fool has a disclosure policy.
Copyright 1995 - 2016 The Motley Fool, LLC. All rights reserved. The Motley Fool has a disclosure policy.