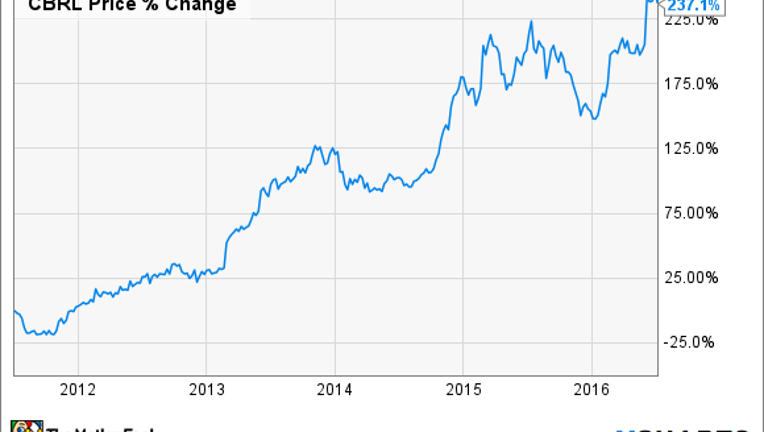 Image source: The Motley Fool.
What:Shares ofCracker Barrel Old Country Store, Inc. popped 13% in June, according to data from S&P Global Market Intelligence. As you can see from the chart below, those gains primarily came following the company's first-quarter earnings report on June 1.
So what:The casual-dining chain's shares jumped with the help of a special dividend of $3.25 a share announced in the report, and it also raised its quarterly dividend modestly to $1.15 from $1.10. As for the quarter past, the company saw a same-restaurant sales gain of 2.3% despite a hike in menu prices making up for a slight decline in traffic. Operating income improved by 140 basis points in the quarter to 9.6%, helped by lower commodity costs.
Now what:Looking ahead, Cracker Barrel upped its earnings-per-share guidance for the full year by $0.05, projecting adjusted earnings of $7.45-$7.55 per share and sees comparable sales growth in its restaurant and retail segments of 2% to 2.5%. It also said it expects to open five new stores this year, and anticipates flat commodity inflation.
Cracker Barrel has been a solid winner on the market as shares have more than tripled in the last five years, when some other casual-dining chains have struggled. While the slight decline in customer traffic may be a concern, management has been able to manage costs effectively and profit growth has been steady. I'd expect the stock to continue to rise.
The article Why Cracker Barrel Old Country Store, Inc. Shares Jumped 13% Last Month originally appeared on Fool.com.
Jeremy Bowman has no position in any stocks mentioned. The Motley Fool has no position in any of the stocks mentioned. Try any of our Foolish newsletter services free for 30 days. We Fools may not all hold the same opinions, but we all believe that considering a diverse range of insights makes us better investors. The Motley Fool has a disclosure policy.
Copyright 1995 - 2016 The Motley Fool, LLC. All rights reserved. The Motley Fool has a disclosure policy.