Why Corbus Pharmaceuticals Holdings, Inc. Stock Rocketed 412% Upwards in 2016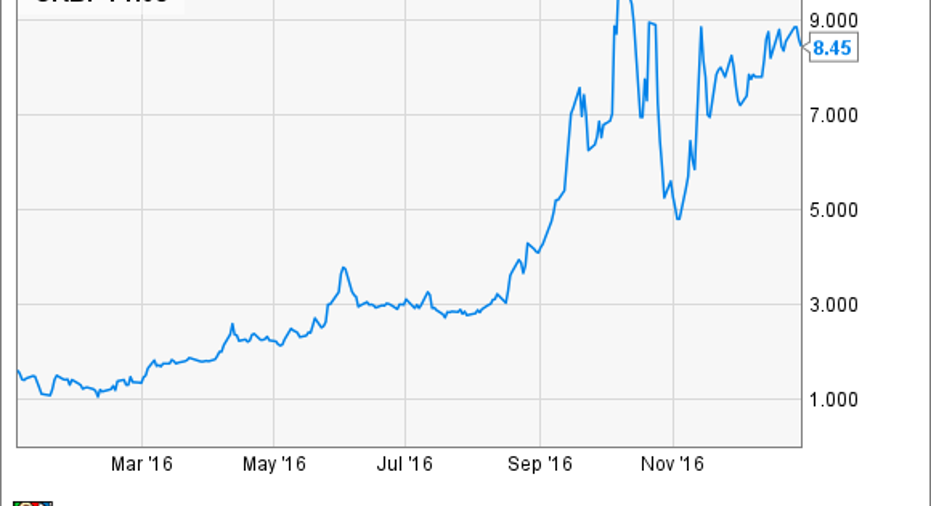 Image source: Getty Images.
What happened
Shares of Corbus Pharmaceuticals Holdings, Inc. (NASDAQ: CRBP) thrilled investors with a 412.1% gain last year, according todata from S&P Global Market Intelligence. Positive mid-stage clinical trial results for its lead drug, Resunab, lifted the stock and ignited hope for further expansion in the future.
So what
Systemic sclerosis is a rare immune disorder marked by inflammation, and it affects about 90,000 Americans. There aren't any treatments specific to the disorder, which suggests the first could have a relatively smooth path to commercial-stage success.
Corbus Pharmaceutical Holdings' stock shot up because 26 patients receiving Resunab showed a significant benefit over the group of 15 patients receiving a placebo. The candidate mimics a cannabinoid that acts on the CB2 receptor to reduce inflammatory symptoms of the disease, which could give it an advantage over immunosuppressants that dial back the immune system in a way that increases the risk of opportunistic infections.
Now what
The company is also testing Resunab in several other indications that involve inflammation, including cystic fibrosis, lupus, and dermatomyositis. A mid-stage study with Corbus' lead candidate in cystic fibrosis wrapped up at the end of December, but the company hasn't shared the data yet.
The stock could climb further on positive cystic fibrosis data, but I suggest caution for now. The company has all of its chips on Resunab, which barely squeaked out a significant improvement against a placebo in the41-patient trial in systemic sclerosis. Investors should remain braced for the chance that the company won't be able to repeat these efficacy results in a larger study.
Furthermore, the primary efficacy measurement in the narrowly successful mid-stage trial was specific to the systemic sclerosis indication. In other words, the previous success provides little insight into its potential in additional indications.
At a market cap of just $327 million, Corbus could provide market-beating gains with continued success for Resunab. With all of its chips on one candidate, though, investors might be better off waiting for more conclusive data.
10 stocks we like better than Corbus Pharmaceuticals Holdings When investing geniuses David and Tom Gardner have a stock tip, it can pay to listen. After all, the newsletter they have run for over a decade, Motley Fool Stock Advisor, has tripled the market.*
David and Tom just revealed what they believe are the 10 best stocks for investors to buy right now...and Corbus Pharmaceuticals Holdings wasn't one of them! That's right -- they think these 10 stocks are even better buys.
Click here to learn about these picks!
*Stock Advisor returns as of January 4, 2017.
Cory Renauer has no position in any stocks mentioned. You can follow Cory on Twitter @coryrenauer or LinkedIn for more biopharma investing insight.
The Motley Fool has no position in any of the stocks mentioned. The Motley Fool has a disclosure policy.