Why Clovis Oncology, Inc. Sank 28.2% in April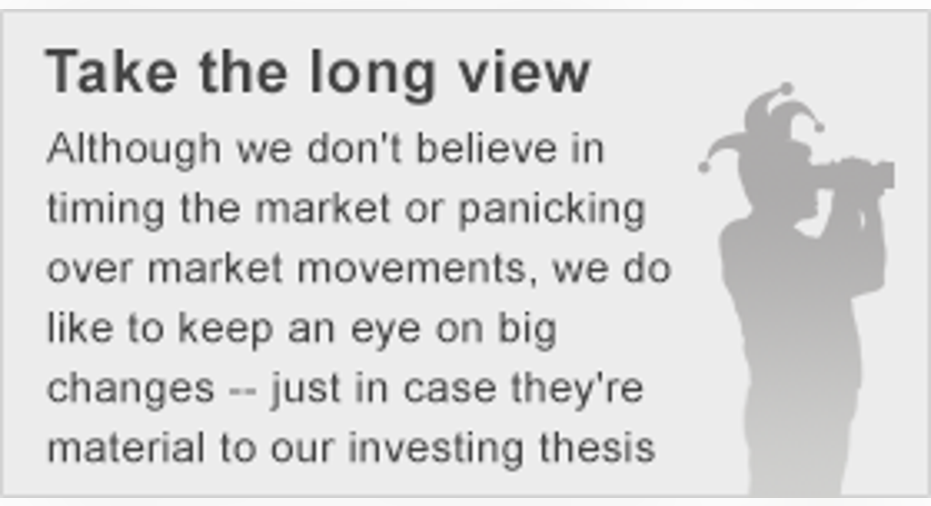 Image source: Clovis Oncology.
What: Shares of Clovis Oncology , a biopharmaceutical company focused on developing cancer therapies, sank 28.2% in April, according to data from S&P Global Market Intelligence. Without any revenue to speak of, more bad news for its first new drug application sent shares tumbling.
So what: The clinical stage company's most developed candidate to date, rociletinib for treatment of advanced lung cancer, had another bad day at the FDA. An independent advisory committee convened to discuss approval of the candidate based on available data and decided there wasn't enough.
As a refresher, the stock plummeted last November when the FDA sent an application for rociletinib back for more data. That time it had tried to use unconfirmed responses from interim data to support an application, and then noted that the confirmed response rate was surprisingly lower than expected. The stock fell more than 71%, based largely on admission that the company had knownabout the lower confirmed response rate for several weeks but didn't bother mentioning it.
In its latest failed attempt with rociletinib, Clovis tried to submit another application for a genetically defined subset of lung cancer patients based on interim data from the ongoing Tiger-X and Tiger-2 trials last July.Both trials showed evidence of activity, but the advisory's committee's response was hardly surprising, given that the confirmed response rate of 32% in the highest dosage cohort was considerably lower that that of AstraZeneca's Tagrisso, which earned approval for the same patient population after showing objective response rates of 59% last November.
Now what:With Tagrisso available for this specific lung cancer patient population, the FDA wasn't about to grant another conditional approval based on single-arm, open-label studies. The committee basically said, "Come back when you have some controlled data."
Instead Clovisfinally decided to cut its losses and announced it would terminate ongoing rociletinib studies, and it also withdrew its EU application. By the end of the year it intends to reduce staff and contractor positions by more than one-third in order to funnel all available resources into what remains of its pipeline.
Clinical stage pipeline as of Feb. 29 2016 image source: Clovis Oncology,
Perhaps in anticipation of a rociletinib's imminent doom, Clovis recently began a rolling submission of its second-most developed compound.Once again, AstraZeneca already has a similar drug on pharmacy shelves,Lynparza,for the same patient population.
Luckily, this time it looks like Clovis' drug still has a chance. Even after approving Lynparza, the FDA gave rucaparib a Breakthrough Therapy designation,This designation is reserved for drugs that show strong potential to provide better outcomes over existing therapies, and it is intended to expedite the regulatory process.
In trials that led to Lynparza's approval, the objective response rate (meaning complete or even just partial responses) in this genetically defined, heavily pretreated subset of ovarian cancer patients was 34% with a median duration of response of 7.9 months. In the Ariel-2 study, 16 of 23 (or nearly 70%) of evaluable patients achieved a response, as defined by the Gynecological Cancer Intergroup.
Clovis intends to complete a new drug application with data available from the single-arm Ariel-2 study, in the present quarter.Given Clovis' history of withholding less than positive clinical data, I wouldn't put too much faith inrucaparib's ability to save this troubled biotech.
The article Why Clovis Oncology, Inc. Sank 28.2% in April originally appeared on Fool.com.
Cory Renauer has no position in any stocks mentioned. You can follow Cory on Twitter @coryrenauer or connect with him on LinkedIn for more healthcare industry insight. The Motley Fool has no position in any of the stocks mentioned. Try any of our Foolish newsletter services free for 30 days. We Fools may not all hold the same opinions, but we all believe that considering a diverse range of insights makes us better investors. The Motley Fool has a disclosure policy.
Copyright 1995 - 2016 The Motley Fool, LLC. All rights reserved. The Motley Fool has a disclosure policy.