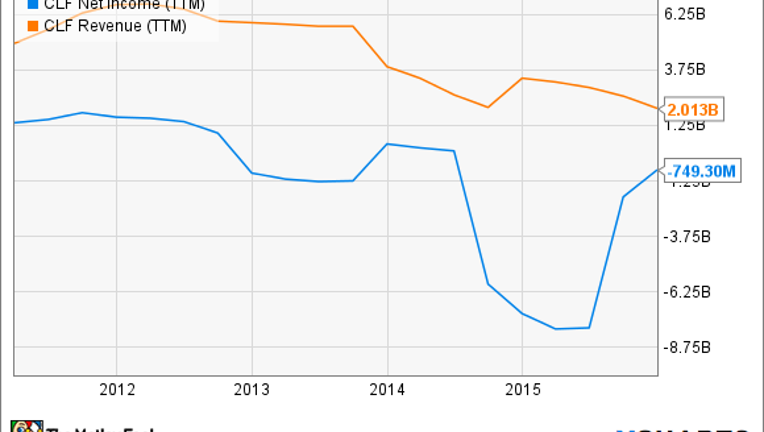 Image source: Cliffs Natural Resources.
What: Shares of miner Cliffs Natural Resources Inc jumped as much as 14.5% today after the company restarted a mine.
So what: Cliffs' Northshore mining operation in Minnesota will restart by May 15, supplying iron ore to U.S. steel manufacturers. Management is encouraged by rising steel prices as well as import tariffs that have been announced, with more to come this week, on products coming from multiple countries, including China.
To make a profit, Cliffs Natural still needs to see idled steel mills restart operations and a rise in iron ore prices, but management is betting that demand and tariff trends are heading in the right direction for a recovery.
Now what: Restarting Minnesota operations is a bullish sign for the company's operations and maybe the industry as a whole, but there's a long way to go before Cliffs Natural is on solid financial footing. You can see below that revenue and earnings have been dropping rapidly for the past five years and one mine coming back online won't completely turn its fortunes around.
CLF Net Income (TTM) data by YCharts.
Take today's news as a data point in your investment thesis, but far from a confirmation of recovery. We need to see margins expand and revenue to grow for that to happen, and that may still be a ways off.
The article Why Cliffs Natural Resources Inc's Shares Popped 14.5% Today originally appeared on Fool.com.
Travis Hoium has no position in any stocks mentioned. The Motley Fool owns shares of Cliffs Natural Resources. Try any of our Foolish newsletter services free for 30 days. We Fools may not all hold the same opinions, but we all believe that considering a diverse range of insights makes us better investors. The Motley Fool has a disclosure policy.
Copyright 1995 - 2016 The Motley Fool, LLC. All rights reserved. The Motley Fool has a disclosure policy.